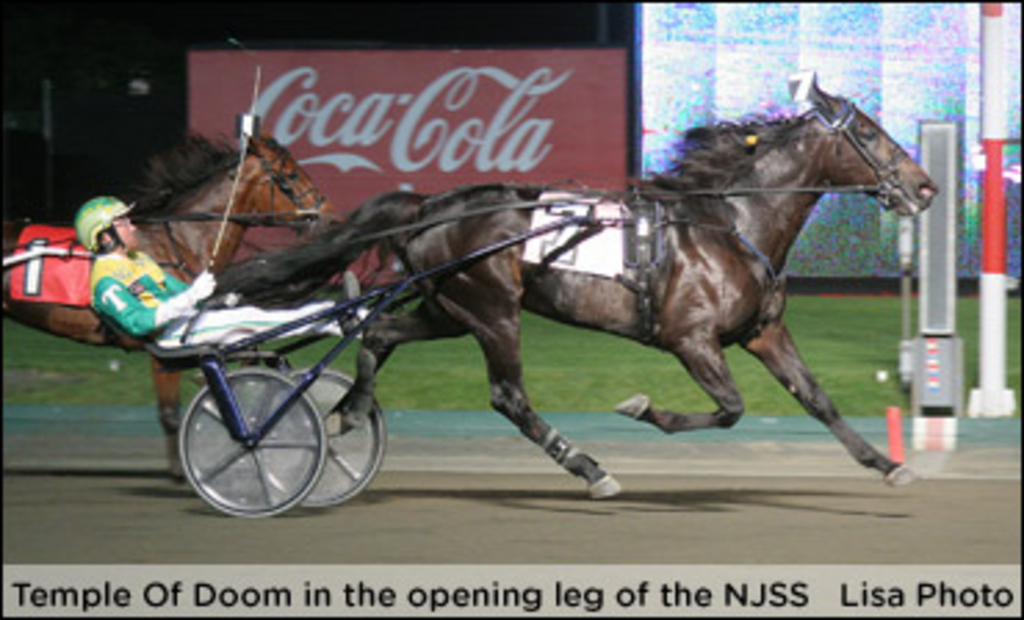 Hambletonian eligible colt Temple Of Doom got 2010 off to a good start with a 1-1/4 length victory over Take My Picture in the opening leg of the New Jersey
Sire Stakes at the Meadowlands on May 28. The victory was the first for the son of Yankee Glide, who raced 14 times last year and collected 12 checks amounting to $245,665.
"Yes, that was a nice way of starting out the year," said trainer Jonas Czernyson, who handles the colt for owner Robert Rosenheim. "I kind of thought [he could win his first start] when he qualified [on May 13] in [1]:55; he did that petty handy. But it's always a horse race and you never know what's going to happen, so of course I was very happy that he did it."
Czernyson says Temple Of Doom is still learning what racing is all about; his failure to win a race while collecting more than $200,000 last year suggests his reluctance to get in front and stay there.
"He, today, hasn't really figured out what racing is all about," Czernyson said. "He's probably one of the worst horses I have to train; when he's out there, he's looking at what everybody else is doing."
Temple Of Doom behaves more like a racing fan than a racehorse.
"When he's in the paddock and it's time to go out and warm up and we were watching the race before, you could really see him standing and watching the TV and watching the horses race," Czernyson said. "His ears were perked forward and you could see he was following them on the screen. He's a bit of a strange little animal. When he's on the track and there are horses around him, he's different. Training alone he's just like, 'OK, whatever you want me to do, if you really want me to do it, I guess I can. But you have to ask me twice if you really want me to do it.'"
Winter training for Temple Of Doom was designed to build up some muscles, while the mental maturation process continued.
"We put him in the pressure cart (a jog cart that creates resistance that the horse pulls against) all winter long to build muscles," Czernyson said. "He walked for about an hour or an hour and a half every day and trained twice a week, mostly on the straight track. We didn't really do much to get him to race different. I've been hoping he would mature a little more and it looks like he did."
Temple Of Doom will stay at the Meadowlands to race through the sire stakes, which conclude with a June 12 final. He has the pedigree to perform; his mother, Armbro Temple, won the 2000 American-National and was second to Casual Breeze in the Elegantimage. His great-grandmother, Delmonica Hanover, was second to Super Bowl in the 1972 Hambletonian and was the mother of 1989 Hambletonian co-winner Park Avenue Joe (who finished in a dead heat with Probe).
Czernyson says there are no definite plans beyond the sire stakes.
"That's as far as we've gotten so far," Czernyson said. "We've got our eyes on the Hambletonian of course, and I'm going to say we may keep him at the Meadowlands until the Hambo. As of right now, we don't have any trips planned for him. We'll stay here and go from there."
---
This story courtesy of Harness Racing Communications, a division of the U.S. Trotting Association. For more information, visit
www.ustrotting.com
.