As recently as 2009, Pascal Bérubé and Mario Charron were two of Quebec's busiest standardbred drivers, rivals battling for supremacy at the half-mile tracks in Trois-Rivières and Quebec City.
Now, one's given up driving, and the other is considering that possibility.
The collapse last autumn of Quebec racetrack operator Attractions Hippiques -- and with it what remained of the racing industry in the province -- disrupted the lives, careers and dreams of hundreds of people, Charron and Bérubé among them.
Suddenly, they could no longer do what they liked to do where they preferred to do it. It came down to a choice: job or location.
Bérube chose job. Charron opted for location. Both are still pondering their decision.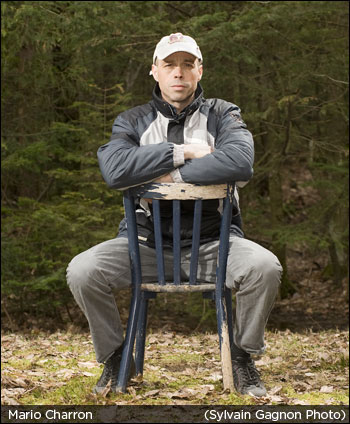 Charron, 43, last drove in a race at Rideau Carleton last November. He works mornings now as an assistant trainer for Gerry Turenne in Joliette, about a 20-minute drive from his home, but admits he's thought of leaving the game altogether.
He likes driving more than training, but values family over both -- which is what kept him from relocating to Ontario like so many others when the industry foundered in Quebec. "All my family's here, and we're close. We probably meet 30-40 times a year. Every birthday, it's a family dinner. That's something I'd really miss if I was gone," he says.
The son of accomplished Quebec horseman Jean-Paul Charron and a professional driver himself since age 18, Charron misses the action, but not as much as he'd miss his parents, siblings, partner of 19 years, sons aged 19 and 13, and all his relatives, if he hit the road. "I didn't want to leave Quebec. I went to Windsor one year (during a horsemen's strike at Hippodrome de Montréal in 1993) and I didn't like it at all. Some people don't mind, but it depends on the person. I couldn't take seeing people just once a year. It's not what I want."
Rideau Carleton, he says, was too much of a commitment in time and money for limited returns. "It was a three-hour drive each way, and because there were 50-60 drivers converging there, you might be in two races; the first and 15th. At the end of the day, it could end up costing you money just to go. I enjoy driving, but I don't want to have to pay to do it."
The salary of an assistant trainer is steady but not very substantial, and Charron admits he's at the point where he'd probably jump if something better came along. "I put over 20 years of my life into this business. At 43, with as many wins as I have, I'm probably at my peak. I should have 20 years ahead of me in racing. Instead, I'm faced with a difficult choice. If things don't change, and soon, I'll probably have to change livelihoods. Maybe I'll work construction. I'm not the kind to work inside."
Bérubé, 37, hasn't given up on his driving career, but admits it's slowed to a crawl.
He also tried Rideau Carleton for a bit, but the four-hour commute each way from his farm near Quebec City was exhausting and not especially rewarding. "The owners weren't happy either," he says.
Earlier this year, he moved his small stable to a training centre near Flamboro Downs, while his wife Isabelle Binet and their 11-year-old son Olivier stayed behind. He chose Flamboro because it was a half-mile track and that's what he and his horses were used to, but the transition has proved difficult. Bérubé, accustomed to winning at least 100 races each year, had one win through the first three months of 2010.
He's paying more to stable and feed his seven horses, but generating less revenue, because the competition in Ontario is so much stiffer. And without results, new owners haven't come calling. That's been the main problem so far – not language, says Bérubé, who's working on improving his English.
"It's not much fun when you go to the track for one drive, the horse goes off at 20-1, and you go home with nothing," he said. "At least I'm still driving. Of the guys who used to drive in Quebec City, I think Stephane Gendron and I are the only ones still doing it. I see a lot of people I know, some who used to work for me, and they tell me they'd stay in Ontario even if racing came back in Quebec. They're making good money working with good horses and they won't go back."
So far, his own stint in Ontario has mostly made him miss (and appreciate) what he had in Quebec before everything fell apart. Six years ago, he was training 40 horses. More than once, he won six races on a single card.
"I miss the pride and pleasure I used to have working with horses. I miss other things too – the quality of life, going down the little hill at home to my stable, seeing my wife every day, and watching my son play hockey. Those are things I don't have any more. We never wanted to be millionaires, but we had enough for us; we were doing something we enjoyed and we were together."
Binet, a licenced trainer, played a major role in Bérubé's Quebec success, helping with the horses, keeping the books for the stable, attending the races every night. But she also has a long-standing secretarial job with a company near home that she enjoys and didn't want to give up.
So now, Bérubé tends to the stable alone, living in an apartment at the training centre, far from his loved ones. Binet has been down to see him once, and he's been home once.
"We haven't really talked about what comes next. We'll see how this turns out. I love this job, but if I had an employment offer I could get excited about back home, I wonder if I wouldn't be ready to compromise and work five days a week. For now, I'm still trying to make a living from the horses, as I've been doing since 1996. I still think I can drive with anyone, but I need competitive horses. It's like I'm starting over. Every day is hard and not much has been encouraging so far. I just hope my luck changes and we can turn this around."