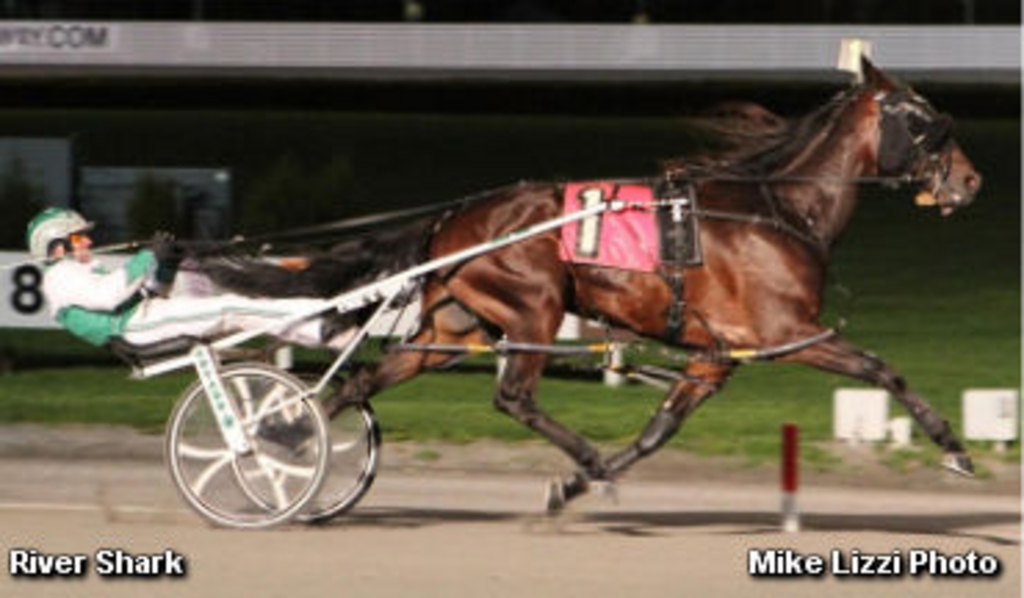 It's getting down to the nitty and the gritty in the George Morton Levy Memorial Pacing Series, with Yonkers Raceway hosting the fourth of five preliminary rounds Saturday night
.
Pole-sitting River Shark, with driver Dan Dube in tow, took care of business in the first of five $50,000 divisions. Sent off as the odds-on choice, he placed Psilvuheartbreaker into the pocket and went on to win in 1:52.2 - the swiftest local mile of the season. The stalker was clearly second, with a first-up Western Ace along for third.
River Shark, a four-year-old Four Starzzz Shark gelding trained by Mark Ford for co-owners Aaron Waxman, El Lobo LLC and VIP Internet Stable LLC, returned $3.30 for his fourth win in seven seasonal starts.
Saturday night's second event presented defending series champ Foiled Again as the 2-5 favourite. After Go Go Solano paid a stiff price to get around King Cat Anvil N, Foiled Again moved from third. Despite a :55-second intermission and 1:22.4 three-quarters, Go Go Solano wasn't ready to go go quite yet. Foiled Again had his hooves full disposing of that one, while Jeremys Successor sized it up from second-up for driver Tyler Buter. Foiled Again grabbed the lead before Jeremys Successor moved at him and eventually edged away by a length en route to the victory in 1:52.1. Go Go Solano held on for third.
For Jeremys Successor, a six-year-old Mach Three gelding owned by Andrea Ann Hill and trained by Dean Eckley, he returned $12.60 for his third win in 10 seasonal starts. He also became the fastest performer of the season at Yonkers Raceway.
The evening's third Levy division found short-priced Mr Wiggles finishing what he started in 1:53. The 1-2 shot, who was paired up with driver Corey Callahan, worked his way around Four Trumps A, and then dealt with a first-over Mccedes. Mr Wiggles defeated Four Trumps A by just over a length, with Real Nice finishing third.
For Mr Wiggles, a millionaire four-year-old son of Badlands Hanover co-owned by trainer George Teague, Jr. and Elmer Fannin, he returned $3 for his first win of the season in four tries.
Saturday night's fourth series event saw Dube double his pleasure for the evening and Pangiorno double his for the series. The pair fought off a stubborn first-over longshot in Western Blood to prevail by half a length 1:53.3. Badlands Nitro settled for third, with no excuse from the pocket.
For Pangiorno, a four-year-old The Panderosa gelding co-owned by trainer Peter Kleinhans and AJKS Racing, he returned $3.40 for his third win in 11 seasonal starts.
Saturday night's final series grouping was a down-the-road effort by 10-1 Legal Litigator, who picked up a 1:52.1 effort of his own. Brett Miller guided Legal Litigator around race favourite Atochia and went on to lead through intervals of :27.2, :57 and 1:24.1 while dealing with a pesky Southwind Lynx. Legal Litigator put that one away, then held off Atochia by half a length in a season's-best effort. Southwind Lynx was a best-of-the-rest third.
For Legal Litigator, a five-year-old Camluck gelding owned by Bob Hamather and trained by Casie Coleman, he returned $23.40 for his third win in a dozen seasonal starts.
Bartlett competed in all 12 of Saturday's races, and he won six times even though he was shut out in the Levy divisions.
(Yonkers Raceway)