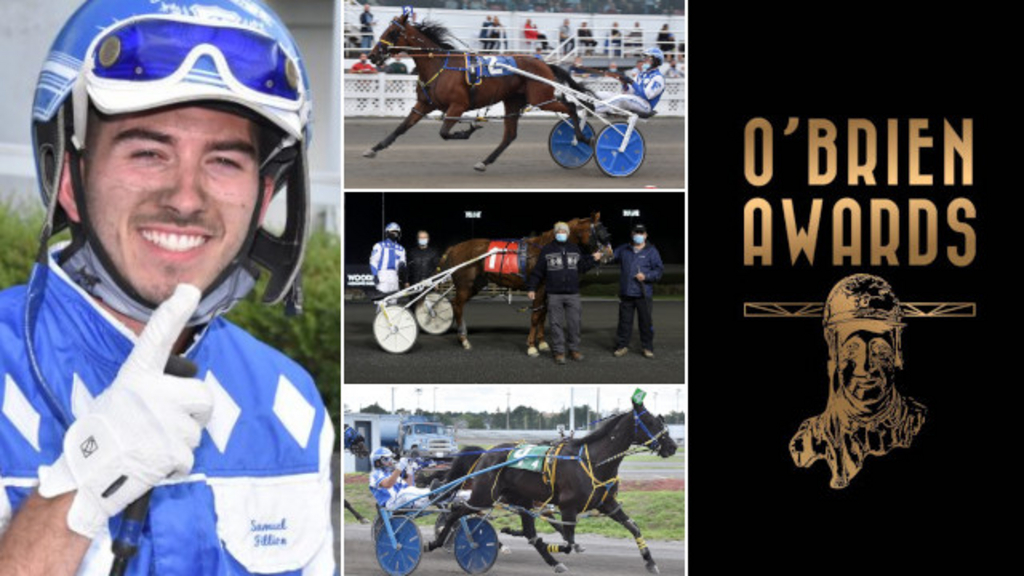 How hungry is Samuel Fillion for a career as a Standardbred driver?
Last winter, he'd drive eight hours from his home in Mont-Joli, Quebec, to Rideau Carleton Raceway in Ottawa, then drive back in time for work the next morning at a kitchen-cabinet manufacturer, sometimes catching a few hours sleep in his car along the road.
Last summer, he lived out of a camper-trailer in Joliette, Quebec, so he'd be closer to Hippodrome 3R in Trois-Rivieres and Rideau Carleton. By then, he'd committed full-time to his harness racing dream, a choice validated by breakthrough seasons at both tracks.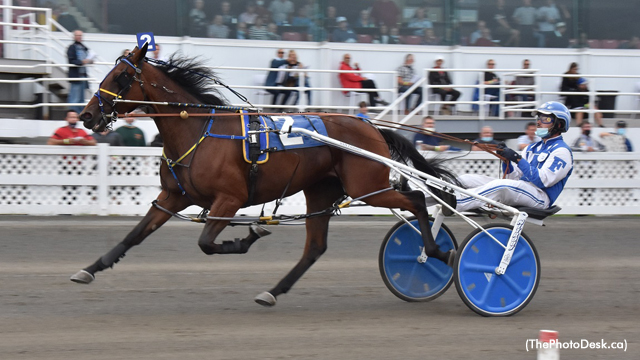 In his first full year as a professional driver, the 24-year-old finished fourth in the Rideau standings with 58 wins, and fourth at 3R as well with 36 wins. On the strength of those results, he's a finalist in the Future Star category at the 2021 O'Brien Awards honouring the best in Canadian harness racing, alongside high-percentage Ontario trainer Kyle Bossence.
The nomination was unexpected.
"It's nice to know you can be noticed even if you race in Quebec. I was just starting, so I'm very happy with the year," he said from his current base, a hotel room in Guelph, Ont.
Fillion relocated to Ontario at the end of the 3R meet in November, endeavouring to follow the career path of his close friend and inspiration, Louis-Philippe Roy. They're both from the same town and have known each other for years.
"He's like a brother," said Fillion, who stayed with Roy for several weeks while he got settled. "He's been a great help to me."
Fillion already has won races this year at Flamboro Downs and Western Fair. His goal is to become - like Roy - a top driver at Woodbine Mohawk Park.
"It's early days still. I don't know how it will play out. I'm taking it day by day, building confidence as I go."
Although Fillion has no personal connection to the famed Filion clan from Angers, Quebec, there is some family history in the sport. His father Marco, who worked in construction, owned a racehorse that competed in amateur races. That's where Fillion got his start as a driver, gaining experience on the fair circuit until he was ready to make the jump to the professional ranks in 2020. He scored his first win as a professional at 3R that summer with DJ Power, a horse owned by the Roy family.
Because there is no O'Brien banquet this year due to the pandemic, Fillion said he may end up watching the award presentations on his phone. Regardless of the outcome, it will be a thrill hearing his name as a finalist. "I'm just surprised and happy they know who I am."
The 2021 O'Brien Award winners will be announced at the 2021 Virtual O'Brien Awards Gala on Sunday, February 6, 2022, which will be video streamed on standardbredcanada.ca.
(A Trot Insider Exclusive by Paul Delean)