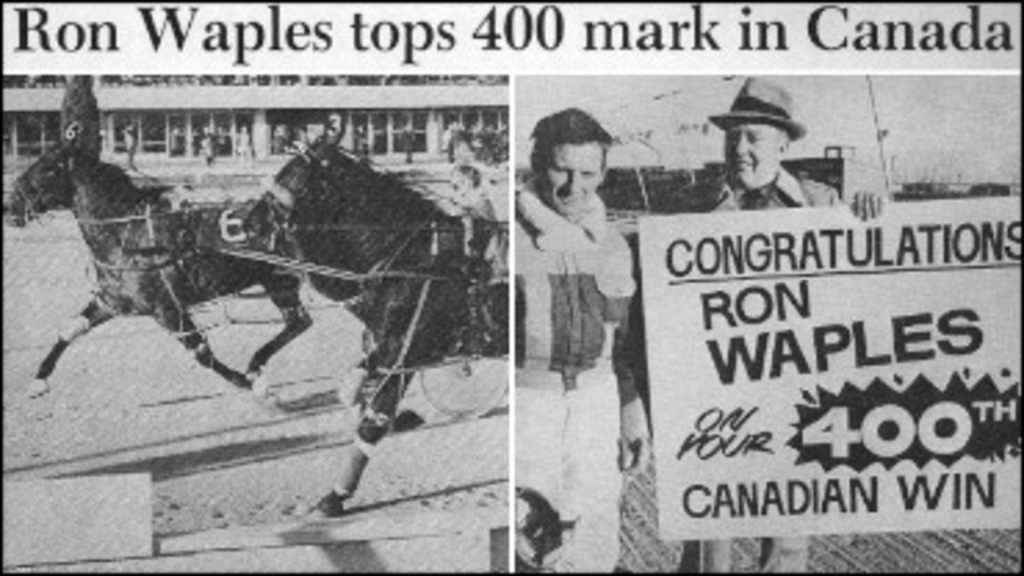 In the latest weekly edition of Rewind Robert Smith recalls the year 1979 and the special accomplishment that a young Canadian horseman turned in that season. His 443 trips to the winner's circle was not only tops in Canada but also led the sport for all of North America. If you're still wondering who that man was then read on.

The year of 1979 was a big one for young Ronnie Waples. His rise to stardom had been sure and steady but this year things all seemed to fit in place for the 35-year-old who hailed from a place called Ebenezer. He had spent his formative years working for his cousins Keith and Murray Waples, starting when he was just 16, and had learned his lessons well. By about 1971 Ron went on his own and as most people know that journey is still ongoing. Today it even includes talking about the "old days" with old "gaffers" like yours truly.
A big turning point in his career took place a few years earlier back in 1966 when the young sulky sitter won his first ever race. Driving a horse named Ferndale Prince in the rather unlikely and far away spot known as Sunnydale Raceway in North Bay, Ont., the 22-year-old scored a two-heat victory. The purse was $150, a rather far cry from some that he would compete for in the years ahead. That first year of sulky sitting saw him make just 14 trips behind the gate but he did collect six wins!
Ronnie got his first driving victory as a result of a somewhat impromptu scenario. The Rennick Bros., who owned the Northern Ontario track, contacted the Waples stable to see if they could supply some much needed entrants as they were short of horses for their race days. As it turned out Ron and his cousin Murray, who was his employer at the time, decided to truck a few horses to North Bay. When two from their contingent were entered in the same race young Ronnie suited up and luckily scored his first lifetime win.
Onward To 1979
The 1979 season for Waples was climaxed in mid-December when the talented teamster thrilled a huge Saturday afternoon crowd at Greenwood with an outstanding driving display reminiscent of a number of others he had showcased throughout the long season. As he headed into the weekend he was just five short of his goal of 400 Canadian wins. On Friday night he picked up two victories to leave him just three shy of the magic 400 he was shooting for. His wins on the Friday card came in the 6th behind El McCloud and the 9th with T R Elmar.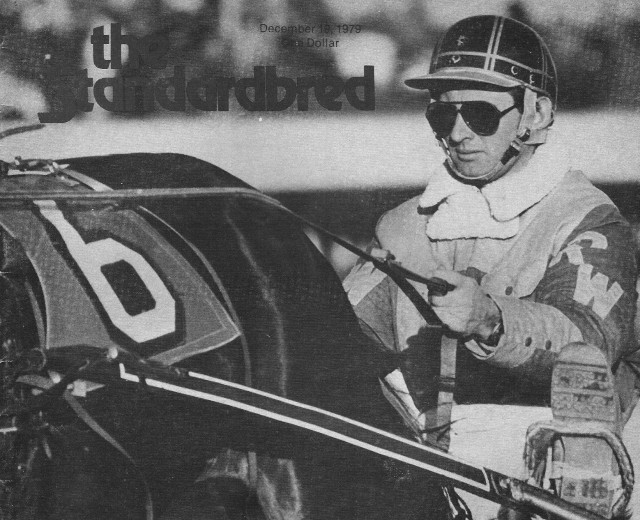 Floras Pride N is shown in rein to Ronnie Waples as she scored win number 400 for the young teamster in 1979 (Photo courtesy of the Standardbred)
The Saturday afternoon gathering was filled with promise as a number of headline events were scheduled and included many of the track's top performers spread throughout. On tap was the Free For All Handicap, the third leg of the popular Valedictory Pacing series and a Fillies and Mares Open Handicap Pace. The big attraction for the big crowd of course was the possibility that Waples might go over the 400 mark.
By the third race Ronnie was in high gear as he earned his first victory of the afternoon with an exciting 2:00 score in the Free For All with Holland, owned by The Waples Stable Inc. It was by the narrowest of margins that Holland slipped into the lead by a fraction of a nose ahead of Armbro Turk (Fred Gillis) to take the biggest share of the $12,000 purse. He was now at 398. Waples was right back in the next race to score number 399, driving Sea Mac Paul in an event for $4,000 claimers. No complicated math was needed to figure out the new magic number.
The Fillies and Mares Open Handicap turned out to be the magical race for Ronnie as he scored his much anticipated 400th win on Canadian soil. Floras Pride N was the winning mare as she nosed out Captivating Girl driven by Wm. Wellwood with Southgate Pride third with Doug Brown in the sulky. Time for the record setting mile was 2:01. The proud owners of the winning miss were Dr. David and Patricia Goodrow of Milton, Ont.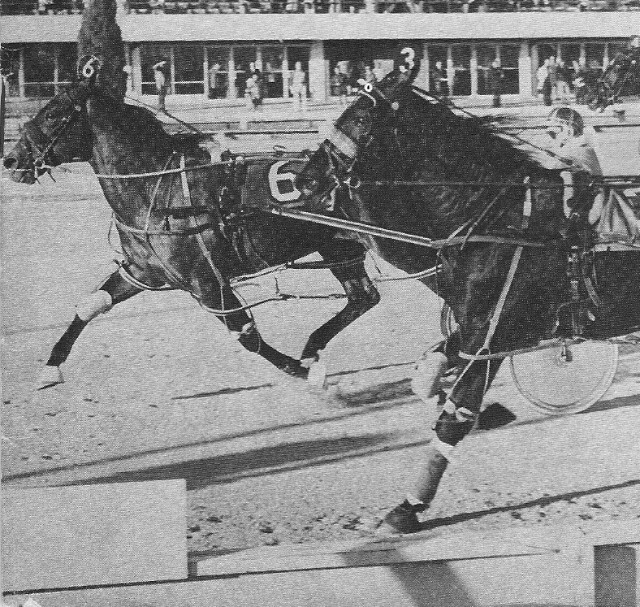 Floras Pride N (6) shows a half length margin to give Ronnie Waples his 400th win of the 1979 season at Greenwood in front of a standing room only Saturday afternoon crowd on December 15th. (Photo courtesy of the Standardbred)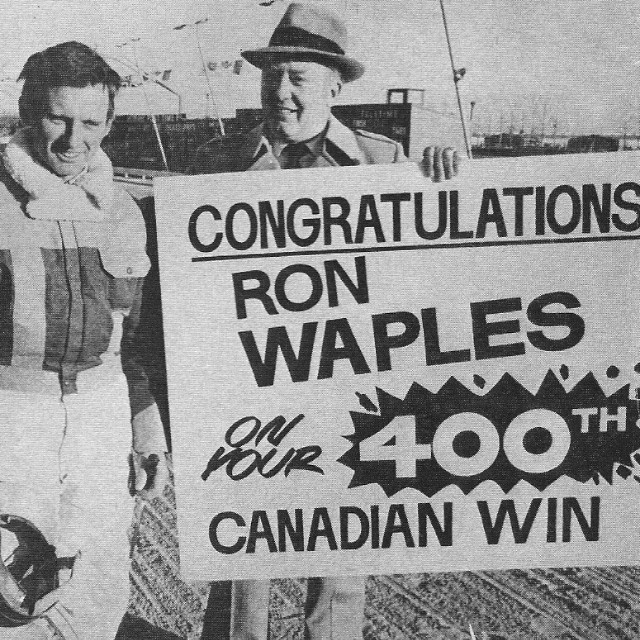 Ron Waples (left) is met in the Greenwood winner's circle by Ontario Jockey Club Racing Director Ed Bradley following his 400th win of the 1979 season (Photo courtesy of the Standardbred)
Following such an achievement one might think that a bit of time off might be in order; but not this Mr. Waples. "I'd like to come right back out and win the next race," he said shortly after the race while he was still in the winner's circle. He did not win any more races that afternoon but he soon headed for his next assignment. He immediately headed for the airport where he flew to Kingston Park Raceway to drive in 10 races on Saturday evening.
The challenge at hand was a matchup with four drivers from Blue Bonnets at Kingston. His traveling companions were three other pretty well-known horsemen of the day as well and all Jockey Club regulars. Be sure to see today's quiz question below as to who this trio of drivers were.
Closing Note: Ronnie has brought a lot more to the sport of harness racing than a pile of records and memorable wins. His many quips and quotes, his witty sayings and his homespun humor have become his trademark. His willingness to share an old story or just retelling how he remembered something is always good for a laugh. In a recent conversation Ron shared an interesting memory with me which I don't think he would object at me sharing with today's reading audience.
After a lengthy career filled with world class horses of both gaits and wins in nearly every major event in the sport, he spoke about one memorable horse in a very special way. His very first horse as an owner was an older pacing gelding named Black Silver, purchased for the princely sum of $500 from Retta Herrington back in 1965. Ronnie said "He was a nice $1,000 claimer but to me he was Niatross."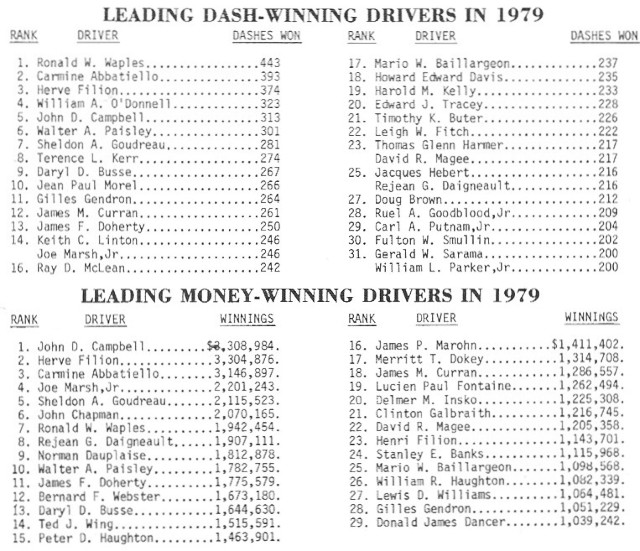 Stats courtesy USTA
Quote For The Week: "To succeed in life you need three things: A wishbone, a backbone and a funny bone" from entertainer Reba McEntire.
Who Is It?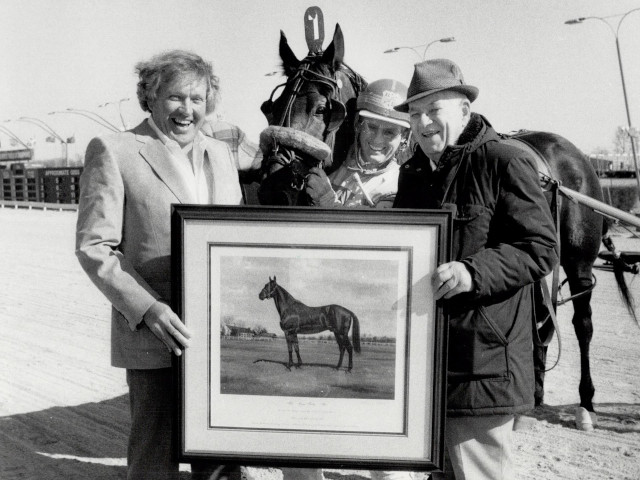 Can you identify the three good-looking gentlemen in this photo? At least one of them should be pretty easy.
Who Else is it?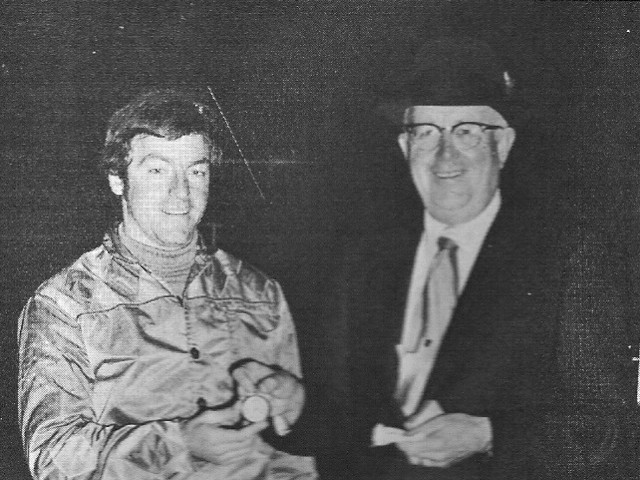 On the right is Dr. Wm. Ward of the California Racing Assoc. shown presenting a stopwatch to the meeting's leading driver for 1972 at Bay Meadows in San Mateo, Cal. Can you correctly identify the driver? (Harness Horse photo)
TRIVIA QUESTION: Drivers At Kingston? Can you name the three Toronto-based drivers who accompanied Ronnie Waples that evening back in 1979 to take on the Montreal drivers? The one clue I will offer is that despite the passage of over 42 years they are all still with us and at least one of them is still driving in races. Let us know your answers. (PS: Unfortunately I do not know who the Blue Bonnets drivers were that night in Kingston.)