Toys For You, driven by owner/trainer Rick Plano, conquered six serious rivals on Monday night (Jan. 10) to capture the $14,200 Open Trot at Pompano Park.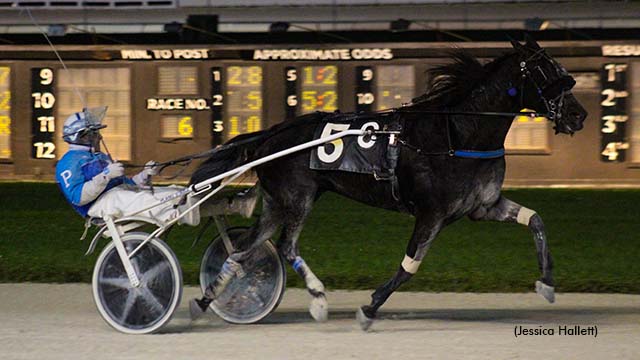 Those six serious rivals included five of the equine kind and one of the meteorogical kind as torrential rains left the track in somewhat of a quagmire, making the time of 1:54.1 quite amazing, under the circumstances.
The six-year-old gelded son of Airzoom Lindy ditched his normal tactics of racing off the pace and zipped off the wings to lead every stride of the mile, sawing through panels of :28, :56.1 and 1:24.4 before coasting home in :29.2 to score by 3-1/4 lengths over Max (David Miller), who was in the loose garden spot all the way around. Anchors Away (Braxten Boyd) was third, 10-3/4 lengths away, while Timon AS, posting the fastest final quarter in the difficult surroundings, was fourth. The Lionking AS picked up the nickel in the field of six.
"I'm still trying to get the mud out of my eyes!" lamented Plano in a post-race interview. "When it poured like that, all of us were quite concerned but we got the (mud) fenders on and continued the show. It was the least we could do for the fans out there that tuned in.
"As for the race, I didn't want to take any chances and the fact that we drew inside of the one who beat us last week helped a lot. So, I reverted back to the strategy used a few races back and decided to leave with him. He is so versatile and can race on or off the pace so I thought I put him up top with all the mud flying around. He put up some good numbers and I thought his performance was really good tonight! Obviously!"
Coming off his best season yet earnings $108,614, Toys For You sent his career bounty to $147,754 -- $10,650 of that in the first 10 days of the new year.
Off as the 1-2 favourite, Toys For You paid $3 to his multitude of backers.
About 20 minutes later, Plano sent a stablemate of Toys For You, Flagman, to the gate and, he, too, reached the winner's circle in the $12,600 Open II Trot.
This five-year-old altered son of Guccio hit the wire two lengths clear of Four Wheeler (Wally Hennessey) in 1:56.3. Celebrity Pegasus (Peter Wrenn) was third while Keegan Ho and Cash Hit were next in the field of nine.
In this event, it was Celebrity Pegasus (post eight) surging off the wings along with Four Wheelin (post nine), with Flagman (post seven) also on the move and looking for a spot closer up.
After Celebrity Pegasus reached the opener in a gooey :29.3, Four Wheelin took over and hit the half-mile beam in :58.4. On the backside, the pace began to quicken as Flagman left the pocket and began gnawing away, looking Four Wheelin in the eye at the third station in 1:27.3. These two continued to do battle through the lane with Flagman taking command a sixteenth from the wire.
For Flagman, trained by Plano for owner/wife Maryann, it was his 13th career win to send his lifetime earnings to $134,841. Flagman was 3-5 on the board and paid $3.40 to win.
The $11,000 Open III Trot went to Gabbys Wild Child for trainer/driver Joe Chindano Jr.
The five-year-old gelded son of Triumphant Caviar went a brave first-over backside binge all the way home to collar the leading Keystone Apache (Hennessey) a stride or two from the wire. Star Track Hanover (Boyd) was third, just a half-length away, while Mr Houdini, closing fastest of all, was fourth. Mighty Surf picked up the minor in the bulky field of 10.
The win was Gabby Wild Child's ninth lifetime to vault his earnings close to $100,000. Off as fourth choice, Gabbys Wild Child paid $12.20 to win.
Before the torrential rains hit, Patrizio Ancora's Cinnamon Beach kicked things off with a lifetime best 1:51 mile. The six-year-old gelded son of Rockin Image got picture perfect handling from Ancora as he sat relaxed in the pocket back of the leading Odds On Pick Six through hot panels of :27.1, :55 and 1:22.2 before finding a seam in the lane and winning an all-out war with Shane Adam (Fern Paquet Jr.). Brilliant Strike N was third over Odds On Pick Six with RJP next.
Off at 14-1, Cinnamon Beach paid $31.20 to win and set up a Pick-5 payoff of $6,031.70 for the 50-cent ducat.
Amateur action continued over the Sunday-Monday "weekend" as The Big Muscle and Uva Hanover took the Sunday offerings while For A Dreamer capped things off on Monday.
The Big Muscle, a 10-year-old gelded son of Muscle Mass, was sent on a double-bubble backside binge into contention before reporting home a handy winner for Joe Pennacchio in 1:59. It was Pennacchio's 205th career win and enriched his faithful to the tune of $13.80. The winner is trained by Jim McDonald for Pennacchio's Joe P Racing.
Uva Hanover, an 11-year-old prodigy of Cantab Hall, made his first start in about two months a winning one for Dein Spriggs, wiring his foes in 1:58.3 as the 6-5 favourite. Trained by Allen Saul for owner Spriggs, the winner paid $4.40 as Spriggs inches closer to the 500 win mark -- now at 485.
For A Dreamer rallied in the final strides to score for Tony Dinges in 1:56.4, not only beating seven rivals, but, also, the torrential rains that quickly followed resulting in a half-hour rain delay to install mud fenders on the bikes as track superintendent Dan Roberts and his crew made sure the track continued to be safe. Dinges now has 73 career driving wins.
Racing continues on Tuesday night with a $15,000 guaranteed Pick-4 pool bolstered by the lowest takeout in the industry -- 12 per cent. The Super Hi-5 finale now boasts a carryover of $21,704. Post time is set for 7:20 p.m.
(With files from Pompano Park)