Despite sitting last, there was no denying Sock It Away on his route to the winner's circle in the Sunday afternoon (Jan. 9) Preferred Pace at Red Shores Racetrack and Casino at the Charlottetown Driving Park.
Marc Campbell was in the driver's seat as the champion son of Pang Shui won his fourth straight for trainer Kevin MacLean and owner Reg MacPherson of Stratford, P.E.I. Sock It Away's winning time was 1:57.3 over a 'good' track with a two second variant as front-runner The Rev (Gilles Barrieau) finished second in the $3,200 event ahead of Mikey Camden (David Dowling).
Hampshire horseman Earl Watts took the lead as top trainer at Red Shores Charlottetown in the opening dash and never relinquished it all day with a trio of victories. The Windemere Farms team scored in the opener with Lady Lakeshore (Barrieau) in 2:02.2, then followed it up in a race seven upset at 16-1 odds with Windemere Albert (Dowling) in 2:01.3 and finished the day winning race 11 (pictured below) with Rock The Baby (Ken Murphy) in 2:01.3.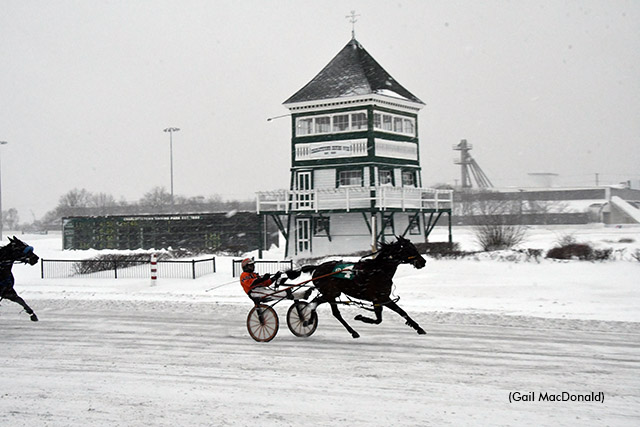 Trainer Jennifer Doyle scored a pair of victories as Mantario (Myles Heffernan Sr.) delivered as the favourite in 2:00.2 in race eight and Winter Blast (Murphy) closed out the day winning in 1:58.1.
Driver Murphy also won with Doc Darryl from his father's Clifford Murphy stable by a nose in 1:59.4 in race 10 for the triple.
Live racing is set to continue Saturday, Jan. 15 at Red Shores Charlottetown.
The afternoon handle was $73,926.
To view Sunday's harness racing results, click on the following link: Sunday Results - Charlottetown Driving Park
(With files from Red Shores)