On December 4, the American Harness Drivers Club (AHDC) and its members, through the support of Freehold Raceway, The Downs at Mohegan Sun Pocono and Harrah's Philadelphia, made a $5,000 donation to support the Harness Racing Museum & Hall of Fame.
The AHDC and its members think it is extremely important to preserve the heritage and history of this great sport and that is exactly what the museum does.
Anthony Verruso, the president of the club, said "We hope this money helps get the Museum through the tough times caused by the pandemic and hopefully with the continued success of the club we can continue to support it in the future.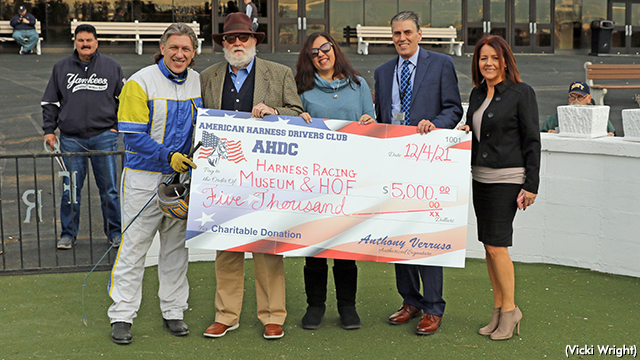 Presenting the cheque to Tom Charters, Trustee of the Museum (second from L), in the Freehold winner's circle was (left-right) AHDC President Anthony Verruso, his wife Dawn, Freehold GM Howard Bruno and Freehold Racing Secretary Karen Fagliarone.
(AHDC)