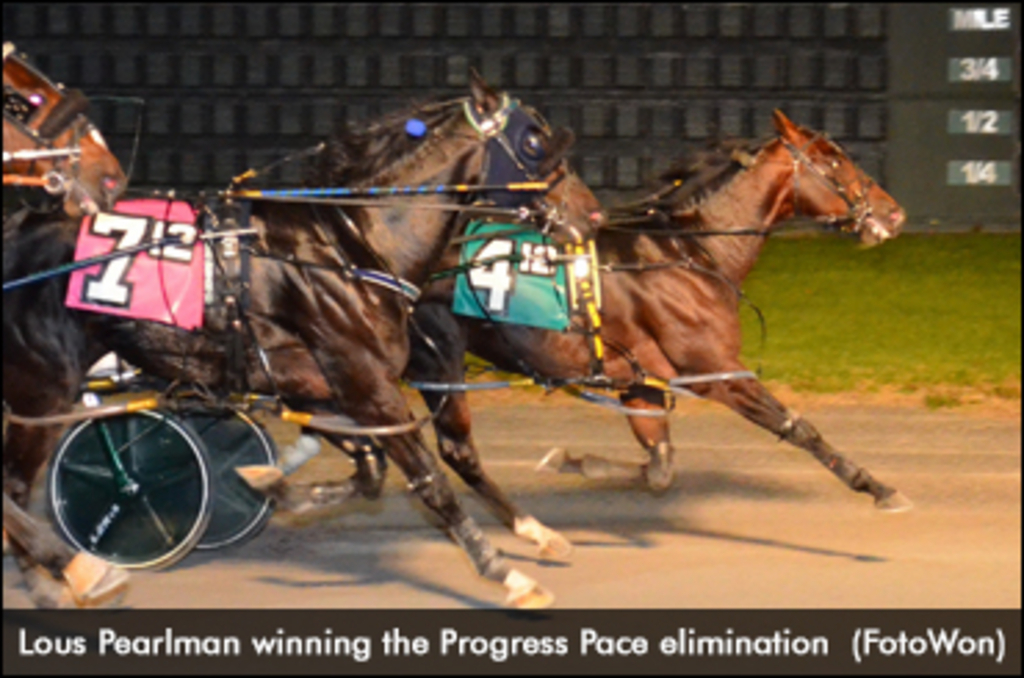 Lous Pearlman already has provided his owners with great memories this season, and the colt will look to add one more to the list Wednesday when he competes in the $310,000 Progress Pace for three-year-old male pacers at Dover Downs.
Last week, Lous Pearlman won the Progress Pace's single elimination by a neck over stablemate Southwind Gendry in 1:49.2. He will start Wednesday's final from post two with Yannick Gingras in the sulky for trainer Ron Burke.
Lous Pearlman was bred by Burke Racing, the partnership of Mark Weaver and Mike Bruscemi, and Elizabeth Novak. The group owns the horse, a son of Burke-trained Hall of Famer Sweet Lou out of Lucys Pearl, with Howard Taylor.
His wins this year include his Little Brown Jug elimination and the same-day Little Brown Jug final, where he outdueled Perfect Sting by a nose in a memorable stretch battle at the Delaware County Fairgrounds in central Ohio.
"Once they hit the wire, I thought he won, but I don't know that angle," said co-owner Weaver. "If it's a track I watch all the time, I'm usually pretty confident. But this was almost like two races, watching the actual race and then sweating the photo.
"I've been fortunate to win a lot of races, but to me, that was everything," he added, noting the homebred factor. "Winning the Jug was as good as it gets."
For the season, Lous Pearlman has won eight of 18 races and $568,719. His other victories include the Pennsylvania Sire Stakes championship and a consolation division of the Max C. Hempt Memorial.
His earnings rank fourth among all three-year-old pacers in North America and his best win time of 1:47.4 in a conditioned race at The Meadowlands on July 10 is the fastest mile of the season for a sophomore male pacer. He also was the sport's fastest two-year-old male pacer, with a winning time of 1:49.1 in a Bluegrass Stakes division at Lexington's Red Mile.
"That's kind of cool," said Weaver. "I think his best game is probably a five-eighths or half-mile track, but both those [season-fastest] miles were on mile tracks, so it shows he certainly is good enough."
In addition to Lou's Pearlman, six of the remaining Progress Pace finalists have won on the Grand Circuit this year. They include Matron Stakes and Carl Milstein Memorial champ Charlie May, Cane Pace winner Rockyroad Hanover, Adios winner Hellabalou, and Tattersalls Pace winner Abuckabett Hanover.
"It would be great to win to end his three-year-old season," Weaver said about Lous Pearlman. "I'm sure Yannick will have a game plan, but at the same time be willing to [call an] audible if needed. He's shown he can do it any way. I don't think there is a bad spot for him. Wherever Yannick puts him, I think he will race fine."
Burke said he was pleased with both Lous Pearlman and Southwind Gendry heading into the Progress final. Southwind Gendry will start from post eight with driver David Miller in the eight-horse field.
"I'm real happy with them going into the race," said Burke. "My horses usually do well in the last few stakes. My horses tend to hold up, which I'm always proud of."
Racing begins at 4:30 p.m. (EST) Wednesday at Dover Downs. The complete field for the Progress Pace, scheduled as race 12, is listed below.
$310,000 Progress Pace
Post - Horse - Driver - Trainer - Morning Line
1. Abuckabett Hanover - Andrew McCarthy - Tony Alagna - 6-1
2. Lous Pearlman - Yannick Gingras - Ron Burke - 7-2
3. Hellabalou - Todd McCarthy - Josh Green - 10-1
4. Chase H Hanover - Matt Kakaley - Scott Cox - 12-1
5. Rockyroad Hanover - Dexter Dunn - Tony Alagna - 8-1
6. Virgo - Corey Callahan - Dylan Davis - 12-1
7. Charlie May - Tim Tetrick - Steve Carter - 5-2
8. Southwind Gendry - David Miller - Ron Burke - 9-2
AE1. Ill Drink To That - Montrell Teague - Chris Ryder
(With files from USTA)