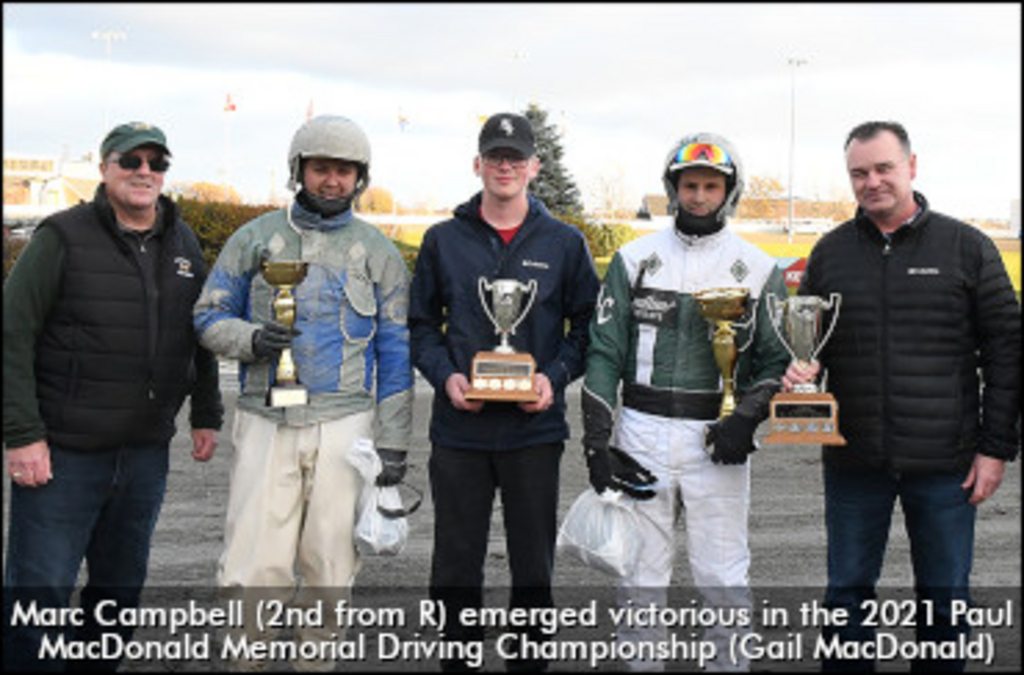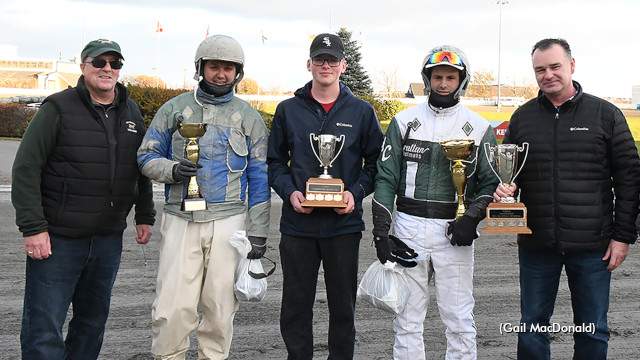 Marc Campbell continued working on his 12th straight season of dominance in Island racing with a Saturday afternoon win in the Paul MacDonald Memorial Driving Championship on Horse Person's Day, presented by the P.E.I. Standardbred Horse Owner's Association, at Red Shores Racetrack and Casino at the Charlottetown Driving Park.
Campbell only had one win on the day but scored five second-place finishes in the eight-race MacDonald Driving Competition to garner the most points and be declared the champion at 69 points.
Corey MacPherson had five wins on the day — including four in the driving championship — to finish second with 67 points. Jason Hughes and Adam Merner finished in a tie for third with 51 points ahead of fifth-place Steven Shepherd (50 Pts), sixth-place David Dowling (48 pts), seventh- place Ambyr Campbell (44 pts) and eighth-place Donnie MacNeill (41 pts).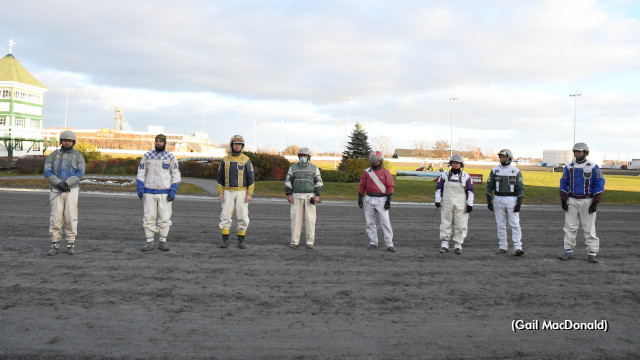 Drivers in the Competition from left to right - Corey MacPherson, Adam Merner, Steven Shepherd, Donnie MacNeill, David Dowling, Ambyr Campbell, Marc Campbell, and Jason Hughes
MacPherson's wins were with the Jennifer Doyle-trained duo of Elm Grove Mistress (1:59.3) and Winter Blast (1:58), Painted Pony (1:59.3) for trainer Raymond White, Century Gaga (2:01) from the Earl Watts barn and Dancers Pass (2:02.1) for trainer Philip Kelly.
Ladylike scored an upset win in the $3,100 Fillies and Mares preferred pace rallying from the back in 1:57.1 for driver Dowling, trainer Colin Johnson and owner Debbie Element of Village Green. Better Be In Love (Driven by Dale Spence) was second with The Time To Win (Ken Murphy) completing the $761.20 triactor ticket.
Live harness racing continues Sunday afternoon at 12:30 P.M. at Red Shores Charlottetown. For race replays and more go to Redshores.ca. To view the results from Saturday's card, click the following link: Saturday Results - Charlottetown Driving Park.
(Red Shores)