In the hangover from the star campaign of Party Girl Hill, the duo of owner Tom Hill and trainer Chris Ryder continue to ride their second wave of pacing filly power with the Always B Miki debutante Niki Hill, who strode to a 1:50.4 win in taking the $220,110 Kindergarten Classic Final for two-year-old pacing fillies on Saturday (Nov. 13) at The Meadowlands.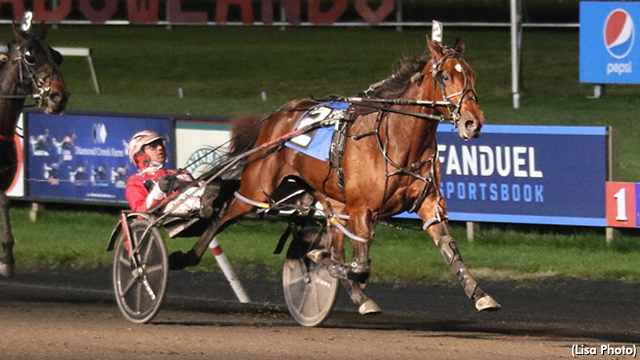 Dont Fence Me In dashed for the lead from post nine with Find Happiness securing the pocket and Treacherous Dragon racing third before pulling off the pylons and swooping for the lead into a :27.3 first quarter. Niki Hill tracked Treacherous Dragon's move up the backside and cleared command before a :55.2 half while cruising uncontested around the final turn.
By three-quarters in 1:23.4, Treacherous Dragon mounted a bid from the pocket after Niki Hill. But with a few whip taps from driver Dexter Dunn, Niki Hill stayed to task and kept Treacherous Dragon behind to win by 1-1/2 lengths under wraps in the end. Hood Party gained ground from a minor first-over bid to take third from Dont Fence Me In, who settled for fourth.
"We got lucky," trainer Chris Ryder said after the race on having another prominent pacing filly just one year after Party Girl Hill. "[We] did a little bit of homework and stumbled across her – she was right in front of me actually a half a dozen times. I always say usually what you're looking for is right in front of you, but we managed to get the right one and it's a thrill.
"There's always something they can't do, but she's doing everything we're asking of her," Ryder also said. "There's a bit of pressure when you're supposed to win, but all the credit goes to her. She's just terrific. When you're training horses and racing a lot of horses, you know a lot of things can go wrong. But terrific horses overcome problems, and she's done that so far.
Winning her eighth race from nine starts, Niki Hill has banked $790,044 through her season, which includes victories in the $500,500 Shes A Great Lady at Woodbine Mohawk Park and the $600,000 Breeders Crown Final two weeks ago at The Meadowlands. Ryder also said that, assuming Niki Hill exits the race sound, they will enter her for one more start this year in the Three Diamonds next Saturday (Nov. 20) at The Meadowlands.
Sent the 1-5 favourite, Niki Hill paid $2.40 to win.
(With files from The Meadowlands)