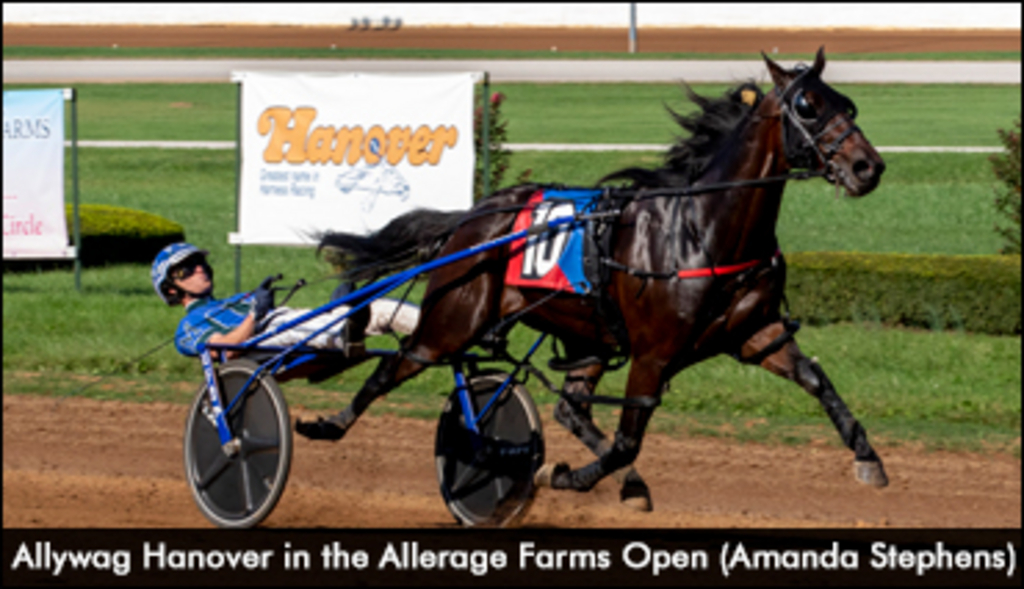 Allywag Hanover will headline Sunday's $100,000 Potomac Pace at Rosecroft Raceway, seeking to rebound from an unlucky and potentially costly loss in the $600,000 Breeders Crown Open Pace.
The Brett Pelling-trained four-year-old son of Captaintreacherous had been in the running for the 2021 U.S. Horse of the Year title with a string of five straight victories, only to finish third at the Meadowlands on October 30, beaten by just a neck after setting a blistering pace.
"He's definitely a candidate for Aged Pacer of the Year [in the U.S.]. If he won the Breeders Crown, he would have been a candidate for Horse of the Year. His stablemate Test of Faith, she just keeps winning. The places don't usually reverse until someone loses," said Pelling, who also trains Test of Faith, the winner of 21 of 24 career races, including the Breeders Crown pace for three-year-old fillies. "He had his chance, but he didn't pull it off – that's the bottom line. But he's a strong candidate for Aged Pacer of the Year."
Allywag Hanover was favoured at 2-5 for the Breeders Crown, in which he was parked outside of Ocean Rock during a first quarter of a mile in :25.4. He went on to set the pace into deep stretch before faltering and being overtaken by winner Ocean Rock and nosed-out for second by Cattlewash.
"He had an outside draw and he paid for it," said Pelling. "He was basically the one doing all the work on the outside in a 25-second [first] quarter. They pay for it, but he hung in there, also. He raced great."
Allywag Hanover prepped for the Breeders Crown with an Allerage Farms Open victory at The Red Mile, where he equalled the world record for gelding pacers with a mile clocking in 1:46.4, capping a five-race winning streak. He had previously been victories in the Sam McKee Memorial at the Meadowlands, and the Always B Miki Invitational at Pocono, as well as back-to-back wins at Woodbine Mohawk Park in the Canadian Pacing Derby and Mohawk Gold Cup.
"I can't really fault any of his races this year. It's not easy to win – that's the bottom line – especially while you're racing at that level," said the New Zealand-born Pelling, who took a 10-year hiatus from racing to raise a family in Australia before resuming his successful U.S. career in 2017. "He did develop a new dimension where they realized how much gate speed he has. If he's developed a new little coat to his armor, it's just sheer gate speed. Speed is everything these days."
Todd McCarthy, an Australian horseman who has driven 432 winners in his first two years of action in the U.S., will drive Allywag Hanover on Sunday.
Allywag Hanover, who drew the rail post, will be challenged by seven pacers, including Ron Burke-trained This Is The Plan, who finished ninth in the Breeders Crown after a second behind the Pelling trainee in his world record-equalling performance at The Red Mile.
In June at Northfield Park, This Is The Plan set his own world record while winning the $200,000 Battle of Lake Erie in 1:47.3, the fastest clocking ever recorded on a half-mile track. Yannick Gingras, who was in the sulky, has the driving assignment for the Potomac Pace. This Is The Plan was fifth in last year's Potomac.
Leonidas A is scheduled to line up behind the starting gate for an attempt to score a repeat victory in the Potomac Pace. The Sheena Cohen-trained six-year-old gelding scored a 15-1 upset victory in last year's race, closing with a rush to defeat heavily favoured Bettors Wish by three-quarters of a length. Leonidas A, who has won nine of 19 starts this year, will once again be driven by Austin Siegelman.
Like Leonidas A, Enavant would be expected to benefit from a hotly contested early pace. The Luc Blais-trained five-year-old gelding is coming off a late-closing fourth-place finish in the Breeders Crown, a length behind Allywag Hanover. The son of Somebeachsomewhere had previously finished second behind Allywag Hanover in the September 18 Gold Cup at Mohawk Park. Dan Dube, who drove Keystone Velocity for a Potomac Pace win in 2017, will drive Enavant.
Nicholas Beach, who finished eighth in the Breeders Crown last time out, has twice finished second behind Ocean Rock this year in the Dayton Derby Grand Circuit Stakes and the Jim Ewart Memorial at Scioto Downs. The Jennifer Bongiorno-trained five-year-old gelding finished just ahead of third-place finisher This Is The Plan in the Dayton Derby. Joe Bongiorno will drive the son of Somebeachsomewhere in the Potomac.
Jacks Legend N will bring a three-race winning streak into the Potomac Pace. The Josh Green-trained seven-year-old gelding has won 28 of 82 career starts, including a 5-1/2-length score at Dover Downs last time out. Dexter Dunn returns to the sulky on Sunday.
Nandolo N enters the Potomac Pace off an Open victory over Leonidas A at Yonkers. The Shane Tritton-trained seven-year-old gelding has won six races and finished at least second nine times in 18 starts in the U.S. since being imported from New Zealand. Jason Bartlett has the drive behind the son of Betterthancheddar.
Mayhem Hanover, who won two of his last three Mohawk starts before finishing sixth in a Meadowlands winners-over conditioned pace, rounds out the field. Tim Tetrick has the drive behind the Jeff Cullipher-trained four-year-old son of Sportswriter.
(With files from Rosecroft Raceway)