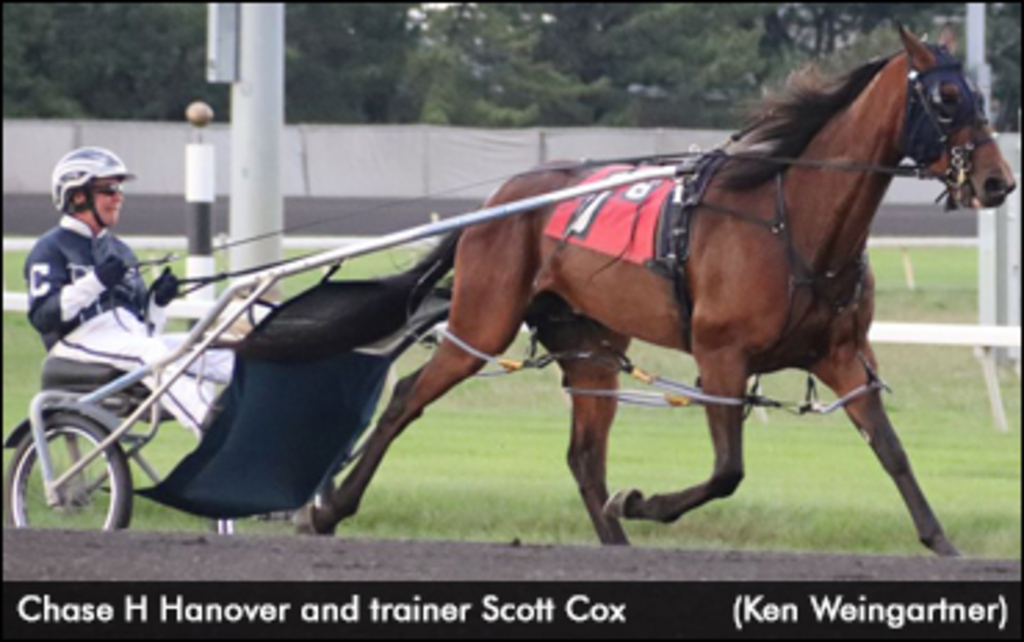 Jason Ash and Scott Cox might have wished for better luck for their sophomore pacer Chase H Hanover, but they couldn't ask for better effort.
Chase H Hanover heads to Thursday's $164,750 Matron Stakes for three-year-old male pacers at Dover Downs with a total of 10 top-three finishes, including three wins, in 18 races this season and $361,503 in purses.
He's started eight times in stakes worth at least $100,000 and earned a cheque in all but two, when he started from post eight in both the Carl Milstein Memorial at MGM Northfield Park and in the Adios at The Meadows. In fact, four of his past five off-the-board finishes dating back to July came from posts seven or eight.
"He's had a good season," said Ash, who co-owns Chase H Hanover with trainer Cox. "We've had some bad luck with post draws and some trips didn't work out, but he's one of those horses that always shows up."
"He made every race we staked him to, other than the North America Cup because we opted to go to the (Pennsylvania Sire Stakes) final," said Cox. "We can't ask for anything more than that. I'd like to have drawn a few different post positions, this and that. But we made it to every race and that's the main thing."
The Matron for three-year-old male pacers is one of four Matron Stakes for three-year-olds on Thursday's card. Breeders Crown winners Bella Bellini and Test Of Faith are the morning line favourites in the filly trot and filly pace, respectively, while In Range is the favourite in the colt and gelding trot.
Breeders Crown runner-up Charlie May is the 2-1 top choice from post seven in the colt and gelding pace, with Chase H Hanover at 10-1. In his most recent start, Chase H Hanover finished third behind Perfect Sting and Charlie May in the Breeders Crown. Tim Tetrick, who is the leading driver at Dover Downs, will sit behind Chase H Hanover for a third consecutive start. The duo will leave from post three.
"Charlie May will still be good [from post seven]; he's just a phenomenal horse," said Cox. "[Chase H Hanover] seems pretty good and fresh. I'm just going to leave it up to Tetrick. He's starting to get a feel for him. Timmy is the top driver at Dover, so he knows his way around the track. I'm pretty happy there."
Chase H Hanover is a son of Captaintreacherous out of Calgary Hanover. Last year, he equalled the world record of 1:51.1 for a two-year-old gelding pacer on a half-mile track when he won the Standardbred Stakes at the Delaware County Fairgrounds in Ohio. He ended the campaign with four wins and five seconds.
Three of his runner-up finishes, including the Pennsylvania Sire Stakes championship, were behind Southwind Gendry. Now a millionaire, Southwind Gendry is the 5-2 second choice in the Matron.
This year, Chase H Hanover's wins include the Jenna's Beach Boy Stakes. In addition to his third-place finish in the Breeders Crown, he was third in the Messenger.
"He's so easy on himself; that's how he was as a two-year-old and three-year-old," said Cox. "He's very quick out of the gate, so that helps a ton. But he's a very laidback horse. He's taken care of himself."
If all goes well following the Matron, Chase H Hanover will go to the Progress Pace at Dover Downs to cap his campaign.
"We're hoping to finish up the year good," said Ash, a former trainer who has owned horses with Cox for about 20 years. "I think he's in a good spot coming into the Matron. We need a little luck and hopefully we'll get some money in there. We'll see how it shakes out."
Racing begins at 4:30 p.m. (EST) Thursday at Dover Downs. For free TrackMaster program pages courtesy of the Delaware Standardbred Owners Association, visit the Dover Downs website.
(With files from USTA)