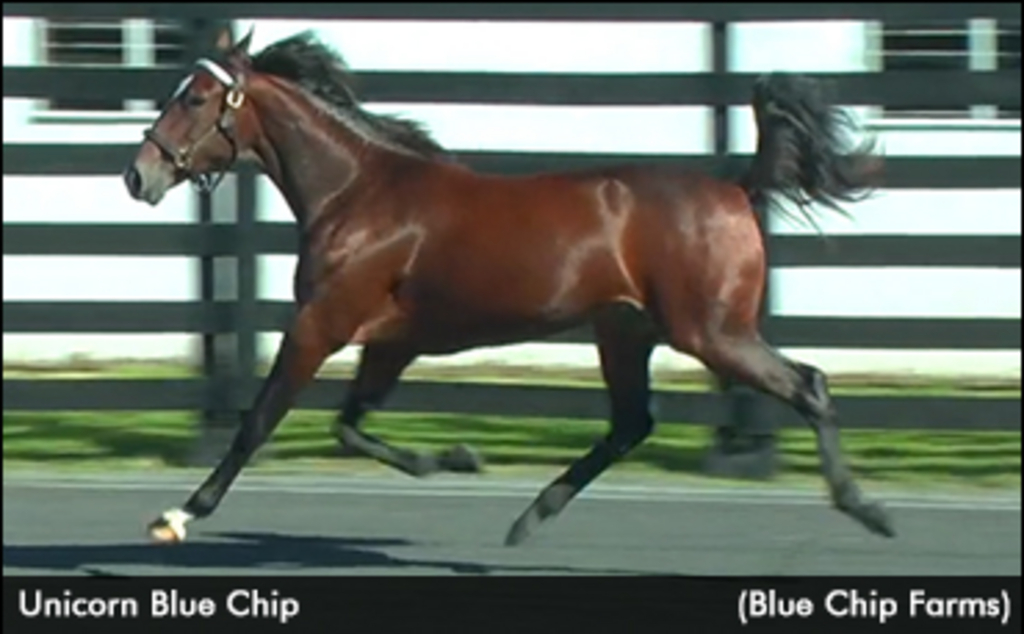 The annual Standardbred Horse Sale continued in Harrisburg, Pennsylvania on Tuesday, Nov. 9 with another trotting filly topping the bidding for the second yearling session, as Unicorn Blue Chip sold for $475,000.
Unicorn Blue Chip, selling as Hip 300, was purchased by Lucas Wallin of New Egypt, New Jersey, acting as agent. Bred by Blue Chip Farms, the filly is by Chapter Seven out of the unraced Donato Hanover mare Dunk The Donato.
She is a half-sister to world champion and millionaire Plunge Blue Chip (1:49.4 - $1,596,841), multiple Grand Circuit stakes-placed Splash Blue Chip (1:51.4 - $474,623) and recent Matron Stakes winner Threepointbluechip (1:55 - $107,100).
"Of course, we liked the page, and the video," said Wallin, who purchased the filly for a yet-to-be-finalized group. "And the way she looked. She looked really, really good. She is a little on the smaller size, but she is a beautiful, correct filly.
"Plunge Blue Chip was a lot bigger. But most of the Chapter Sevens, the good ones, I think are not too big. They are a little on the smaller side, so I wasn't worried about the size. I'm very happy we got her. I figured she would go very high, the trotting fillies especially. We were prepared to go high. But that was a lot of money."
Sons and daughters of Walner continue to fetch top dollar, with Won Liner fetching the second highest sale price during Tuesday's session. The daughter of Walner - Won Ton Hanover, bred and consigned by Fred Hertrich's Allamerican Standardbreds, was purchased by Ake Svanstedt for $310,000.
"I liked the conformation and the horse, and she was a Walner," Svanstedt said. "Everything was good."
Twin B Nation rounded out the top three of the highest priced yearlings to pass through the sales ring on Tuesday with a bid of $300,000. The American Ideal - Lovely Erin bay colt, sold as Hip 337 by breeder / consignor Twinbrook Farms, was collared by Determination of Montreal, Que.
"We don't buy a lot, but we buy a pacer every year," said Luc Blais, who trains for Determination. "The money is good too with the pacers, but you need the right one.
"The first thing (about Twin B Nation) was the individual. He is a super nice horse, looks like a million bucks. Twinbrook does a very good job. When I saw him at the farm and when I saw him here again, we liked him a lot. I like his temper. He's a very laidback horse. I like that. I think that is very important. It is a lot of stress when you race at that level and go to every kind of track. You need a good horse to deal with that."
A total of 300 yearlings were sold during the second yearling session for gross sales of $13,425,000. The average sale price was $44,750, up from the $35,691 average sale price for the second day of the 2020 sale, which was held at Timonium Fairgrounds in Maryland.
Unicorn Blue Chip, Won Liner Twin B Nation were the first yearlings to top $300,000 in the sale's second session. Over the past five years, no horse sold for more than $280,000 during the second session.
Through this year's two sessions, the sale at the Pennsylvania State Farm Show Complex averaged $79,399 for 421 horses. The previous high average for the first two days was $69,769 for 468 horses in 2019. This year's average represented a 13.8-percent increase over the previous record.
Last year's sale, which was held at the Maryland State Fairgrounds because of the COVID-19 pandemic, averaged $52,133 for 445 horses through two days. This year's average was a 52.3-percent increase over 2020.
The two-session gross this year, $33.4 million, has already topped the total gross for last year's sale, which was $29.5 million for 773 horses. The record for overall gross was also set in 2019, at $40.7 million for 833 horses. After two sessions that year, the gross was $32.6 million for 468 yearlings.
"It's just incredible how the sale continued," said Dale Welk, the Standardbred Horse Sale's president and director of operations. "I had a lot of the buyers today say there is still plenty of money here, and there was. It proved it, right up until the end. We're still going to have those standouts tomorrow. I think it will correct just a little, but I think we're still going to have a great day tomorrow. It seems like all the consignors are happy. Buyers are happy, even though they're spending more money, they're getting what they want, some incredible individuals. I hope it carries on.
"It's very satisfying for the work we put into it all year. The office staff, everyone, is working hard to put the right kind of sale together. It's extremely gratifying. I can't thank our consignors, the owners that sell with us, and the bidders and buyers enough. That makes the whole thing. We do the background work but we need them in the front."
The Black Book Yearling Sale continues on Wednesday at 10 a.m. The Mixed Sale portion of the five-day auction will be held on Thursday and Friday, starting at 10 a.m. on both days.
IMPORTANT LINKS
• Online Bidding (via i-bidder)
• Sale Live Streaming Video (Active during the sale and will also appear below. Click 'watch live' and then 'play' to view the live stream.)
(with files from USTA)