Agedchedar Hanover, with Braxton Boyd handling the gelding's lines, eked out a photo finish win in a three-way thriller at Pompano Park on Sunday night (Nov. 7) in the $12,600 Open II Pace.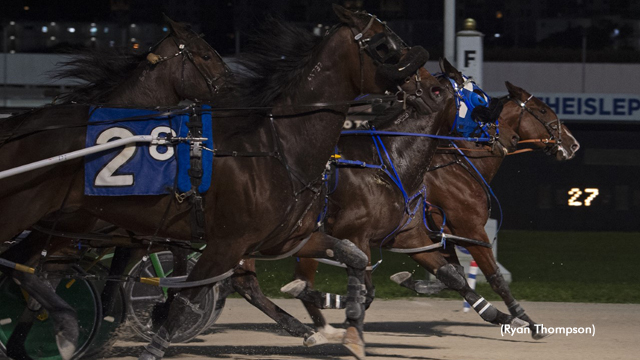 The five-year-old son of Betterthancheddar, dismissed in the wagering as the sixth choice at 9-1, bided his time patiently before finding a seam in the stretch to score by a head over Sand Sniper (Joe Chindano Jr.) with the fastest-closing Rocksapatriot (Dave Ingraham) next, just another head away. Actor Hanover and Kotare Yael N also earned cheques in the 1:52.2 mile.
Agedchedar Hanover left alertly from the three post with Sand Sniper (post four) leaving right with him to take charge around the opening turn, only to yield to Sports Teen at the opening marker clocked in :27. These three remained 1-2-3 through a speedy :55 half and, shortly thereafter, things really began to heat up. With Warrawee Veloce sent on a double bubble move and Actor Hanover on a four-wide binge, Agedchedar Hanover sat chilly on the inside shuffled a bit to fifth but full of pace.
Around the final bend, Sports Teen drifted out a lane allowing Sand Sniper on through to take the lead and Agedchedar Hanover improving his position with clear sailing turning for home. In the lane, Sand Sniper also drifted out a bit, Agedchedar Hanover took advantage of that inside seam and the battle was on a sixteenth out as Rocksapatriot was surging fastest of all joining the fray.
The photo determined that Agedchedar Hanover hit the wire on top for his sixth win of the year in 34 starts, sending his 2021 bounty to $60,281 and $130,974 lifetime.
Owned by Dona McDonald, Agedchedar Hanover is trained by Jim McDonald, who remarked after the win, "You know, he's been competitive in this class up in New York and down here in his two starts. The draw (post seven) hurt a bit in his last but he had excellent pace late. The assignments of post helped this week and he was given a very patient drive by Brax (Boyd). Some cheeses get better as they age and this Agedchedar seems to be getting better with age, as well!"
It was the 16th career victory of Agedchedar Hanover and he rewarded his faithful with a $21.80 mutuel.
The $11,000 co-featured Open III Pace went to Double Metal with Mike Micallef driving.
This three-year-old son of Betting Line, racing against older horses, was ultra-game in scoring a 1:52 win for trainer Peter Blood, who co-owns with Rick Berks. This race, too was decided in a photo finish as Double Metal out-slugged a game Villiam (Joe Chindano Jr.) by a lip with Statement Made A (Wally Hennessey) next, just a neck back.
At the outset, it was Villiam and Statement Made A trading punches early through an opener in :26.4 with the eventual winner fifth...but on the move early to reach the saddlepad of the leader halfway through in :55.3. On the backside, the war continued through a :27.1 panel leaving the top three in a mini-breakaway turning for home. When they straightened away, Villiam was still fighting off Double Metal with Statement Made A finding room to roam inside and these three hit the line together with Double Metal winning by a lip.
Alaskan Seelster was fourth Windemere Ryan getting the nickel.
Double Metal now has a 7-4-5 scorecard in 22 starts, good for $66,393. He paid $4 to win.
Sunshine State Stakes action continued on Sunday night with two year-olds in action and Charis, Prince of Sussex and Cowboy Cool were repeat winners while Come On Spank Me got her initial score in these Sunshine State Stakes.
Charis, the daughter of Shibboleth Hanover who had an easy time in the first two legs of the Sunshine State Stakes, had to lower her lifetime mark by almost five seconds to get by a very stubborn Gs Independence to score by a half-length in 2:02.4 -- her previous mark being 2:07.3. This event for trotting fillies was a non-betting event with only two starters.
The latter cut serious panels of :30.1, 101 and 1:31.4 before succumbing to Charis in the final stages.
Tom Casey owns the filly, who is trained and driven by Wally Hennessey.
Prince Of Sussex, also driven by Hennessey, again was an easy winner in the trotting event for colts and geldings -- a non-wagering race -- with the margin of victory 40 lengths over Gator Force (Ken Holliday) while Oh No Not Again (Ingraham) placed third over Ditchemkwik N Howe.
Prince Of Sussex is a gelded son of Creatine trained by Jake Huff for Heather Wilder and Herman Brewer. He has won his three Sunshine State Stakes by 64-1/2, 53-1/2 and 40 lengths, respectively.
In the non-betting two-year-old filly pace, Come On Spank Me, trained and driven by Dale Hiteman, fought back in the final yards to score a head decision over arch rival Prairie Merida (Boyd) in 1:57.3.
The daughter of Tellitlikeitis took charge off the wings and cut the mustard before being confronted by Prairie Merida at mid-stretch and fighting that one off as they crossed the wire. Neverouttathefight (Simons) was third, 11 lengths away while Gracious Lady finished fourth. Benecio picked up the minor award.
Come On Spank Me is owned by the DTM Stable and sports a 2-2-0 scorecard in six starts to go along with a 1:54 mark over a sloppy Hoosier Park oval.
Cowboy Cool kicked off the betting card with a 1:55.4 win for Hennessey to remain undefeated in Sunshine State Stakes action.
The gelded son of Western Terror, owned by Souren Hovsepian along with trainer Rod Lorenzo, fought off the challenge of Gold Star Sven (Corey Braden) to score by a length.Prairie Handsome (Boyd) was third over Forever Joe K and Gator At The Well.
Cowboy Cool paid $2.40 to his multitude of backers.
Driver Wally Hennessey picked up five wins on the card -- two non-wagering events -- with Freaky Flyer ($3.40) and Lincolnjames ($9.20) completing his "hambone" achievement.
Racing now moves to a three-night-per-week schedule with the Monday-Tuesday-Wednesday schedule. Post time is 7:20 p.m.
(With files from Pompano Park)