She's the fastest trotting mare in harness racing history, she's won a Hambletonian, but there's one gap on the resume of Atlanta and that's a Breeders Crown title.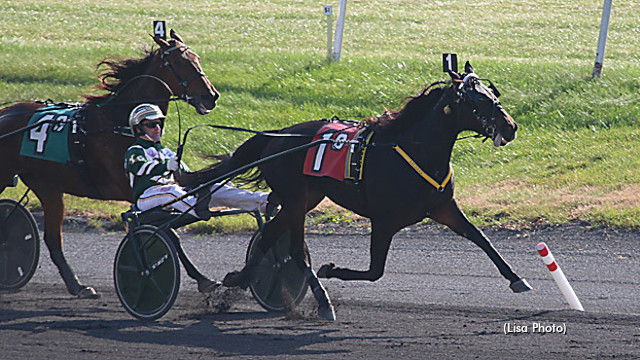 Can she add that prestigious trophy to her owners' collection? We'll find out in one week's time in the 2021 Breeders Crown Open Mare Trot. She punched her ticket to a favourable post draw after a sharp 1:52.1 effort in the single elimination on Saturday (Oct. 23) at The Meadowlands.
Atlanta landed in second early behind Felicityshagwell S (Ake Svanstedt) through a :27.3 opening panel, but moved to the lead once When Dovescry (David Miller) came to call on the outside from fourth. Gingras right-lined the favourite and cleared to the top to set the tempo. A :56.4 half was followed by a 1:24.3 third station with When Dovescry remaining persistent but unable to get by. Turning for home, Gingras kept Atlanta to task and she responded with a :27.3 to win by a length over a resolute When Dovescry in 1:52.1. Refined (Brett Miller) closed well to edge out Felicityshagwell S for third.
"When I moved back to the lead I thought I was gonna turn him [David and When Dovescry] loose. I wanted to sit in the two hole and follow somebody but it took a while for him to get to me and when he did, we're in the last turn at that point and mine felt pretty good so I decided to leave him out."
Despite the win, Gingras didn't think that effort from Atlanta was her A-plus game.
"Ronnie [Burke] said she warmed up to a super and she was right up on the bit for him but when I hit the post parade, I had to chase her a couple times to get her on the bit and it's just not like her when she's good. She's definitely better to chase and there's no doubt about that, I think everybody knows that, but great horses do great things and she can win no matter which way."
Trained by Ron Burke for Crawford Farms Racing of Syracuse, N.Y., Brad Grant of Milton, Ont. and Howard Taylor of Philadelphia, Penn., Atlanta (Chapter Seven - Hemi Blue Chip) now boasts 31 wins from 61 starts with earnings in excess of $3.2 million. Gingras is hopeful to add a Breeders Crown title to her resume next week, and hope the ride with the world champion continues long after that.
"It's amazing, you know, it's been a good run. I hope it lasts another couple of years. I'm not into the broodmare business and I hope these guys are not either."
Here's the field in post order for the 2021 $300,000 Breeders Crown Open Mare Trot.
1. Refined
2. Atlanta
3. Thankful NO
4. Sorella
5. Ramona Hill
6. Felicityshagwell S
7. When Dovescry
8. Hypnotic AM
9. Weslynn Quest
10. Next Level Stuff
To return to SC's Breeders Crown News Centre, click here.