Ambassador Hanover turned in an impressive performance to capture his 2021 Breeders crown elimination for three-year-old trotting colts and geldings, doing all the work and shaving more than a full second off his lifetime mark.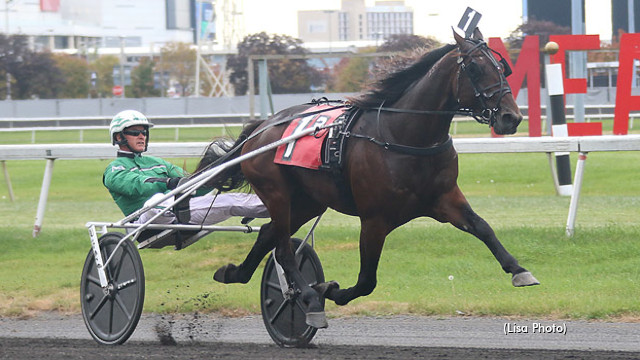 Trainer and driver Åke Svanstedt placed the sophomore on top early from the rail, hitting the opening turn ahead of Ontario hopeful Logan Park (James MacDonald) in :27.1. From there, Ambassador Hanover hit the half in :55.1 while Ahundreddollarbill (Todd McCarthy) came to call first up. The Canadian Trotting Classic winner tried to make a dent in the temposetter's lead but that effort fell short. After a 1:23.3 third panel, Ambassador Hanover opened up in the stretch and pulled away from pocket-sitter Logan Park to win by three in a sharp 1:51.2 sans shoes. Ritson (David Miller), Fly Light (Dexter Dunn) and In Range (Tim Tetrick) comprised the top five colts and will advance to next week's $650,000 Final.
"He can leave very fast but I'm a little surprised. He was really sharp today," said Svanstedt. "If you have a very fast horse, I like to have [the rail]."
Svanstedt commented on his decision to pull the shoes on his entire barn for Saturday's card.
"It's a very nice track and the horses come out to the races much better if they race without shoes."
Ambassador Hanover (Chapter Seven - Angel Eyes Hanover) is owned by Ake Svanstedt Inc. of Wrightstown, N.J., Order By Stable of Boras, Sweden, Howard And Judith Taylor of Philadelphia and Diamond Creek Racing of Wellsville, Penn. The win is his fourth this season from 14 tries, and the win lifted his career bankroll to $551,114.
Cuatro De Julio set off some fireworks by knocking off supplemental entry Jujubee in the second 2021 Breeders Crown elimination for three-year-old trotting colts & geldings.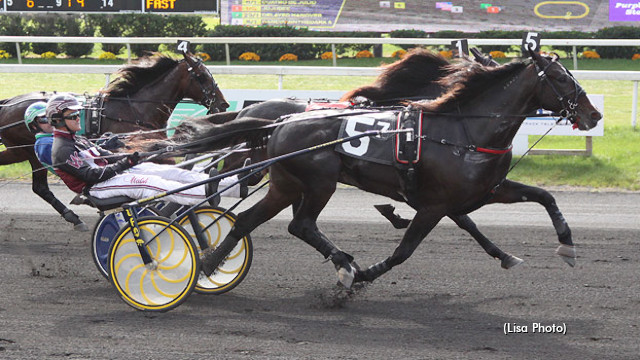 Driver Lucas Wallin positioned Cuatro De Julio on the helmet of 1/5 choice Jujubee (Andy McCarthy) heading down the backstretch, tipped off that one's cover in the stretch and powered past in the final strides for the 1:52.2 score. Jujubee was a head back in second with Delayed Hanover (Ake Svanstedt) third. Also advancing to next week's final are Dancinginthedark M (Brian Sears) and Inaminute Hanover (Bob McClure).
Cuatro De Julio (Trixton - Clarabelle) is trained by Marie Ortolan Bar for D Farm LLC of Hustonville, Ky. He pipcked up his third win of the season and lifted his earnings closer to the half million dollar mark.
Ortolan Bar indicated that shoeing made a world of difference for Cuatro De Julio.
"We fixed my problem," she revealed. "we have a problem with his feet, and fortunately we can fix the shoes he likes. He has problems in the heel, and we put something in the pad so today, The Meadowlands, doesn't scare him. I'm super happy."
To return to SC's Breeders Crown News Centre, click here.