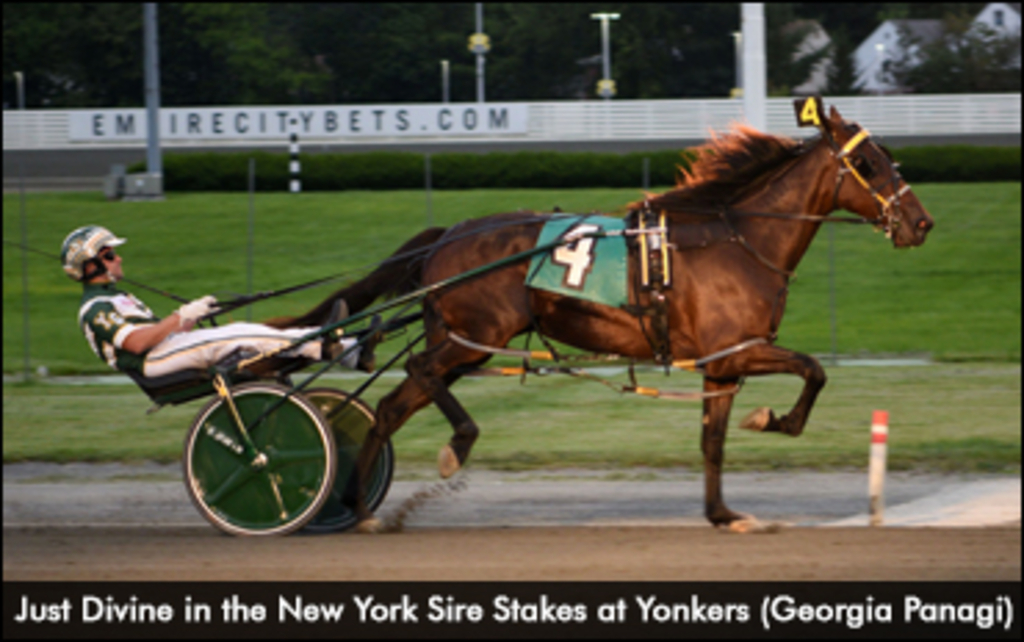 While numbers can often be manipulated to support almost any opinion, in the case of stallion Huntsville and his progeny, it's impossible to see anything but success with his first crop. As sire of seven of the 16 two-year-old pacers set to compete on Friday (Sept. 10) in the $1.6 million New York Night of Champions at MGM Yonkers Raceway, Huntsville has arrived in a big way.
Led by multiple-leg New York Sire Stakes winners Stretch The Line, Pickup Man Hanover and Just Divine, Huntsville, who stands at Cameo Hills Farm in New York, has an opportunity to capture both the $200,000 final for colts/geldings and fillies.
Huntsville hasn't just been in a "New York State of Mind" in 2021. His foals sit third in total earnings and fourth in average earnings per start by two-year-old pacers in the U.S. His Caviart Camden recently became the fastest freshman pacing colt in history when stopping the timer at The Red Mile in 1:48.3.
Race four on Friday is the third of eight $200,000 finals for two and three-year-olds of both gaits and sexes. It features freshman colt and gelding pacers travelling one mile to determine the Empire State champion. Four sons of Huntsville in a field of eight will line up behind the gate and they are arguably led by the aforementioned Stretch The Line in terms of talent.
A $16,000 Goshen Yearling Sale purchase in 2020 and the fifth foal from broodmare Jessalilmixup, Stretch The Line has been enigmatic to some extent for trainer Erv Miller, who also shares ownership with Rock & Roll Stable Inc. In five wins, his average margin of victory is more than three lengths, but his three losses have all been due to making breaks at various points in the mile. There was even one New York Sire Stakes start at Saratoga where he combined his two passions and broke at the start yet came back to win.
"He's a puzzle, isn't he," joked Miller about Stretch The Line, who will make his final start of 2021 in the Sire Stakes final. "He's got a cannon bone on his back ankle that bothers him. I don't know if that is all that is causing the breaks or if it is also immaturity. After the race, we'll turn him out. Usually the cannon bones do pretty well from two to three and normally they don't bother them as much."
In Stretch The Line's most recent start, he was poised to fire off cover and win at Yonkers in the final NYSS leg when he rolled off stride for no reason on the final turn.
"Tyler [Buter] told me the other night when he made the break that he was just counting how much he was going to win by because he was loaded with pace," said Miller.
Stretch The Line will start from post three with new driver Jordan Stratton taking the lines.
"For sure, changing from one guy to the next is always an issue. It would've been nice to stay with Tyler through the final, but he had committed to the other people [Forrest Blu] already," said Miller. "Normally, I would have Marcus [Miller, son] drive him, but he has the other horse [Flip My Chip] in there."
Flip My Chip has been ultra-consistent for Erv Miller with Marcus in the bike, compiling three wins in six starts including two in the Sire Stakes. A son of Heston Blue Chip bred by Winbak Farm, his only off-the-board finish came in his career debut at Pocono back in June.
"In his first start, he was dehydrated and a-fibbed, but has come back really good since," said Erv Miller about Flip My Chip, who will start from post one. "We got lucky with the draw, so hopefully everything is going right for him now."
Like Stretch The Line, Pickup Man Hanover is by Huntsville and a three-time Sire Stakes winner this year. The Hanover Shoe Farms-bred will start from post seven for the team of trainer Monica Krist and driver Billy Dobson. The Dennis and Simone Noud-owned gelding has never been worse than third in seven career starts.
Hurrikane Chuck (Dan Dube) and Greg The Leg (Ray Schnittker) complete the Huntsville quartet in the two-year-old male pacing split. They start from posts four and eight, respectively.
The morning line favourite at 2-1 is Pleaseletmeknow, a Fiddler's Creek Stable homebred son of American Ideal-I Said Please. Matt Kakaley will drive the Springfield stakes winner from post two.
"He's got a big shot," said Pleaseletmeknow's trainer Travis Alexander. "He needed that last start after missing time and still almost won."
The leading money-winner among Huntsville foals starts in the $200,000 two-year-old filly pacing final. Just Divine ($95,808), the first foal from $880,335 earner Divine Caroline bred by Steve Jones, is a Friday victory away from easily surpassing her $160,000 Lexington Selected Sale price.
Just Divine has produced a stellar 5-3-2-0 record while winning three NYSS legs along the way. In her last appearance at Yonkers Raceway, she powered away to a five-plus length win in 1:53.2, just missing the track record.
"She's a tremendous filly, one of the best I've sat behind," said driver Yannick Gingras about the Ron Burke trainee. "Maybe she's a little better chasing than she is on the front, but she's done things on the racetrack that have been really impressive and I like her a lot."
Owned by Bill Donovan, Craig Henderson, Joe Sbrocco and Purnell & Libby, Just Divine starts from post four on Friday as the 5-2 second choice on the morning line. The filly will be joined in the race by fellow Huntsville-sired young ladies Reenactment (post seven) and Twenty Grand (post eight).
The 2-1 early choice in the field, carded as Race 5, is Gotthegreenlight (post three, Dexter Dunn), an American ideal filly trained by Nifty Norman for Patricia Stable and Kovach Stables LLC. The $40,000 Standardbred Horse Sale purchase has won five of six starts in 2021, including by a nose over Just Divine at Tioga Downs in her last pari-mutuel start.
"It was a little my fault," said Gingras about the loss with Just Divine. "I had Dexter right where I wanted him and I opened up at the top of the stretch and he let me go easily. I just opened up a little too quick. His filly is a top filly, too, and mine got a little lost in the stretch. I think [Just Divine] is as good if not better than [Gotthegreenlight]. I have all the confidence in her."
A fellow American Ideal-sired contender is Joyride Hanover, who set a track record (1:54.2) earlier this year at Monticello Raceway. Tim Tetrick will guide the Hanover Shoe Farms-bred filly from post two for trainer Eddie Dennis and owner Eric Good.
The 10-race Night of Champions card kicks off at 7:15 p.m. EDT and concludes the live racing week. Racing resumes with a Monday to Saturday schedule starting September 13.
(With files from Yonkers Raceway)