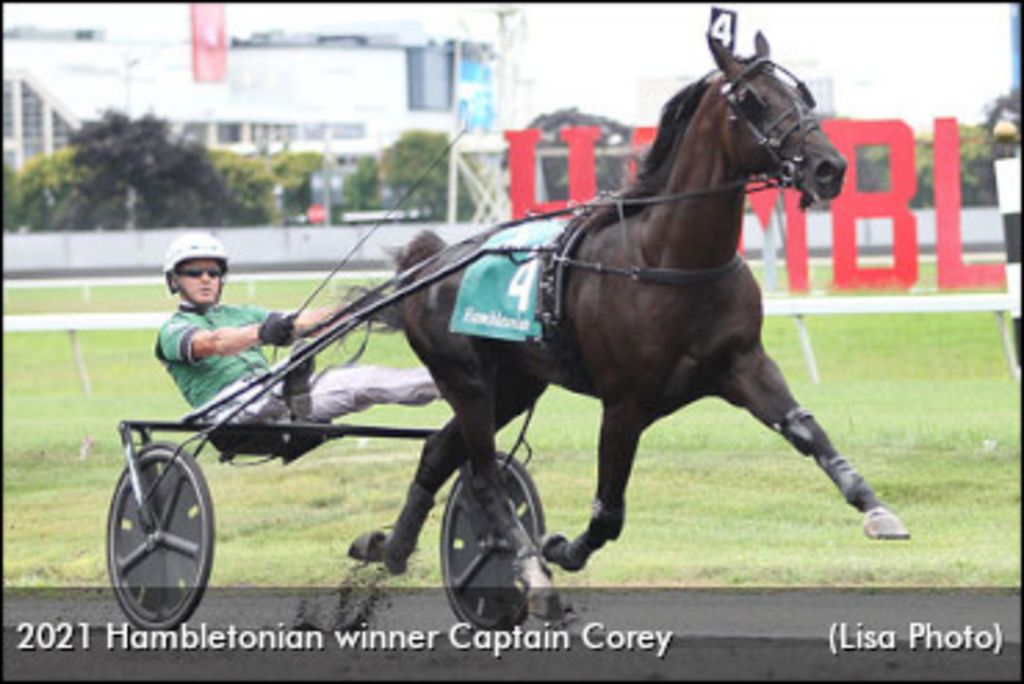 The top trotters and pacers in North America will be coming to The Downs at Mohegan Sun Pocono this Saturday afternoon (August 21), seeking to boost their bankrolls and place in the pecking order as they compete on the $2,038,000 Sun Stakes Saturday card.
There are 11 stakes or Invitational races on the 14-race card, which begins at 12:30 p.m.; the other three contests will be for fast-class pacers who have demonstrated the ability to go in 1:50. The four three-year-old races were seeded by money won in 2021; there is a consolation in each of these races for the next-highest money-winners declaring in, and in the case of the Hempt there are two consolations based on the number of entries.
Here is a brief look at the two Invitationals and then the four stakes races for three-year-olds:
$75,000 SEBASTIAN K S INVITATIONAL TROT (Race 8)
Manchego decided to bypass this event, but her archrival over the past few years, Atlanta, will be here. The daughter of Chapter Seven, a winner of exactly half of her 56 lifetime starts and $3,057,956 in her storied career, comes into this race off a tough two-move victory in 1:50.4 in the Dr. John Steele trot on Hambletonian Day at The Meadowlands. In the field of nine, she landed post five -- the most productive post at Pocono. Yannick Gingras is scheduled to drive for trainer Ron Burke and the ownership of Crawford Farms Racing, Brad Grant and Howard Taylor.
The race will certainly not be a walkover for Atlanta, though, with the likes of the tough mare When Dovescry and two millionaires who always seem to be in the picture, Ready For Moni and Lindy The Great.
$75,000 ALWAYS B MIKI INVITATIONAL PACE (Race 14)
The Somebeachsomewhere gelding Nicholas Beach, who this season has blossomed into a top free-for-aller after a couple of seasons climbing the class ladder on the eastern Pennsylvania scene, deserves top mention here as he begins from post two in a nine-horse field for the brother-sister team of driver Joe and trainer Jenn Bongiorno and the ownership of John Lengacher, Michael Cote Gagnon and Jennifer Bongiorno Stable LLC. Nicholas Beach has six wins and three seconds (by two necks and a half-length) this year, and since opening his campaign with a 1:51.1 win here in March, his five wins have averaged 1:48.1 (not counting his record 1:47.4 qualifying victory).
One of his chief competitors will be starting just to his inside: Backstreet Shadow, a millionaire coming off a third, beaten only a half-length, in the Dan Patch at Hoosier after having to go first-over. Southwind Ozzi, the 2019 Little Brown Jug winner, has won four of his last six, but post seven may be difficult to surmount.
DELMONICA HANOVER 3YO FILLY TROT - $250,000 Championship (Race 10), $125,000 Consolation (Race 4)
A new event on the stakes calendar at Pocono, the inaugural Delmonica Hanover looks to be a fairly wide-open event. The Southwind Frank filly Flawless Country, last year's 2020 Pennsylvania Sire Stakes champion, has yet to visit the winner's circle in 2021, but she has been in the thick of things in most of her starts. She looks to visit the winner's circle as she starts from post four in a nine-horse gathering for trainer/driver Åke Svanstedt and the ownership of Wolfgang A Stable, Borje Nasstrom and Åke Svanstedt Inc.
The rail should aid the cause of 2021 double Pennsylvania Sire Stakes winner You Ato Dream; just to her right is Pub Crawl, who succeeded in the PA Sire Stakes two starts ago.
JAMES LYNCH MEMORIAL 3YO FILLY PACE - $250,000 Championship (Race 9), $125,000 Consolation (Race 5)
Test Of Faith is concentrating on New York, but the rest of the top fillies of this division are all here. Most intriguing is the Panther Hanover filly Hot Mess Express, owned by basketball star Sam Bowie. She is undefeated in seven starts this year, including a victory over 2020 divisional champion Fire Start Hanover, but in a real "acid test" for her, she'll have to overcome the outside post nine for driver Andrew McCarthy and trainer Tony Alagna.
Fire Start Hanover, a model of consistency this year as she was in her championship season last year, will make her presence felt, as will her stablemate Grace Hill, also a recent conqueror of Fire Start Hanover, and 2020 PA Sire Stakes champ Blue Diamond Eyes, coming off three wins in 1:50 or faster.
MAX C. HEMPT MEMORIAL 3YO COLT PACE - $300,000 Championship (Race 11), $200,000 Consolation I (Race 7), $100,000 Consolation II (Race 2)
The number of entries for the Hempt is reflective of the fact that it has been a topsy-turvy season in the sport's "glamour division," with no one horse able to claim being King Of The Hill for more than a couple of weeks at a time. Maybe the Hempt will help bring some clarification, but as strong and deep as this field is, the picture may be just as muddy after the contest.
Lawless Shadow (the Meadowlands Pace winner), Southwind Gendry (2020 PA Sires champ and always in the thick of it in 2021), Perfect Sting (2020 U.S. champion and on the board in all seven seasonal starts), Hellabalou (semi-surprise sweeper of the Adios elimination and final), and Rockyroad Hanover (the Cane Pace winner who has not had the best of racing luck) all could have laid claim to No. 1 position at different points of the campaign so far. We'll see if anyone can make a definitive statement in the Hempt.
EARL BEAL JR. MEMORIAL 3YO COLT TROT - $300,000 Championship (Race 12), $200,000 Consolation (Race 6)
One horse who certainly did make a definitive statement in his last race is Captain Corey, a son of Googoo Gaagaa (who won this race in 2012). Last year's Pennsylvania champion, Captain Corey had been building up his form in the early season, and on the perfect stage to put it all together – the $1,000,000 final of The Hambletonian – Captain Corey was an emphatic 1:51 winner. Svanstedt said that Captain Corey, owned by S R F Stable, Knutsson Trotting, Midnight Sun Partners and Åke Svanstedt Inc., was coming into top form, backed up his claim, and will try to add another win to the record of the leading money-winning trotter of 2021.
Spy Booth, though still a maiden, was second in the Hambletonian and may be a late bloomer; Captain Corey's stablemate Johan Palema was the Yonkers Trot winner, has over $300,000 on his card this year, and would be no surprise if he made his presence felt.
Program pages for this outstanding card will be available at phha.org.
(With files from PHHA/Pocono)