Unleashing a back half in :55, Somewhere Fancy made quick work of his Saturday evening (July 31) foes in the Preferred Pace at Red Shores Racetrack and Casino at the Charlottetown Driving Park.
Marc Campbell was in the driver's seat behind Somewhere Fancy, the Chris MacKay-trained pacer, as the former Gold Cup and Saucer winning pacer stopped the clock in 1:52.3 to win the $3,400 Preferred Pace for owner John Mehlenbacher of Oakville, Ont. Rose Run Quest was second while Day Delight finished third.
Trainer MacKay had two winners on the night as Southwind Ramsay won a conditioned event in 1:56.3 earlier in the evening in line to Myles Heffernan Sr.
Cowboy Logic won the $2,900 back-up class for driver Steven Shepherd and trainer Earl Watts in 1:54.1 over Mc Pat and American Risk. The winning horse is co-owned by Maurice McCabe, Gerard Ellsworth and Angus Birt of Charlottetown along with George Burke of Stratford.
Burn Out Hanover gave a career milestone to rookie pilot Brady Sweet in Race 8 of the evening. The six-year-old son of Well Said was a 1:54.1 winner for trainer Jeff Holmes to give Sweet his first pari-mutuel win in the race bike.
Montague trainer Saul Lanigan had his first training win in Race 6 with Dam Lucky tripping the timer in 1:57.
The evening card had a somber moment after Race 6 with a memorial horse shoe in memory of the late Vincent Poulton, who passed away recently. Family member and trainer Deanna Clow held Sanchez Blue Chip in the middle of the memorial with Poulton's uniform and helmet folded in the seat of the race bike. Poulton was a respected and beloved driver at the Capital oval with over 800 victories in his lifelong career.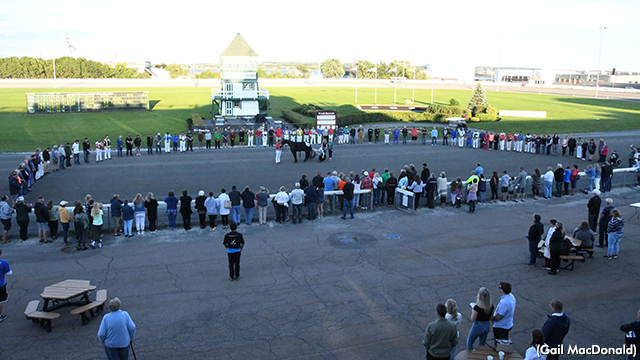 Live racing continues Sunday afternoon at Red Shores Summerside with a 1 p.m. (ADT) opening post time.
(Red Shores)
To view Saturday's harness racing results, click on the following link: Saturday Results - Charlottetown Driving Park.