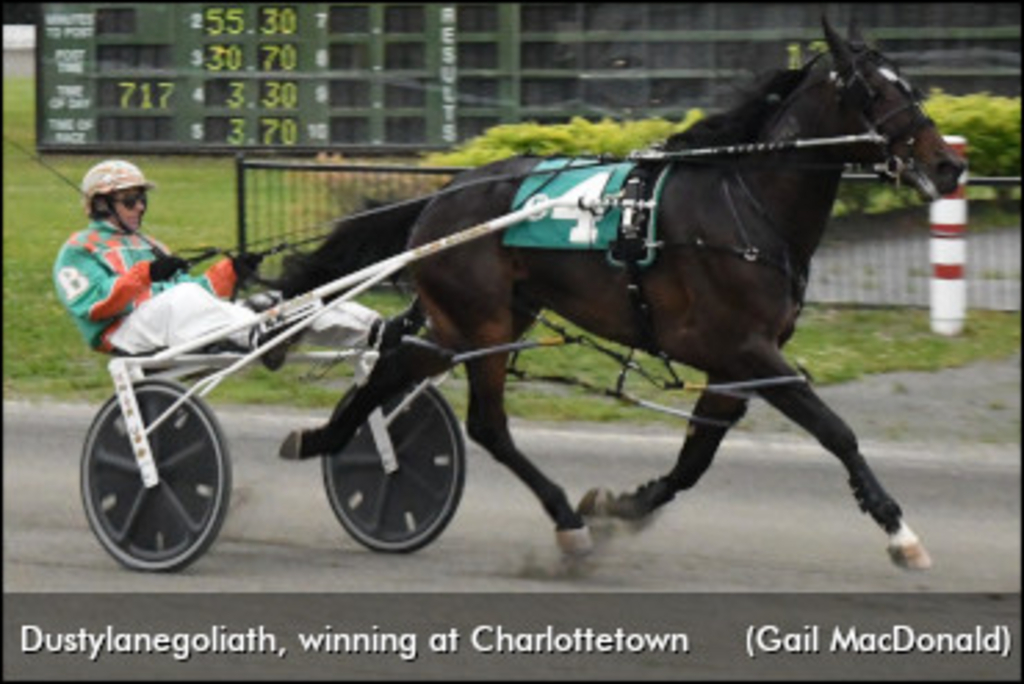 A summer-long battle appears to be brewing in the Atlantic Sires Stakes' glamour boy division.
Last year, Woodmere Stealdeal had 13 wins in 13 starts in his two-year-old campaign and made more than $68,000. He had his first start of 2021 this past Saturday at Red Shores Summerside in the first ATSS event of the year. Woodmere Stealdeal was the clear favourite of the contest, but the race ended up playing out differently.
Another Steelhead Hanover sired colt, Dustylanegoliath, was the one to cross the finish line first. It was not a complete upset as Dustylanegoliath was sent off as the 7/5 second choice after starting 2021 with a string of success. As a sophomore, he has four wins and a second in his five starts of the year for owner Daniel Ross of Belfast, P.E.I. with more than $11,000 in earnings.
Trainer-driver Gilles Barrieau is very pleased with his colt and their current success.
"He's a different colt this year, he grew up and filled out. He looks more like an athlete this year." One race does not a season make, so Barrieau wisely acknowledged that it's a long season when asked if his 'Goliath' should now be considered the new divisional kingpin.
"I beat him last week, but it might have been a fluke. It was Woodmere Stealdeal's first start, so I'll have to take things into perspective. They both are nice colts. He's going to beat me and I'm going to beat him. It's going to be a battle all summer."
That battle continues this Saturday (July 17) as the Atlantic Sires Stakes rolls into Truro Raceway, with both colts drawing into the same division again. The two colts faced each other eight times last year and Dustylanegoliath performed well in the head-to-head matchups while finishing in the top three five times just behind Woodmere Stealdeal. Barrieau acknowledges that Woodmere Stealdeal had their number last year but feels good about their chances this summer.
"I came close to beating him (Woodmere Stealdeal) once last year, I got to his neck. And just after that, we couldn't beat him. He was just that much better. But my horse developed quite a bit through the winter. He filled out and is a lot stronger." And after a solid winter of training, Dustylanegoliath is more complete racehorse at age three. "I noticed he was stronger and matured a lot. He's a type of colt that just loves his job."
The delayed start to stakes season gave Barrieau and Dustylanegoliath more time to prepare. "I was ready for the first day but unfortunately the stakes weren't going until last week, so I had four overnight starts and used that to build his confidence. He raced the back-to-back and you could just tell he was that much sharper."
This week, the two colts square off at Truro with Woodmere Stealdeal possibly having the edge over Dustylanegoliath thanks to an inside post and home track advantage. Barrieau is not concerned.
"He has travelled all over the Maritimes and he doesn't need to take his track with him", Barrieau responded. "He's pretty versatile. He can leave and he can cut it out. He can certainly tough it out like last week.
"He's having a good week. 'Stealdeal' drew the inside of me this week. I'm in the middle of five this week. It will all depend on how the race unfolds. You never know how it's going to unfold. My colt is sharp and loves to race. He always drives right until the end. They will be duking it out all summer."
On Saturday in Truro's 10th race, one of two $8,320 ATSS 'A' divisions, Woodmere Stealdeal and driver Marc Campbell leave from post two while Dustylanegoliath and Barrieau have the four hole in the compact field of five. First post time is set for 4:00 p.m. (Atlantic Time).
To view the entries for Truro's card of harness racing to conclude Atlantic Grand Circuit Week, click the following link: Saturday Entries - Truro Raceway.
(A Trot Insider Exclusive by Trey Colbeck)