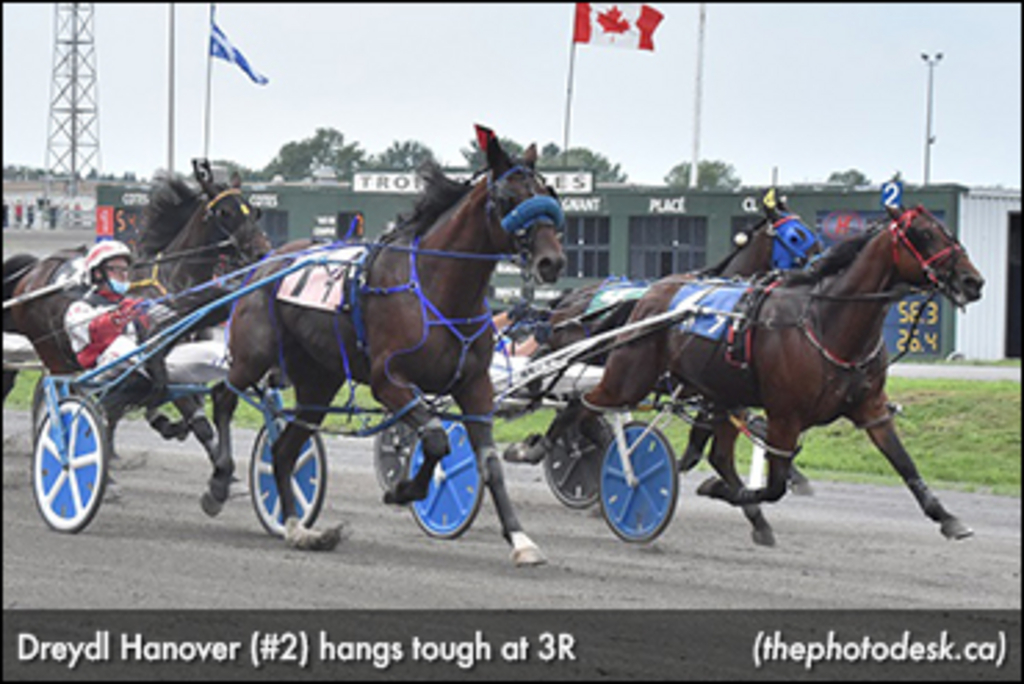 It took the photo finish camera to declare Dreydl Hanover ($2.90) the winner by a nose over Mickeymaksomespeed in Sunday's (June 27) Preferred Handicap Pace at Hippodrome 3R.
Driver Samuel Fillion got the show started in the co-feature by sending Dreydl Hanover to the lead, and they hung Littlebitaswagger (Francis Picard) out to a speedy :26.4 opening quarter. After allowing Littlebitaswagger to take the lead, Fillion quarter-moved with Dreydl Hanover to retake command. Past the half in :56.3, Windsun Cheyenne and driver Pascal Bérubé came first-over and gave live cover to Mickeymaksomespeed and driver Jonathan Lachance.
After the three-quarters in 1:26.4, Lachance sent Mickeymaksomespeed three-wide around the final turn and was gaining ground down the stretch. While it looked as if Mickeymaksomespeed would pass Dreydl Hanover, Fillion found just enough speed for Dreydl Hanover to hold on by a nose in 1:56.4. Littlebitaswagger was third.
Sent off as the overwhelming 2-5 favourite, it was the fourth win of the season for Dreydl Hanover. The 11-year-old gelding by Cams Card Shark is trained by Francis Richard for owner François Martin.
Sophies Cam ($5.60) was given a textbook perfect drive by Stéphane Brosseau in the Preferred Handicap Pace for mares.
Leaving alertly from post four, Brosseau used Sophies Cam to stretch out Shemaksmefelunreal (Marie Claude Auger) to the opening quarter mile in :27.3. As the field rounded turn towards the half mile, Francis Picard came first-over with the 7-5 favourite Fancy Girl, and they started up after Shemaksmefelunreal to the half in :58.1. Meanwhile, Sophies Cam enjoyed the two-hole trip and Sieras Rose (Samuel Fillion) followed Fancy Girl second-over. They raced that way up the backstretch to the three-quarters in 1:28.
Then, starting down the stretch, Fancy Girl and Shemaksmefelunreal both began to tire and bore out, allowing Brosseau to send Sophies Cam up the rail to win by three-quarters of a length in 1:58.3. Shemaksmefelunreal held for second with Y C Easy (Jonathan Lachance) third.
It was the second win this season for Sophies Cam. The seven-year-old mare by Yankee Cam is owned and trained by Yvanhoe Landry.
The three-year-old trotting colt Hall Win ($5.70) showed he is ready for the start of the Breeders Trophy Series at H3R in July as the son of Angus Hall scored his third straight win this year.
Kevin Maguire trains and drives Hall Win, and his Maguire Stable owns and bred the colt. They came first-over from fourth on the backstretch and blew by the field, winning with ease by 4-1/2 lengths in a lifetime best 1:59.3.
Jonathan Lachance scored a driving double on the day.
Harness racing resumes at H3R next Friday (July 2); post time is 4 p.m. For more information, visit www.hippodrome3r.ca.
To view Sunday's complete results, click the following link: Sunday Results – Hippodrome 3R.
(Québec Jockey Club)