Mandeville, the talented nine-year-old trotting son of Majestic Son, delivered as favourite in the featured event on opening night at Running Aces in front of a very large and enthusiastic crowd.
Driver Nick Roland floated the winner into the pocket from post 3 in the six-horse affair. He enjoyed the garden trip behind leader Pridecrest through fractions of :28.3, :58.1 and 1:26.4 before shaking free and surging past in the shadow of the finish wire, getting home three-quarter lengths ahead of Pridecrest in 1:55.1, with All American N picking up third money off of a wide trip throughout. Bordogna got racing room very late in the mile and was an oncoming fourth.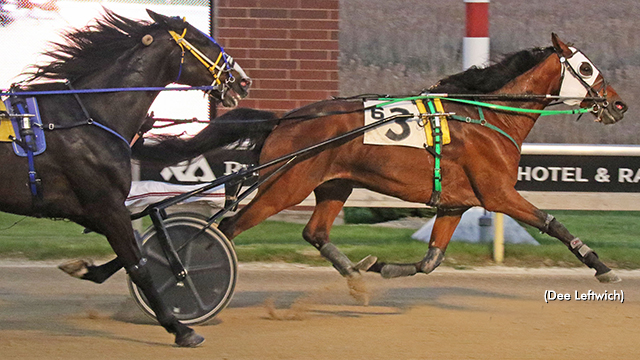 Mandeville has now won four-straight races between Cal-Expo and Running Aces for owner/trainer Gerald Longo, and recorded his 35th win with the score.
Driver Rick Magee posted the first driving triple of the Aces season, and Nick Roland picked up a double on the opening night card.
The Running Aces and Minnesota harness racing community remembered the late Steve Wiseman in a memorial tribute before the first race. Wiseman was one of the most successful horsemen at Running Aces over the last decade and made countless dear friends and devoted fans in Minnesota over that time. Horsemen gathered outside of the paddock for a moment of silence, and one devoted Steve Wiseman fan presented a hand-drawn sketch of Steve to his wife Kathie Plested-Wiseman as part of the tribute as well.
Live Racing continues at Running Aces every Tuesday, Thursday and Sunday at 6:05 p.m. (CDT) through Sept. 18.
(Running Aces)