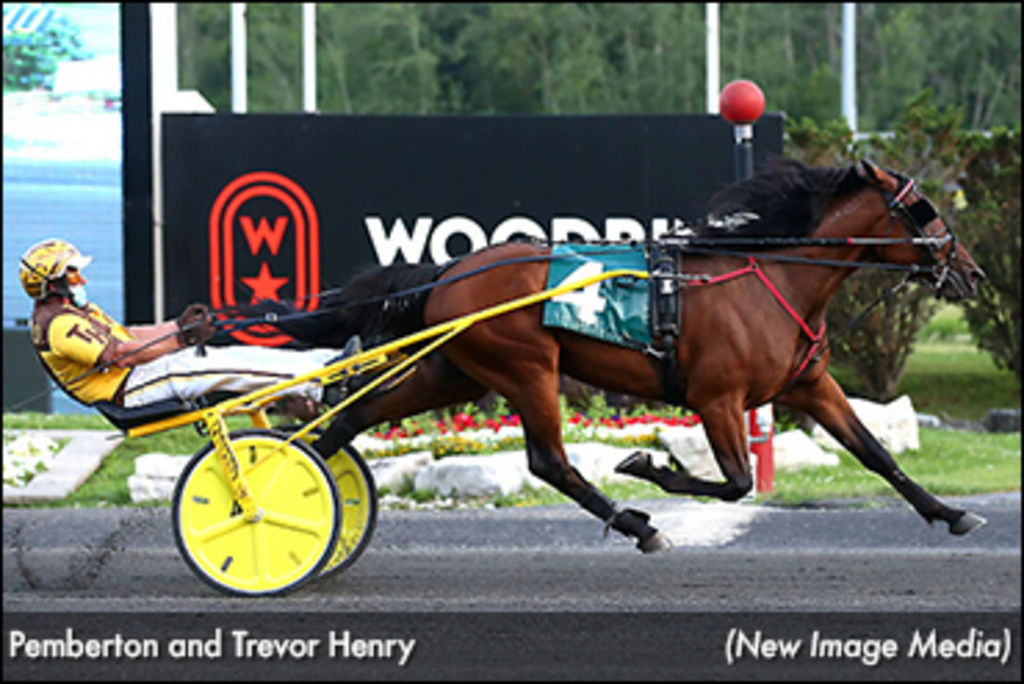 If Pemberton was an airplane, he'd be sitting at the head of the runway with his engine idling awaiting clearance for takeoff for more than the last month.
A frustrating predicament shared by most of the province's Standardbreds, 2020 O'Brien Award winner Pemberton will be targeted for his first appearance of the season this week as Woodbine Mohawk Park plans to conduct a number of qualifying sessions in advance of a return to racing in Ontario.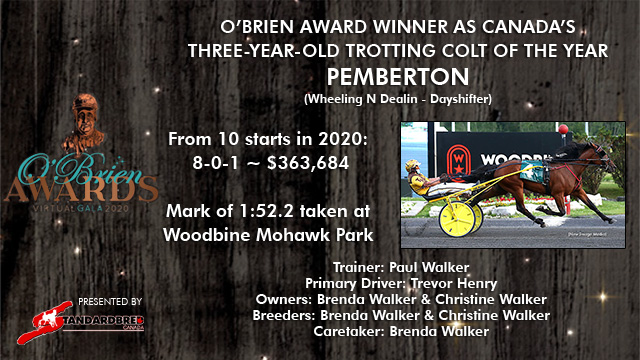 After spending the winter in Georgia, Pemberton returned home with Paul & Brenda Walker last month with plans to prepare the four-year-old son of Wheeling N Dealin-Dayshifter here at home. Those plans, like the plans of many, went into the recycling bin when the harness racing industry faced a shutdown along with the province.
"We've been back home since early April, and the plan was to have him qualified by [the start of May]," said Brenda. "We left Georgia on a Friday and we trained everyone two days earlier on the Wednesday and everything was in good order. Pemberton trained in 1:58, and we were really happy with the way he went."
Pemberton was paid up to the Graduate Series — an event the Walkers were hoping to use as the first major test of the season when the second leg came to Woodbine Mohawk Park — but those plans certainly won't come to fruition.
"We were hoping to get some qualifiers and starts and then he would have been ready for the second leg, and depending on how he did then we could have decided to take him back to The Meadowlands for the third leg but that's all scrapped now.
"It's a real shame," said Walker. "We did pay him into the Maple Leaf Trot and the Breeders Crown, so hopefully things can get sorted out by then and life can get a little closer to normal so we can catch those races. In the meantime, it will give us a chance to survey the competition."
Aside from the turbulence faced by the horse racing industry during this latest wave of the coronavirus pandemic, it's been smooth sailing up until this point for Pemberton.
"We've got our own farm and we kept him jogged a few times a week and he had outside time when he finished up after the OSS Super Final last year," said Walker. "We have an old horse retired horse (Revington) and we turned Pemberton out with him. He got some good grass before we headed to Georgia."
As for changes over the winter and into the spring, there really weren't that many for the gelding.
"He filled out over his back and muscled up a bit more and put on some weight, but he didn't really get much taller," stated Walker. "We didn't change much with him. All winter he basically wore the same set of shoes. He's light on his feet. He had a couple of splints pop last year, and we had them worked on over this winter. That's basically it."
Walker indicated that the winner of 80 percent of his sophomore starts and more than $360,000 will likely qualify twice in advance of his four-year-old season before assessing the next steps in terms of stakes starts. His rivals will include a group of four-year-olds the likes of Beads, Ready For Moni and Its Academic — all winners on Saturday night at The Meadowlands in 1:51.1 or faster.
"We paid him into a couple of stakes later in the year, so we'll just play it by ear. It's going to take him a bit to get tightened to race — if he can race with those kinds of horses," noted Walker. "We'll see what kind of races we can get in him up here and just see how he comes back."