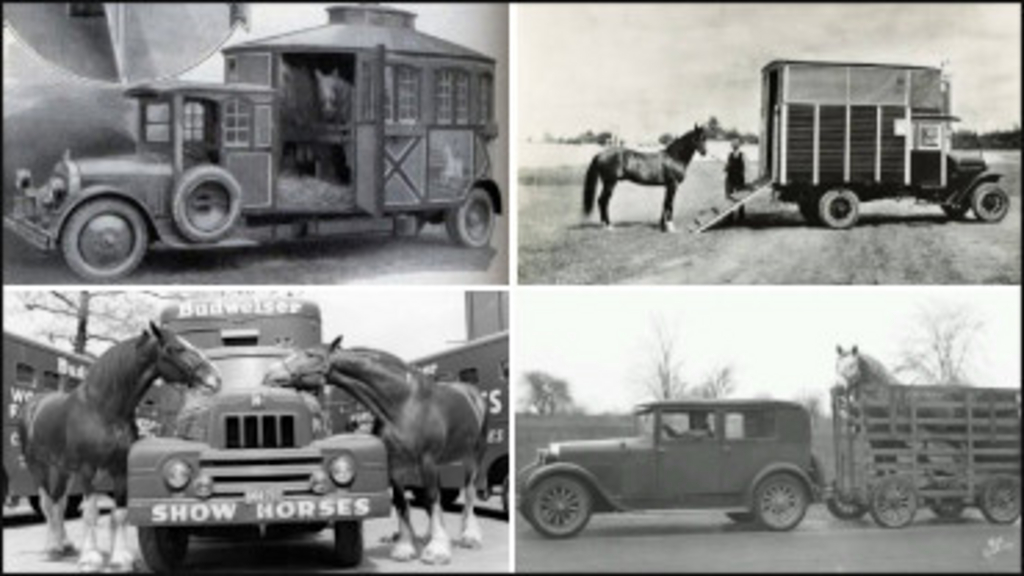 In this week's Rewind Robert Smith turns the clock back many years and discusses the evolution of horse hauling vehicles. He has also included a number of old photos of vehicles from days gone by. They weren't always as fancy as they are today. This is the first of a two-part story with the second edition appearing in an upcoming Rewind.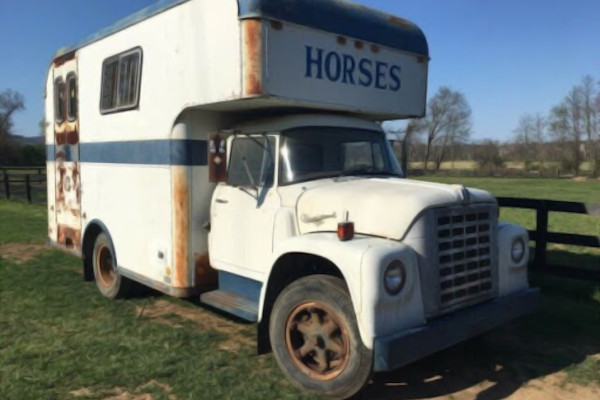 Note: This story is somewhat pictorial in nature so I am going to display quite a number of old photos throughout to show the wide variety of trailers and horse trucks that have appeared down through the years.

A very early view of vehicles assembled for a race day at Haines Park in Pennsylvania shows what was being used to haul horses back around the 1920 era. (Harness Horse photo)
According to British history, the first recorded incidence of vanning horses dates back to 1771 when an adapted horse-drawn van was created to spare the bad feet of the famed British racehorse Eclipse from the long journey to the stud farm where he would begin his new vocation. I trust that the horse chosen to tow the trailer was not as excited as his passenger. Thus ended one career and began the history of the horse trailer. The practice however did not become common until the 1830's.
In the earliest days of racing, all entrants in races were locally owned, or at least as far as a horse could be ridden or driven. Some early day pictures of fall fair harness racing show several buggies in the centrefield, not hitched to a horse. Many were entered that day and had been hitched to a sulky for the day's races. If a horse could be transported for stud duty, then why not do the same for racing purposes?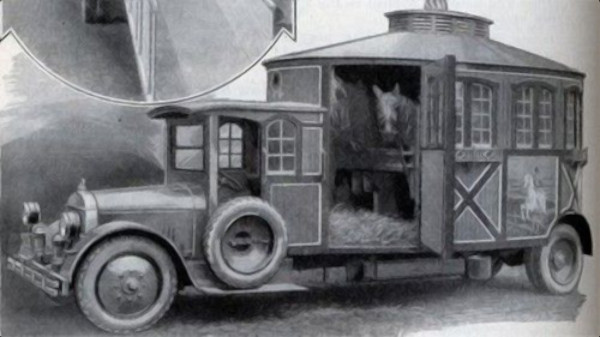 Some early horse transports were quite elaborate in design and style as they often went on display as well as serving as a transport vehicle
Apparently some of the early trailers were actually horse ambulances used by fire departments as horse injuries were common back then and they needed to move them for proper veterinary care. By the time of WWI more horse ambulances were required on the battlefields to assist in treating injured horses. Eventually they became motorized which was a welcome change for the poor horses who had handled this chore previously. As time went on these horse carrying vehicles became more ingenious and each decade brought about more modifications. In England the early horse transports were called horse boxes.
By the mid 1920's a German Company named Westfalia began building a huge line of trailers and their line of products included a horse trailer. By the time WWII started they had built over 25,000 trailers. While some parts of the world aimed their designs at sophistication and streamlined looks, others made do with anything that worked.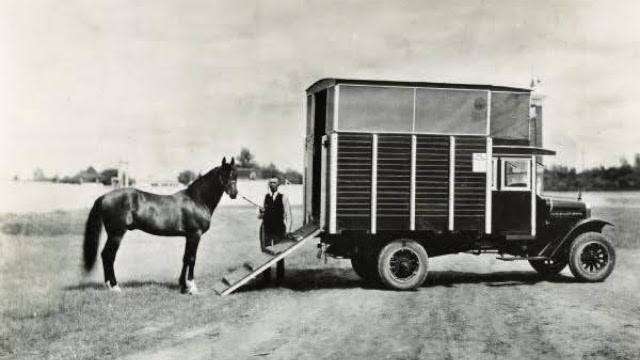 The earliest horse hauling vehicles were mainly conversions of trucks originally used for other purposes. In the 1920's the first trucks manufactured solely for hauling horses began to appear. One of the first was manufactured by the International Harvester Co. and was quite advanced in design. The one above was fitted with a nice loading ramp.
By 1940, movies were glamorizing the great American cowboy and of course all of the stars of the big screen had a famous horse. They needed to travel across the country and thus their outfits displayed the absolute best in design and style. Their rigs became favourite photo subjects for both amateur photographers and professionals alike. In the early days of television westerns were very popular programs.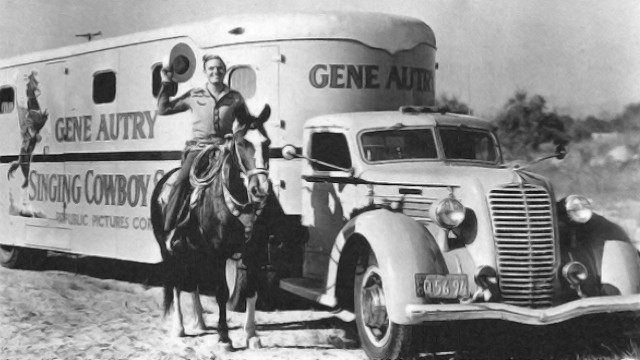 Gene Autry, the singing cowboy, is pictured with his horse Champion and one of his early vans.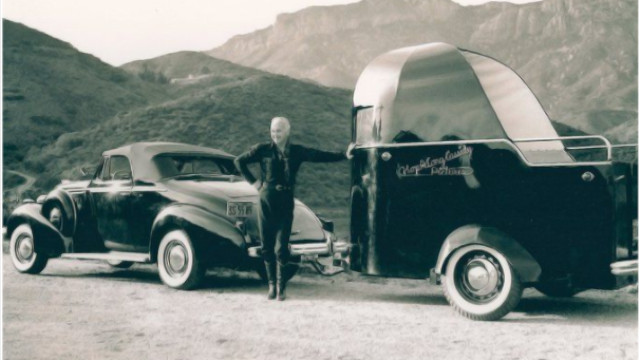 Cowboy star Hopalong Cassidy had a very unique and neatly styled horse trailer and matching convertible featuring white wall tires and fancy lettering
Following the end of prohibition in 1933 the large brewing Companies began delivering beer by horse drawn wagons which eventually evolved into show horse groupings such as the famous Budweiser hitch. Breweries found that they needed to travel as well, and a long line of stylish horse vans followed.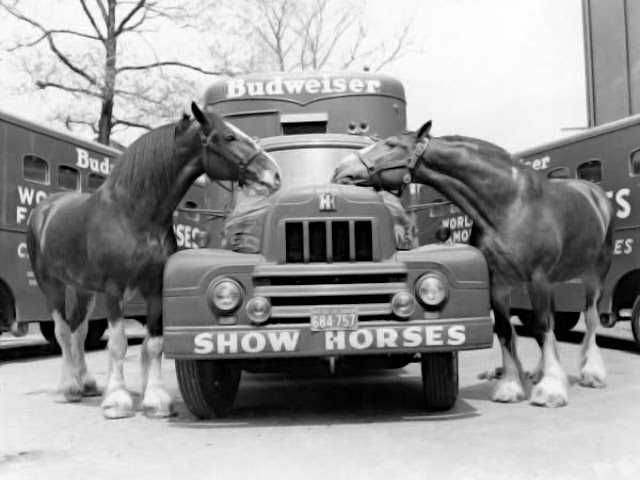 The Budweiser Clydesdales always travelled in style and comfort. This International truck was part of an early fleet that was used for touring the country.
I can remember an old one horse trailer that my father owned as far back as my memory goes. I am sure it was homemade and probably dated back to the 1940's. It was made of wood and originally had no top but I think may have been retrofitted in later years with a tarpaulin covering. It must have been licenced but I know it was never wired for stop lights or turn signals. We hauled firewood in it, moved cows and calves and who knows what else. It supposedly came in a 1940's horse deal along with a pacing horse named Earl Axworthy. Whatever happened to it I don't know but I am sure somebody eventually purchased it many years after my father died.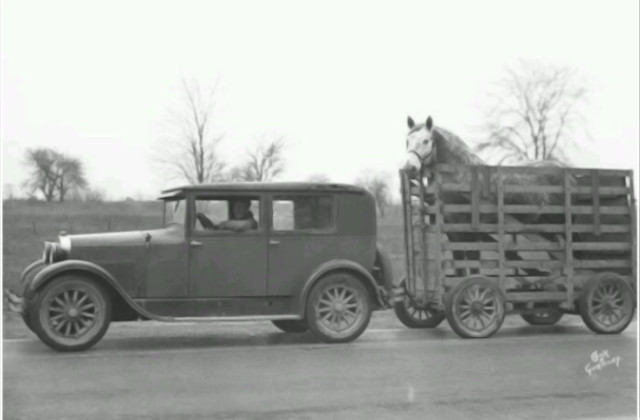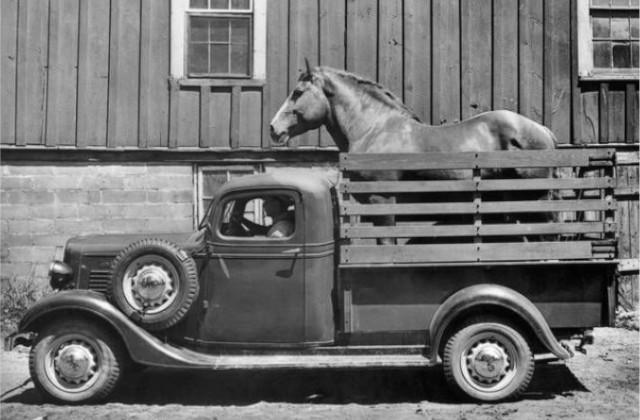 Many early horse trucks and trailers were not enclosed as shown in the above two old photos
Quote For The Week: "Try to find joy in the simplest things of life."
Whose Truck is it?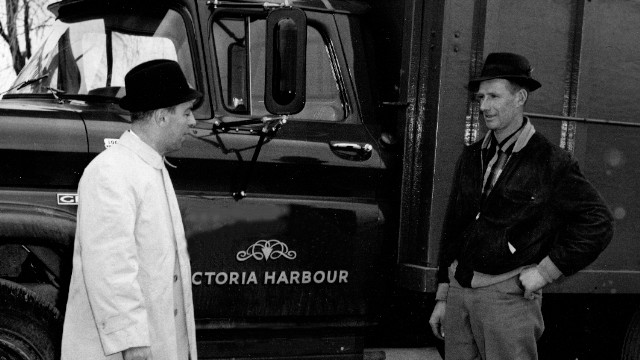 Can you identify the two gentlemen in this vintage photo? This one is way too easy but it is such a great photograph that it ranks right up there with one of my favourites. (Secret wish - I would have liked to have the opportunity to sit behind the wheel of this rather famous truck)
Who Else Is It?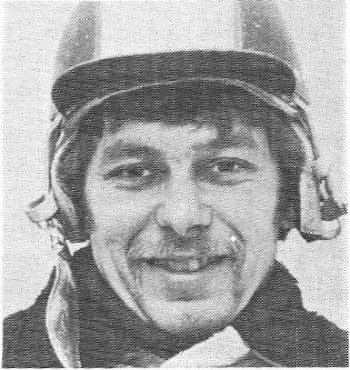 Who is this young fellow? If you think you recognize him, send in your answer.
Be sure to stay tuned in as the correct answers to today's pictures will be shown in the comments section during the coming week.