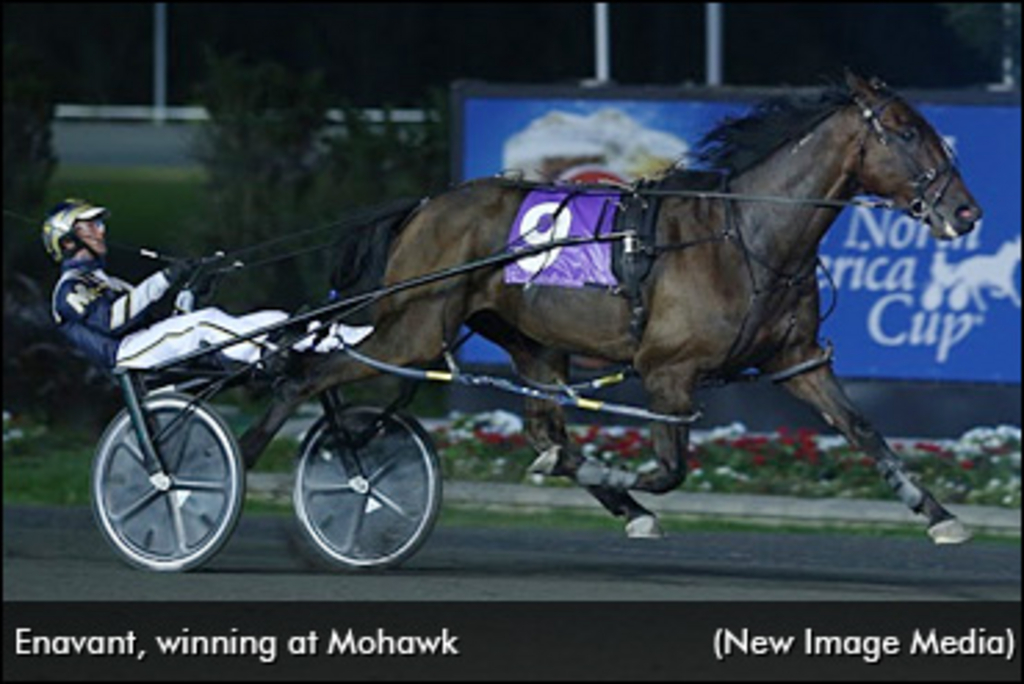 Talking to Guy Corbeil is a rewarding experience because this man has his principles, his views, his ways of doing things, his philosophy.
So, it is not surprising that when we discuss with him the subject of the super horse that is Enavant, the Quebec-based owner, breeder, trainer and driver is not asked to give us the feelings that inhabit him.
Enavant, now five, is sired by Somebeachsomewhere from the Western Ideal mare Lady Be Great. Unraced until age four, Enavant closed out his undefeated 11-for-11 season last September, taking a lifetime mark of 1 :49.4 at Woodbine Mohawk Park.
Guy Corbeil co-owns Enavant with Determination.
"Now he (Enavant) is an exceptional horse in many ways," Corbeil stated. "His personality makes it possible to saddle and ride him, which some of my employees have done so far. It requires a minimum of maintenance. Think about it; he wears no bandages, no boot of any kind, because with him, everything is not big enough, or long enough. Currently the obstacles it carries are at its maximum. In short, the individual, the horse himself, is a kind of phenomenon.
"It doesn't guarantee anything, "Corbeil added. "I've learned over the years with horses that things can change quickly. Today, everything's fine, tomorrow, we don't know. You have to be humble, keep your head cool and your feet are screwed to the ground. A necessary form of realism...If Enavant earns $50,000 in 2021, that'll be okay. If he can race with the best and stand out, that's okay too. I'm lucky to have got my hands on such a horse, I certainly could not afford to pay for him at auction ($260,000) as a yearling. For 2021, we've paid a lot of stakes already and he'll race at that level if he can prove himself. Otherwise, it'll be okay as well. I'd love to see him race at The Meadowlands on Hambo Day. It would be for me the realization of an old dream. But maybe it won't happen."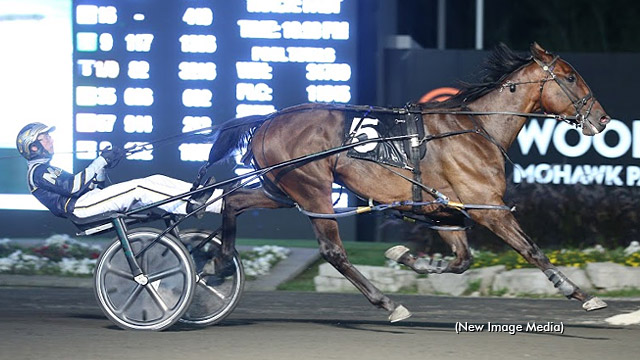 Enavant is currently preparing for his five-year-old campaign under the tutelage of trainer Maxime Velaye.
"Right now he is in the works," Corbeil said about Enavant. "Will he be ready in June? In July or August? He'll tell me. There is no pressure on it. When Max (Velaye) tells me we're late, I often take it back to tell him, no, Max, we're not late, we're just later! It's the horse that dictates the pace. The only decision that has been made so far is that at some point he will qualify. What happens next? I don't really know. I'm into horses to have fun.
"When I stopped him last fall, many people were telling me why stop a horse that is 11 in 11? I didn't want him to start the 2021 season in the best class. I wanted at that time and I still want him to start at a lower level, such as non-winners of $50,000 for life. He's entitled to it. If I had kept him racing, he wouldn't have been allowed to. He currently has $46,950 in the bank. It'll make it a less rigorous start."
Corbeil would love to race Enavant at his home track -- Hippodrome 3R, but the horse will determine the where as well as the when.
"In an ideal world," Corbeil explained. "I would always like my horses to race in Trois-Rivières. I'm never in a hurry to go anywhere else and I only go if the horses can't make it home. We train several horses on the farm: sometimes I think it's too much. But hey, it's now March, the winter hasn't been too hard and spring will come soon with the adrenaline of seeing the foals we're preparing, on the track and having success. It's a beautiful time of year.
"For Enavant, now it's time that will tell us if he's a champion or if he's capped and will just be a good horse," Corbeil added. "If that's what happens, it's going to be, period! No one will die from it and the sun will still rise the next day."
(with files from the Quebec Jockey Club)