Rebellious and In Secret shared the spotlight with wins in their respective Open Handicap events at Pompano Park on Monday (Feb. 22).
Rebellious, again handled by Wally Hennessey for trainer Mike Deters, who co-owns with Joel Warner, scored in the $11,000 feature for the pacers in 1:51.4, using a :27.1 finale to hold Alluneedisfaith N (Mike Simons) safe by a length. Seeing Eye Single (David Miller) was third, 2-1/2 lengths away, after an evenly rated effort.
Rebellious, a seven-year-old gelded son of Mach Three, took charge around the opening turn and set fractions of :27.1, :56.3 and 1:24.3 along the way to score his third win in four 2021 starts and 44th success in a career that saw his lifetime bounty vault to $340,206.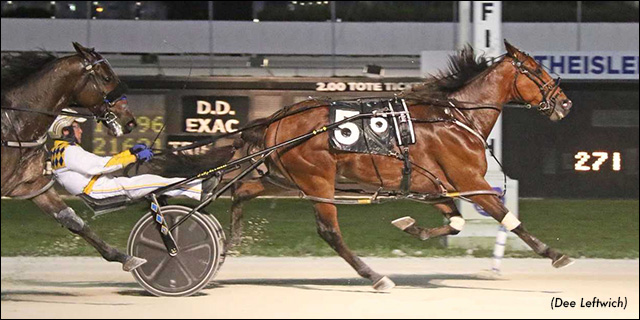 Hennessey remarked, "Mike (trainer Deters) has him razor sharp. He's a great horse and, when I got to the half in :56.3, I felt really confident since he went to the half in :55 and a piece last week and won. It was just another typical great performance for him."
Echoing Hennessey, Deters said, "I thought he raced awesome tonight. He's got great gate speed and coasted to the front pretty easily. That breather in the second quarter helped —you know Wally has a stopwatch in his head — and sprinted the last half!"
As the slight even-money favourite, Rebellious paid $4.20 to win.
In Secret took top honours in the companion $11,500 Open Handicap Trot as driver David Miller sent the nine-year-old altered son of Deweycheatumnhowe to the front an eighth of a mile into the race, posted times of :27.2, :56.3 and 1:25.3, and sealed the issue with a final :28.4 panel to hold off the very fast closing Sooo Handsome (Rick Plano) by a neck in 1:54.2. The pocket-sitting 13-year-old Cantab Lindy (John MacDonald) and Gemologist (Andy Santeramo) tied for third.
Trained by Devan Miller for owner Sylvia Burke, In Secret sent his lifetime bankroll roaring to $873,253 with the win — the 43rd of his career. Off at 3-5, In Secret paid $3.20 to win.
Other notable performances on Monday included a $10,000 Open II Pace win by Sgt Papa Daddy ($13.40, John MacDonald) in 1:52.1 and a 1:55.4 score for BJ Lorado ($10.20, David Miller) in the companion $10,000 Open II Trot.
Millennial, driven by Joe Chindano Jr., won the Super Hi-5 finale at 38-1 and keyed a 1-4-3-7-2 combo that led to a $100,453.86 payday bonanza for one fortunate member of the "Send It In" army.
Handle for the night once again eclipsed the million-dollar mark, with $1,064,366 wagered on the 12-race program.
Racing continues on Tuesday night (Feb. 23) with a Pick-6 carryover of $2,710 and a $20,000 guaranteed pool on the Pick-4, which begins in race six. Post time is 7:20 p.m.
(Pompano Park)