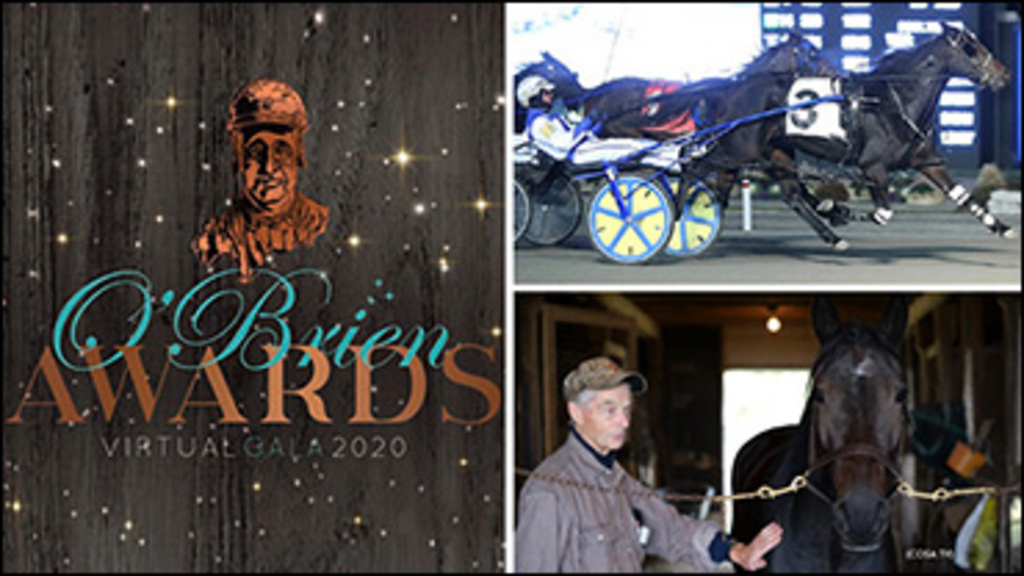 Kenn Beatson recalls racing with father Don at a number of southwestern Ontario racetracks that no longer exist, against people no longer in the business. But after years of modest success on Ontario's B tracks, with the occasional campaigner sent to test the best on the Ontario Jockey Club circuit, the Beatsons can now lay claim to owning and racing the best.
The story of So Much More is almost a homecoming of sorts, starting with Seelster Farms' stallion Big Jim -- located just a stone's throw from Don Beatson's base of operations in Granton, Ont. Back in 2015, Big Jim was the chosen stud for Real Artist mare Ladysai, owned by P.E.I.'s Doug MacPhee. It was on Prince Edward Island that So Much More started her career and showed some serious talent against her Maritime-based counterparts. After a nine-start rookie season, with eight-top place finishes, So Much More returned the racetrack at three and quickly reeled off three straight wins for developer Tom Weatherbie. Enter the Beatsons, who spotted the sophomore on the Standardbred Canada Horses For Sale Board.
"We've actually been buying a lot of horses from Prince Edward Island for about 15 years now," co-owner Kenn Beatson told Trot Insider. "We kind of found that it was a niche that worked for us. There are often horses for sale racing out there, possibly outgrown the classes out there, or if they're Ontario-bred and still three possibly fit some classes better."
In May 2019, So Much More was sold by her Island owners and made her debut for trainer Don Beatson, his son Kenn and grandson Cole England in an Ontario Sires Stakes Grassroots event at The Raceway at the Western Fair District. A win in 1:54.4 would set the tone for the rest of that sophomore campaign, where So Much More would find her self atop the Grassroots division. She captured the OSS Grassroots championship in October, then moved her way up the conditioned ranks later than year to tackle and eventually defeat the circuit's top fillies and mares by year's end.
That success against the nation's best in 2019 would not be short-lived. So Much More was a dominant competitor in the Fillies & Mares Preferred ranks at Woodbine Mohawk Park throughout 2020, en route to the O'Brien Award as Canada's Older Pacing Mare of the Year. She won 12 of 30 starts and eclipsed $300,000 in earnings last year while winning in a career best 1:49.3 at Mohawk. On eight occasions in 2020, So Much More scored in the Fillies & Mares Preferred and on two occasions stepped into open company and beat the province's best males.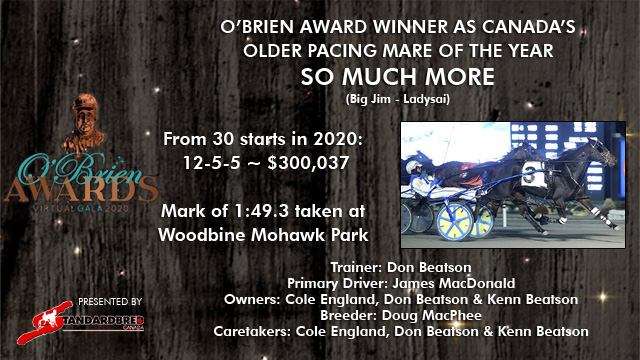 "We've often talked it, a great horse can come from anywhere," stated Beatson. "They can come from rural Prince Edward Island, rural Ontario. I think the thing that happens, in this day and age, is that they don't necessarily stay in one of those small rural locations or stables or barns once they have proven themselves."
So Much More has proven her herself time after time, and the hard-hitting campaigner has developed a dedicated following along the way.
"It's thrilling every time she races, it's fun to have all the contacts and friends we've made over the years cheer her on and give us a call or send us a note after she races just to say 'hey, way to go!' or 'we're cheering for you!' all the way from Ottawa or Prince Edward Island or wherever they're reaching out from. It means a lot to us."
As people around the world have tried to forget 2020 or immediately conjure up negative notions around the year that was due to the life-altering global coronavirus pandemic, Kenn Beatson is one of the fortunate ones that can see a glass so much more than half full, thanks in part to his award-winning pacing mare.
"As with any memories, you look back and in one vein it seemed like it flew by and it was only May 2019 -- coming up on two years ago -- that we bought her. It some senses, it seems like it was yesterday. I can remember her first start at London on the last day of racing, May 2019, and she was in the OSS Grassroots. And it honestly seems like it was yesterday. But then, in another vein, you think about that she's had nearly 60 starts for us and, yeah, we've had her for a long time in some senses.
"And I can vividly remember every one of those starts because -- with two shutdowns now in the last year -- we've had a lot of time to watch replays and reminisce about all the races. It's the same as any memory in that sense."
So Much More made a jump into the older ranks in 2020 that any veteran of harness racing will admit isn't always easy for a four-year-old to make. Her acclimation to the older ranks was virtually seamless, but Beatson's experience in the sport gives him a modest and realistic outlook for how So Much More will return as a five-year-old.
"We're not going to assume racing will be the exact same this year as it was last year. We've watched enough horse racing and we've been doing it all our lives, and know that it doesn't always go that way. We hope that it does, but we have no reason to think otherwise. In this last break of about two months, she's put on a little bit of weight and she's filled out a little bit more -- as you would expect a five-year-old to do. I would say she's no longer a below average-sized mare. She's a nice looking racehorse, and it feels like the rest did her some good."
After racing at the top class for the vast majority of her 2020 starts -- either in the Fillies & Mares Preferred, Preferred or stakes company -- So Much More makes her 2021 debut on Saturday (Feb. 20) in a $28,000 pacing event. She's listed at 5-2 on the morning line, and leaves from the rail with regular pilot James MacDonald in tow.
"She's strong and wanting to go; we're not big proponents of ever giving a horse a big layoff. We prefer just either short breaks or maybe the odd week off when they're racing. That's just what's always worked well for us. She had a couple of weeks off at the end of December and we kept jogging her all the way through January, every second or third day. And we ramped that [schedule] up in February."
Given the current status of cross-border transportation, Beatson noted that the stakes schedule for So Much More in 2021 would be very similar to that in 2020. She's once again eligible to the Milton and the Roses Are Red at Woodbine Mohawk Park, with one possible bucket-list level stateside engagement.
"With all the unknowns we really didn't know what to stake her into this year, so we basically didn't stake her into anything in the United States this year even though there would be a number of nive races for her...with the exception of one. We did pay her up for the Breeders Crown because it's the end of October. Maybe things will be different then. It's at The Meadowlands this year; it would be fun to watch her race at The Meadowlands, right?
"It might not happen, we might still be closed at the border and we're just a small operation. We're not going to send her to someone else to race her."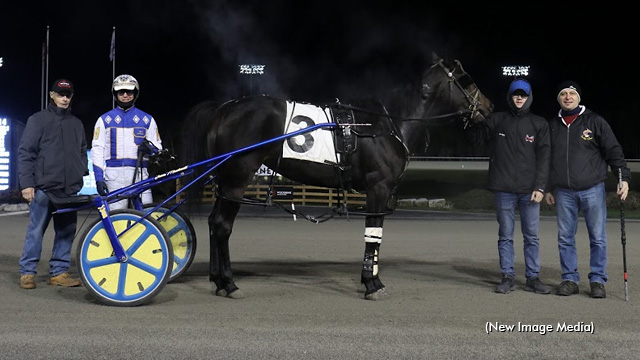 (L-R:) Don Beatson, James MacDonald, So Much More, Cole England, Kenn Beatson after a win at Mohawk in 2019
The experience of having an O'Brien Award winner for Beatson is nearly beyond description, but the circumstances and connection to those participants also associated with So Much More certainly adds a special and immeasurable value. When the mare was headed into her biggest stakes tests of the season, her doting conditioner was headed to the hospital. Don was rushed into emergency surgery to remove an intestinal blockage, leaving the mare in the care of his sons -- including Kenn, who lives two hours away in Palgrave, Ont. Don's hospital stay was longer than anticipated and he's since made a full recovery.
"It's really special, and it's hard to put into words. I always reference back to the fact that I've been doing it my whole life, my dad's 79 years old now and he's been doing it most of his life and we've had some nice horses over the years and raced at the old Greenwood and what used to be called the [Ontario] Jockey Club, but most of our career has been at the B tracks, and so many tracks that have closed down now...we've had some good horses over the years, but none as good as So Much More.
"You almost don't even dream that you could have one that good, because generally speaking we don't play the yearling game. We buy horses that are already pre-made, or claim them, and the ceiling isn't usually as high on a horse that's already made it to the track and you're buying or claiming. But this one worked out."