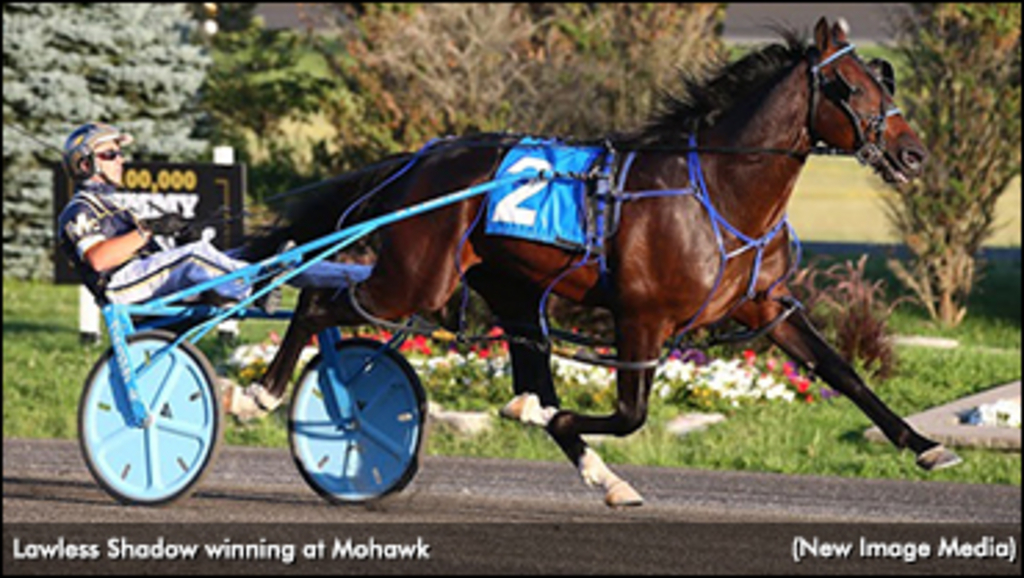 Just over a decade ago, Shadow Play took his Maritime connections on a ride of a lifetime while earning over a million dollars in the process. Now several years into his stallion career, the same connections have campaigned four Shadow Play offspring to O'Brien Award titles -- the latest name on the register being Lawless Shadow.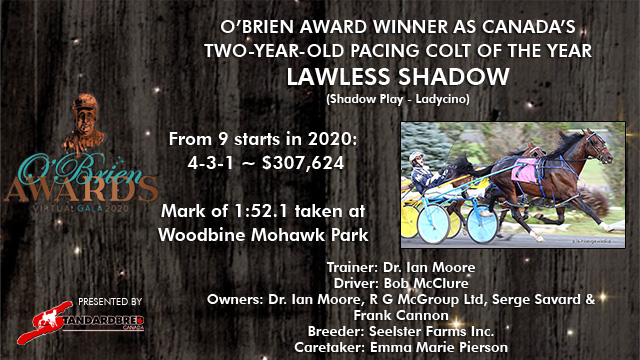 Co-owned by Ron McLellan of New Brunswick through his R G McGroup Ltd. along with partners Serge Savard, Dr. Ian Moore and Frank Cannon, Lawless Shadow overcame freshman greenness to establish himself on the Grand Circuit in Ontario. From the Grassroots, the colt scored victories in a Gold preliminary and a Nassagaweya division, finished second in the Ontario Sires Stakes Super Final and third in the Metro Pace final. In nine starts, Lawless Shadow won four times and missed the board only once, earning $307,624.
"He's a real nice colt," McLellan told the Telegraph-Journal regarding Lawless Shadow, a $52,000 purchase from the 2019 London Selected Yearling Sale. "He grew up quite a bit -- and he was a big horse anyway -- and he wants to race. He's got tremendous speed, and his endurance is crazy.
"He trained really, really well as a two-year-old and he just seemed to do everything very easy," McLellan also said. "He was a beautiful colt right from day one."
Nominated for an O'Brien Award alongside Jack Darling trainee Bulldog Hanover, Lawless Shadow took home the hardware as part of a big night for trainer Dr. Ian Moore, who also took home trophies for his three-year-old pacing colt Tattoo Artist and earned divisional and Horse of the Year honours with his aged pacing star Century Farroh. The Shadow Play team of McLellan, Dr. Moore and Savard previously won O'Brien Awards with Arthur Blue Chip (2013 Two-Year-Old Pacing Colt), Percy Bluechip (2018 Two-Year-Old Pacing Filly) and Classic Pro (2018 Three-Year-Old Pacing Colt), but McLellan says Lawless Shadow shares many traits with his sire.
"We've had horses for 50 years and his father was the toughest racehorse we've ever owned, and I believe he's one of the toughest horses to ever walk a racetrack," McLellan said. "[Lawless Shadow's] will to win, his endurance, his high speed, and he can do it anyway he wants. From the front, from the back. His father is written all over him.
"We have great hopes for him as a three-year-old," McLellan also said, "but as you know in the horse business, you can't predict from two to three."
Lawless Shadow, off the O'Brien Award title, is currently in training with Dr. Ian Moore down in Florida in preparation for his three-year-old season.