Action Uncle, the Ohio Three-Year-Old Trotting Colt of the Year, has been named the 2020 Ohio Horse of the Year.
Action Uncle, the son of Uncle Peter out of Action Broadway, won nine out of 10 races in 2020 earning $351,960 for trainer Virgil Morgan Jr. and owners Carl Howard, Joyce McClelland, and Larry Wills.
In 2020, Action Uncle set a world record, winning the Ohio Breeders Championship at the Delaware County Fairgrounds in 1:52.4. The victory completed the Ohio Triple Crown for Action Uncle as he won the Ohio Sires Stakes and the Ohio Fair Stake earlier in the year.
Morgan said Action Uncle is a classy horse. "He just loves to do his work. I knew from an early point as a two-year-old that he had extreme talent. I knew he was something special, but I am a little biased because I trained his mother."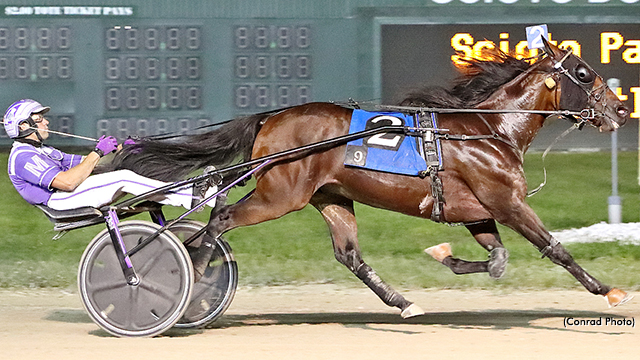 Action Broadway, Action Uncle's dam, was a Dan Patch winner earning $1.2 million.
The 2020 season ended in disappointment for Action Uncle. Morgan says the plan was to race Action Uncle in the Breeders Crown. "He raced at Hoosier Park the week before the Breeders Crown and came out of the race sore," said Morgan.
X-rays showed a broken wing tip of the coffin bone forcing the change of plans. "We felt he deserved to race on the national scene and were very disappointed that we couldn't take an Ohio-bred to the Breeders Crown," said Morgan.
Morgan said they are going to do the right thing and write off the 2021 season. "The injury will heal. He is doing extremely well," said Morgan. "We are going to give him more than enough time off. He will be back."
In 16 starts, Action Uncle has 12 wins, three second-place finishes and one third-place with earnings of $577,535.
Action Uncle was honoured during the Ohio Harness Horsemen's Association's virtual award show on Jan. 16.
(OHHA)