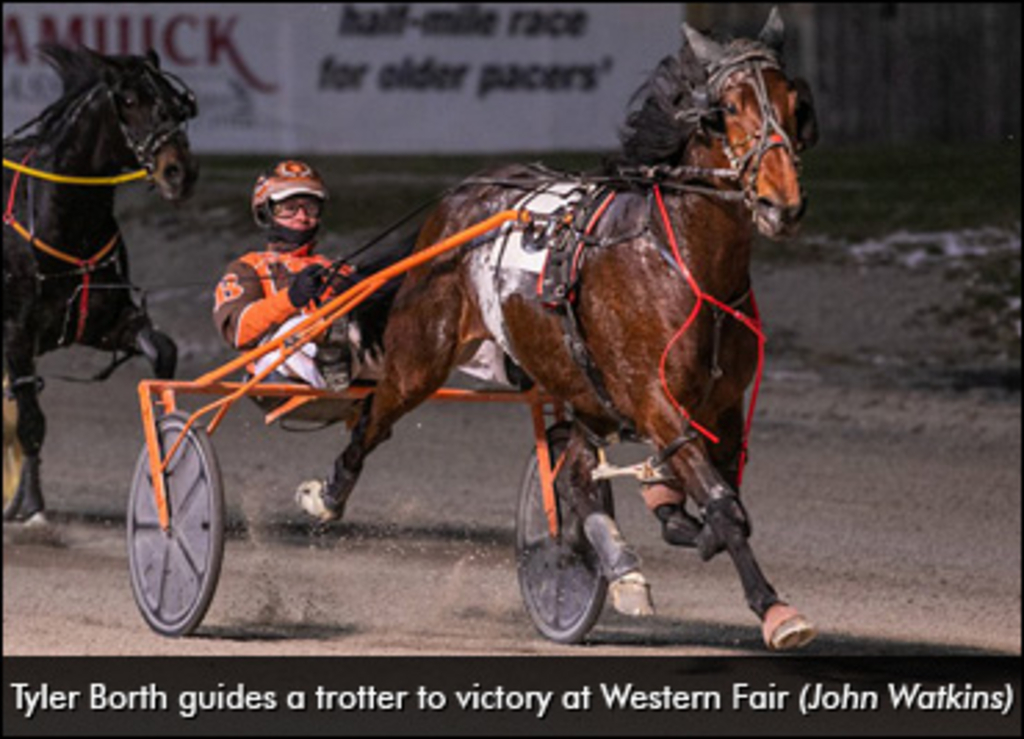 The former Future Star winner isn't resting on past laurels, but instead, staying very much in the present.
Tyler Borth is not one to typically get caught up in the numbers game when it comes to his standardbred training and driving roles.
But that's not to say he's not driven to succeed. He most certainly is.
"Every year, you gain more experience, and more understanding of racing," said the 2014 Future Star recipient at the O'Brien Awards. "People see that, they put more trust in you, and you get more drives. It all comes down to having that want to get better and being committed to working hard every day."
As the 2020 campaign begins to wind down, the 28-year-old, despite a harness racing season hampered by the effects of COVID-19, maintains an optimistic tone when it comes to the year that was and the year ahead.
Less than 30 driving wins away from 900 for his career, Borth had a summer to remember at Dresden Raceway.
Not only did he win six races on a card on two occasions, he also won three races on closing day en route to capturing the drivers' title.
"That was something that stands out as a highlight this year, winning the title at Dresden. It's been a crazy year for horse racing. I think it's something where you really just had to go with the flow. The break [due to the pandemic] was nice in the sense that you had a little time to unwind and charge your batteries a bit. At the start, I didn't know what to with myself, but after a little while, you adapt. But at the same time, you really love being out there and competing. So, when you get the chance to race again, you really appreciate more than you likely ever have."
With racing in full swing at The Raceway, Borth is looking to add some more wins to his 2020 totals.
He's hoping for a big night on December 20 when the London, Ontario, oval presents the inaugural Handicapping Drivers' Challenge, an event that will feature four Raceway-based reinsmen taking on four of their contemporaries from Woodbine Mohawk Park.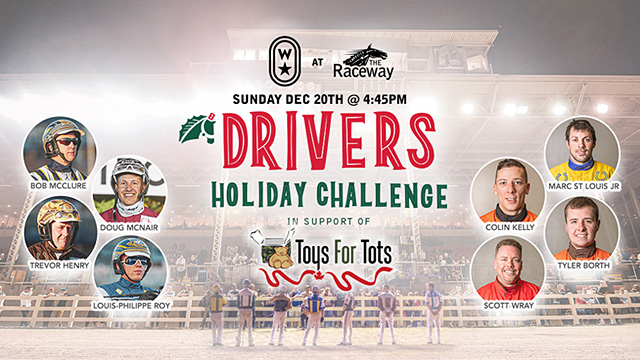 All of the participants, including Borth, will donate their driver earnings to Toys For Tots, a Canadian charity based on local partnerships between Canadian Armed Forces, businesses, and concerned citizenry whose sole focus is to provide toys for children who are in need.
"It was a 100 percent yes for me when I was asked to do it. It's a really cool idea. I've never done anything like this -- I might be the only one -- so I'm really looking forward to it. It's for a great cause. It will be interesting for sure. It will be different for the other drivers [from Mohawk] to come in, and to see how the races play out."
Bob McClure, who will be joined by fellow Mohawk regulars Doug McNair, Trevor Henry and Louis-Philippe Roy, made a side wager with McNair: whoever makes less money out of the two in the Challenge must donate $500 of their own to Toys For Tots.
Will Borth do the same with a Western Fair driver?
"Maybe I'll talk to the guys tonight and see if they want to make a small wager."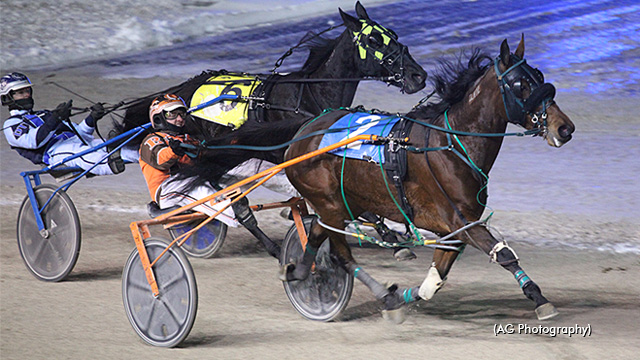 Tyler Borth, victorious with Top Royal at Western Fair
Side bets aside, Borth is happy in knowing kids in need will benefit from the event.
"That's the most important thing. You want to make sure kids can have a happy Holiday season."
As for what he'd like to see under his tree this year, Borth realizes he and his older brother, William, won't be getting the sweet rides they received years ago.
But the siblings still have something to unwrap on Christmas Day.
"I was very fortunate. Our parents always spoiled us. I remember one Christmas my brother and I came downstairs -- we always got one big present -- and we looked under the tree, trying to figure out what it was. It was snowing and my mom said, 'Your big presents are on the front porch.' We flicked on the lights and there were two KX65 dirt bikes standing on the porch. I forget how old we were, but that's a pretty cool memory."
He added, with a laugh, "My mom actually told me were just getting one present now. And that's all good."
While Borth and his brother got plenty of miles out of the dirt bikes, he's most at home in the race bike.
Although it's been an unprecedented year for horse racing across North America and beyond, the driver who recently reached the century mark in wins for the fourth straight year will do what he always has, and keep his wheels in motion.
"Getting 900 wins is cool, 1,000 is obviously the big one. I'm happy with the way things have gone in my career so far. I think 1,000 wins is a big feat for any driver, let alone the guys who have a crazy number like 15,000 wins. It makes you sit back and say, 'Wow.' I've driven horses pretty much since I got out of high school and you can't imagine how people reach levels like that."
Which is why for Borth future accomplishments are best pursued by staying in the present.
"It's nice to reach those milestones, and it's just as exciting to chase after them. I think just keeping the focus on the next race, and not looking too far down the road, it really helps you achieve those goals."