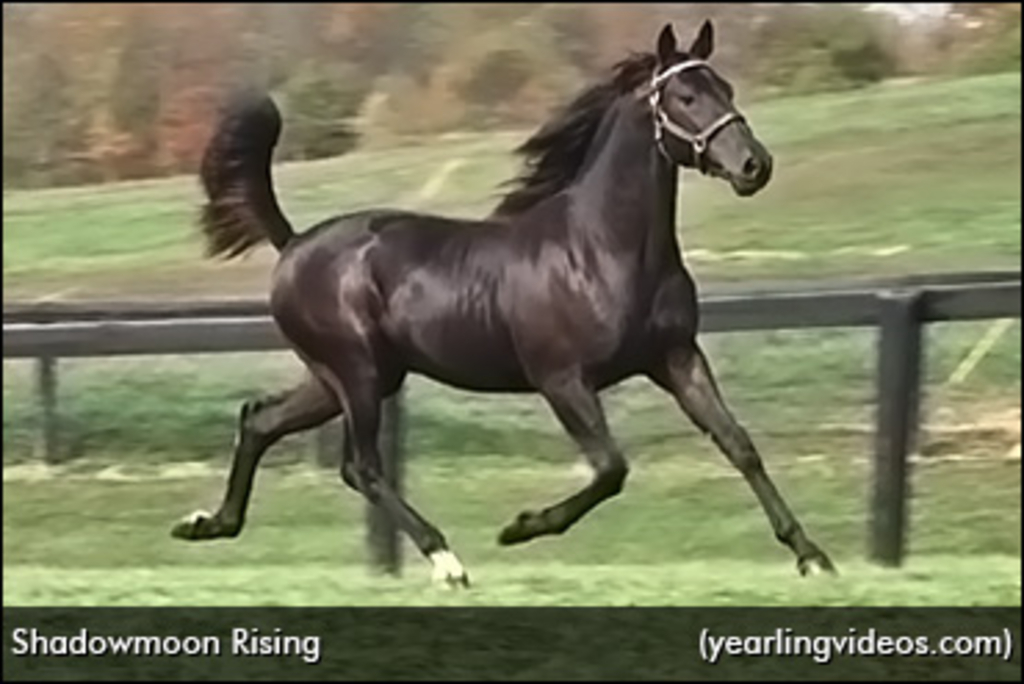 Shadowmoon Rising snared a final bid of $115,000 during Thursday's third session of the Standardbred Horse Sales Company's annual November sale, and that made him the top seller of the 328 yearlings that went through the ring.
Shadowmoon Rising, who sold as hip 591, was purchased by Dr. Ian Moore from the Spring Haven Farm consignment. Moore trained the yearling's full brother, Shadow Moon (1:51.4 - $214,246).
"Shadow Moon was a real nice two-year-old and then didn't quite come back as a three-year-old," Moore told the USTA. "He was a real gritty individual. But this guy is totally different than him. Shadow Moon was small, and this guy is a much stronger, bigger looking, individual.
"I didn't want to pay that much, we had kind of talked around $80,000, but it was an Internet bidder and me from $75,000 on. That Internet bidder was probably Jack Darling, because he didn't make it here. I think he wanted him pretty good, too. We had to pay more, but I'm glad we got him."
Thx Again Bluechip was a $105,000 purchase by Steve Elliott from the Blue Chip Farms LLC consignment. Selling as hip 700, the son of Huntsville is the fourth foal out of the half-sister to Rocklamation (1:48.3 - $2.2 million).
Alehouse Hanover was the only other six digit ticket of the day. Paul Kelly shelled out $100,000 to nab hip 624 from the Hanover Shoe Farms Inc's consignment. The son of Bar Hopping is the fourth foal out of the mare Aspidistra Hanover (1:55 - $179,976).
Allisonann Hanover, who sold for $85,000, was purchased by Mark Etsell from the Hanover Show Farms Inc.'s consignment. Selling as hip 614, the daughter of Archangel-Angel Eyes Hanover is the half-sister to Ambassador Hanover (1:56 - $105,425).
The 328 yearlings that went through the ring on the Thursday session produced a total haul of $6,341,000 in sale for the day for an average price of $19,332. There were 102 yearlings eligible to Ontario stakes events that sold for just over $2 million. Their average sale price was $19,853.
Overall, 773 yearlings were sold over the three days of the Black Book 1 portion of the sale. The gross total of those yearlings was $29,540,000, providing an average of $38,215. The total and average are the lowest since 2015, with the pandemic-affected racing season a likely factor in those numbers.
A total of 157 Ontario-sired yearlings brought more than $4.8 million, averaging $30,580.
Full sale results and averages are available at the following links:
► 2020 Black Book Sale Results