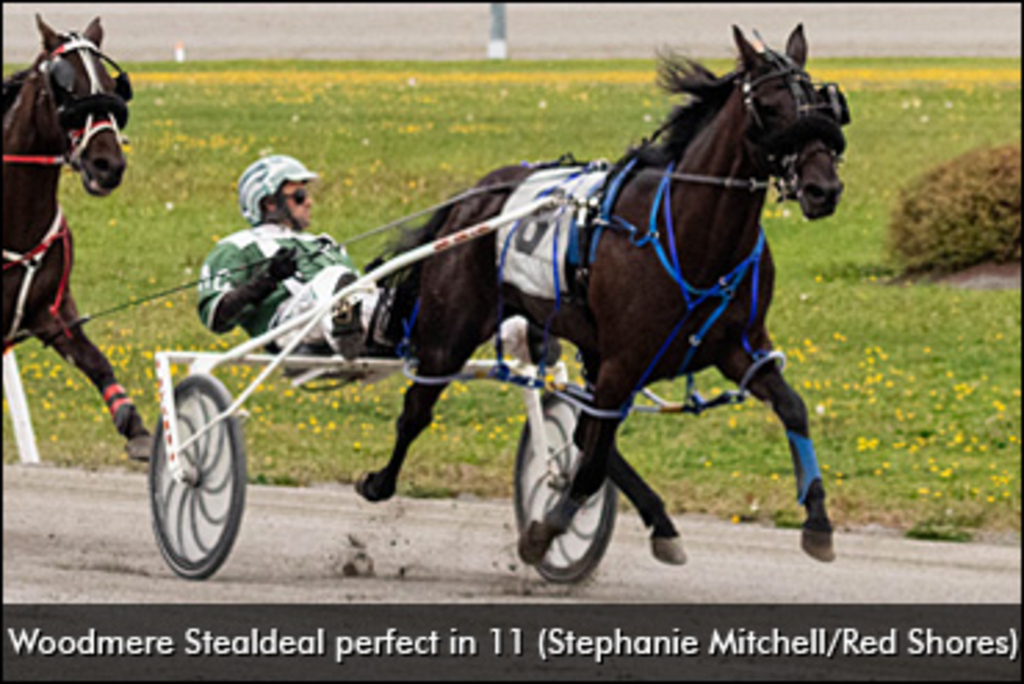 The beat goes on for Woodmere Stealdeal as his career record remained unblemished in the Island Breeders Final Saturday (Oct. 3) at Red Shores Racetrack and Casino at the Charlottetown Driving Park.
The son of Steelhead Hanover scored win number 11 of his undefeated career in the $12,700 Island Breeders final Wendell Wallace Memorial for two-year-old pacing colts. Marc Campbell steered the colt to a 1:55.3 victory from Post 8 for trainer Danny Romo and Nova Scotia owners Kevin Dorey and Robert Sumarah.
Mabou Ridge trotted into the record books in the $8,000 Island Breeders final Charles Oakes Memorial for three-year-old trotters with the fastest mile ever by an Atlantic-bred three-year-old on the Eastern Seaboard. The Clare MacDonald-trained and driven sophomore stopped the clock in 1:58.1 to lower the former 1:58.3 standard he formerly co-held with Gettin Messi and Tequila Tuesday.
Arnold Rankin of Nova Scotia owns the son of Armbro Barrister.
Mr Finlay Ridge was on top at every call in the Island Breeders Final Ralph Cole Memorial for rookie trotters with MacDonald at the reins of her trainee. Time of the mile was 2:03.2 in the $7,800 event. MacDonald and Rankin own the colt in partnership with fellow Bluenoser Ian Tate.
The $11,900 Island Breeders final Collins Wood Memorial for two-year-old pacing fillies saw a crushing performance from Tobins Brownie as the filly powered to a 1:56.1 victory while leaving her foes 15 lengths in arrears.
David Dowling was above the wheels for trainer Jonah Moase and Island owners James Quinn, Carl Peterson and Amy Lakie.
The program also featured the Ruby Chappell Memorial stakes for three-year-old pacing fillies and the Bob Dewar Memorial stakes for three-year-old pacing colts.
The $10,000 Chappell splits were won by Kiss Me Im Irish (Driven by Brodie MacPhee) and the Marc Campbell-driven duo of Woodmere Skyroller in 1:55 and Tobins Choice in 1:56.4.
The $9,800 Dewar divisions were claimed by Woodmere Rollnpop (MacDonald) in 1:54.4, Windemere Ryan (Adam Merner) in 1:56.3 and Windemere Frank (Dowling) in a 20-1 upset in 1:54.4.
The Matinee Racing Finals were also held on the afternoon program for amateur drivers featuring a slew of up and coming talent. Rising Fella and driver Jaycob Sweet won the fastest dash in 1:59 while Intrepidus and Wendy MacRae won the other race in 2:07.2.
To view the results from Saturday's card, click the following link: Saturday Results - Charlottetown Driving Park.
(Red Shores)