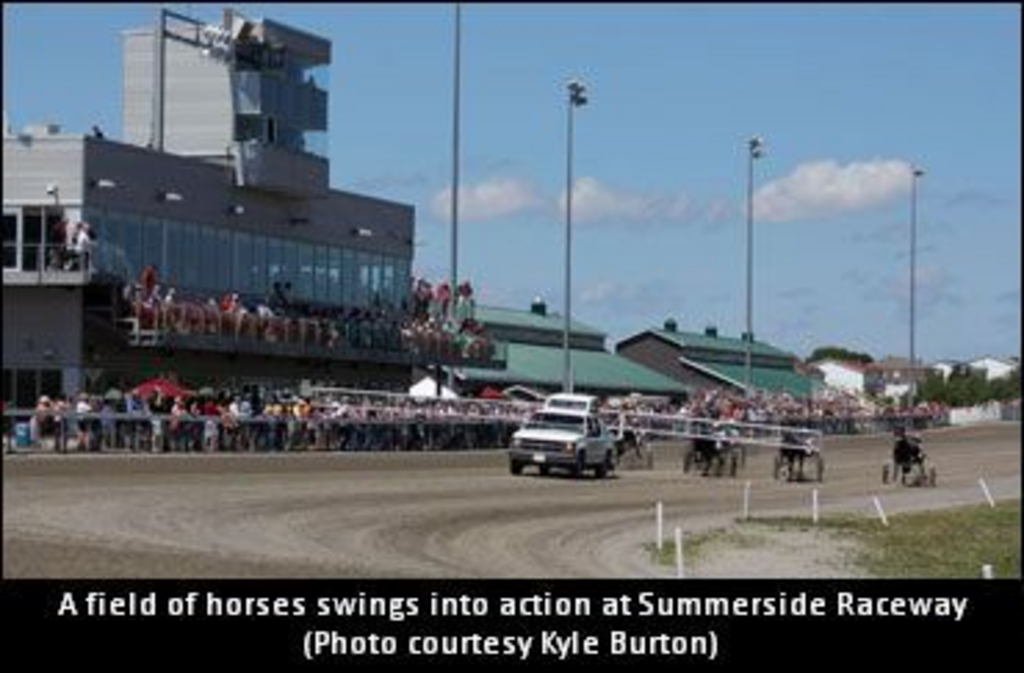 The Ron Gass stable was firing on all cylinders Sunday afternoon (Sept. 27) during an all-stakes program at Red Shores at the Summerside Raceway.
The Cornwall-based stable won both of the $12,500 Joe O'Brien Memorial's gold divisions for three-year-old pacing colts during the 12-dash program.
The Big Chase rolled off the front to win his gold split in 1:58.4 for driver Corey MacPherson, trainer Gass and owner JTL Risk Stable of Port Morien, NS. The Big Chase was bred by Mike Collings of Hazelbrook.
Mr Kelly controlled the front in the other $12,500 division en route to a 1:56.4 victory while snapping the win streak of Tobins Rebel (who was driven by Gilles Barrieau) at eight races. Adam Merner was in the seat of the Rollwithitharry colt for trainer Gass and owners Marsha Knox and Kyle and Wade MacDonald of Stanhope. Eldred Nicholson of North Wiltshire bred the pacing colt.
The $8,000 O'Brien Memorial grassroots splits were won by Outrageous Story (Barrieau) in 1:57.3 and JJ Patrick (MacPherson) in 1:59.3.
Gass' third training win came in the lone $16,000 Lady Slipper trot division for two-year-olds, as homebred Dusty Lane Milo prevailed in 2:04.2 for driver Merner and owner Knox.
Tequila Tuesday won the $16,000 Lady Slipper three-year-old trot in 2:01.1. Myles Heffernan Sr. was at the controls of the Myles Heffernan Jr. trainee for owner Jackie Heffernan of Summerville. William Andrew of Calgary bred the winning son of Armbro Barrister.
Gotta Love Cabot delivered a 13-1 shocker in her $13,800 Lady Slipper gold division for three-year-old pacing fillies, as trainer Clare MacDonald steered her to a 2:00 victory for Nova Scotia owners Morah Kerrr and Phonsie MacEachern. A homebred of Kerr and MacEachern's, Gotta Love Cabot was raised at Gord Brown's farm in Greenvale, PEI.
Driver Barrieau delivered in the other $13,800 Lady Slipper gold division with Woodmere Skyroller. The filly tallied a 1:56.3 score for trainer Kevin MacLean, owner Reg MacPherson of Stratford and breeder Bruce Wood of Marshfield.
The $9,100 Lady Slipper grassroots divisions for sophomore fillies were also won by Barrieau as Thebossisagirl scored in 1:59.4 and JJ Gracie was a 1:58.2 winner.
The Atlantic Aged Pacing Mares Series, presented by Standardbred Canada, had a single $6,140 division on the card, and it was Dreamfair Zenfire (Merner) that delivered an upset at odds of 8-1 in 1:56.4.
Hop Up (MacPherson) overcame Post 8 in the lone $5,100 Island Oceans Trot Classic division for aged mares in 2:00.1. The series is sponsored by JD Marine & Diving Inc.
Check out Redshores.ca for race replays and more.
To view the harness racing results for Sunday at Summerside, click the following link: Sunday Results - Summerside Raceway.
(Red Shores)