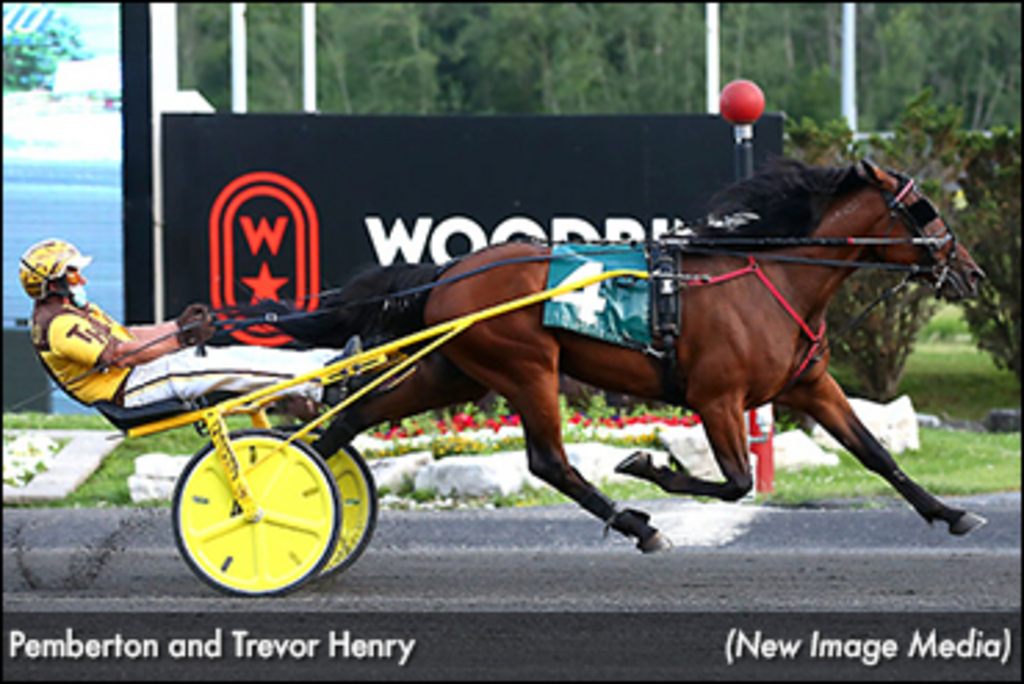 After a hairline fracture robbed him of his rookie season, Pemberton has turned heads in Ontario this summer seemingly every time he has set foot on the racetrack.
But how good is Pemberton? Even a four-race win streak capped by a resounding 1:52.2 win in a $104,800 Ontario Sires Stakes Gold event can only begin to shed light on that question.
Brenda Walker, who bred and owns the three-year-old Wheeling N Dealin gelding with her daughter, Christine, attributes much of Pemberton's success to an easy, efficient gait:
"(Trainer) Paul (Walker) says that when Pemberton takes off, he just seems to drop his butt and lengthen his stride," she said in a recent feature that appeared in the Hamilton (Ont.) Spectator. "It does not feel like he is moving his legs faster.... And Paul and our driver, Trevor Henry, both say he seems to barely touch the ground. So light on his feet with that cleanest gait which requires him to wear only trotting boots."
That fleetness has enabled him to soar to victory in each of his races to date after his career debut. Following a fourth-place finish at Georgian Downs on June 6, he climbed rapidly through the lower conditions at Woodbine Mohawk Park and delivered that 1:52.2 OSS Gold win on July 21 with incredible ease — a "piece of cake," according to Woodbine commentator Ken Middleton.
But before Pemberton — whom Brenda named after her late grandfather, Albert Pemberton — had the opportunity to showcase his talent among the province's elite, he was held up by an early setback.
"At two, he trained down to 2:13 in the spring, but came up with a hairline fracture in a knee. Season over before it began," Walker told the Spectator. "These things heal, and late that fall we began again."
Being that Pemberton is only eligible to the Ontario Sires Stakes program for this season, he won't be able to take on the toughest trotters from across North America until his four-year-old campaign. But with three Gold preliminaries left leading up to the Oct. 17 Ontario Sires Stakes Super Final — including his next test on Aug. 19 at Grand River Raceway — Pemberton will still have ample opportunity to make up for lost time in his home province.
... and so far, he's exceeded the Walkers' every expectation.
"He did everything he was supposed to, and here we are today," Brenda said. "He is almost push-button, and there are not many of those."
To view the harness racing entries for Wednesday at Grand River, click the following link: Wednesday Entries - Grand River Raceway.
(with files from the Hamilton Spectator)