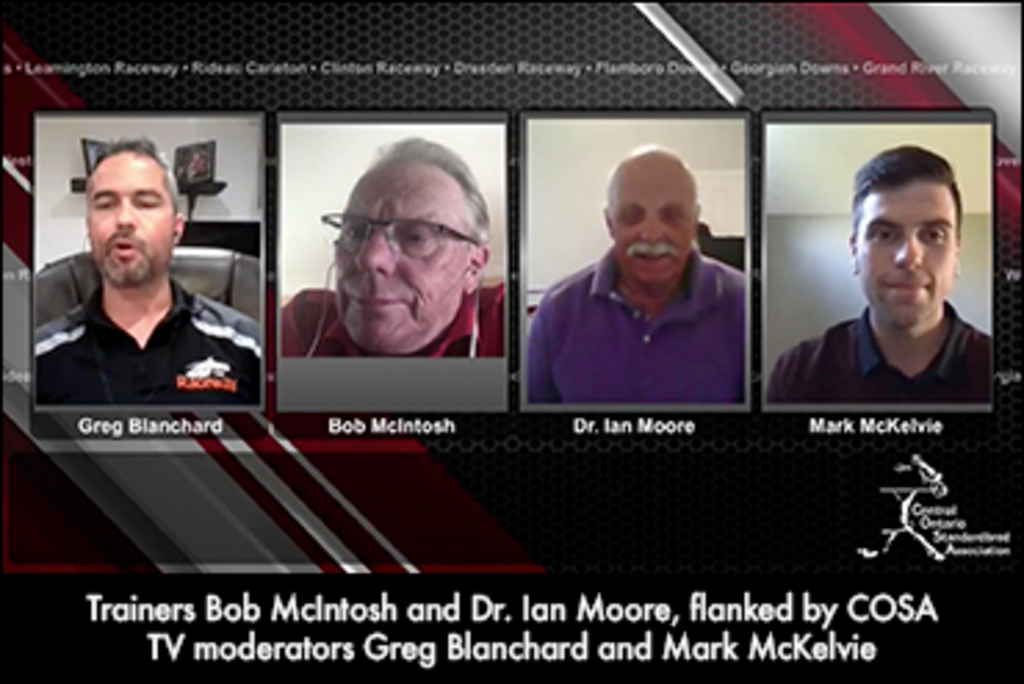 A pair of Canada's most esteemed trainers took to the COSA TV airwaves on Wednesday (June 17) to discuss how some of their two-year-olds are preparing to commence their racing careers.
Dual Hall of Famer Bob McIntosh sent Sports Duchess and A Better Game to qualifying victories last Friday (June 12) at Woodbine Mohawk Park, and he has six more ready to qualify this coming week.
"I don't really show up until the second week," McIntosh told moderators Greg Blanchard and Mark McKelvie. "I don't like to rush it; it's a long season."
Among McIntosh's qualifiers this week are Ciao Baby Hall, a filly whose parents were both trained by McIntosh as well. And when the opportunity arose for McIntosh to purchase the daughter of Cash Hall and Constance Hall, he jumped.
"(Breeder) Alan Leavitt bought her back for $45,000 (in the Lexington Select Yearling Sale), and then my cousin pointed out she was in the fall sale at Delaware, Ohio," McIntosh said. "I looked at the video, fell in love with the video, called Alan, and we came to an agreement on the price.
"She's just one of those fillies that has done everything right from day one," he continued. "I've got high hopes for her; she shows talent on the farm track. She shows a lot of Cash Hall. She's got a big, long neck, she's got a bit of attitude in the barn, she's got quick speed where she can brush with a hoppled pacer. I'm high on her, but she's got to prove that yet."
Ciao Baby Hall will have her first chance to prove her ability in Friday's second qualifier at Mohawk, with Trevor Henry listed to drive.
On Saturday, Counter Offer — a great-grandson of world champion and McIntosh trainee Delinquent Account — will make his first qualifying appearance with driver Trevor Henry on Saturday at Mohawk, and McIntosh is interested to see if the son of Shadow Play will continue his progression.
"This colt came in from the field last year, and I thought he was pretty ordinary," he said. "As time has progressed, he's turned into a pretty nice colt. You'll find out what they are the first time they get tired — they'll fight or they'll flight."
McIntosh will also qualify another homebred, Next Big Thing, a "big, handsome, good-looking horse" he co-owns with C S X Stables and Dave Boyle, on Saturday. This son of Shadow Play will also be driven by Henry.
"He's a pretty nice colt," McIntosh said. "He's training up as one of my best ones."
Shadow Play's trainer, Dr. Ian Moore, likewise is preparing his youngest trainees for their rookie campaigns. Moore, who qualified nine babies at Mohawk last weekend, was satisfied with his early results.
"I was very pleased with them, especially in the way they acted around the paddock," he said. "Everybody was perfect ... everything went well."
One in particular who impressed on debut was Lady Arthur, a daughter of Arthur Blue Chip who sped clear by 5-1/2 lengths once given her head on the far turn of her Friday (June 12) qualifier at Mohawk.
"They only went a half in 1:02, and she's not really one I wanted to front-run," Moore said, indicating that the filly pulled herself out of the pocket up the backstretch. "Once she started pacing away, she did it all on her own. She's got a nice stride and is very willing to go. I'm optimistic for her this summer."
Bob McClure is slated to take over the lines of Lady Arthur for her second qualifier, to take place on Friday morning.
Moore didn't get to apply his preferred tactics with Andra Day in her first trial, but he was pleased nonetheless with her debut outing.
"She's hyper — she's quite excitable and has had a couple episodes of tying up, but she's gotten a lot better," Moore explained. "She's got high speed, she grabs on, and she likes to rock and roll when it's time to go."
He had intended to race the daughter of Shadow Play from off the pace, but things panned out far differently when the gate sprung.
"She can spring the gate really well and nobody was leaving, so there was nowhere else to go."
Andra Day won by a diminishing 1-1/4 lengths in 1:59, and will also receive the services of McClure for her second qualifier, slated for Friday morning as well.
As far as older stock is concerned, Moore's barn fired on all cylinders last Saturday night (June 13) at Mohawk, with all four of his starters winning, including a 1:49.3 mile from Casimir Richie P, a lightly-staked five-year-old for whom Moore indicated the Gold Cup and Saucer is "still a possibility this year."
Tattoo Artist, who was a second-out winner in 1:50 on Saturday, has blossomed into a truly legitimate North America Cup hopeful.
"He's developed into a super horse this year," said Moore. "Anybody can jog him; he'll do whatever you want. And when it comes to race time, he's all business. You release the lines on him, say 'Giddy up!' and away he goes."
The son of Hes Watching is slated to race again this Saturday before a short spell in advance of the beginning of the Ontario Sires Stakes circuit.
This week's COSA TV episode appears in its entirety below.