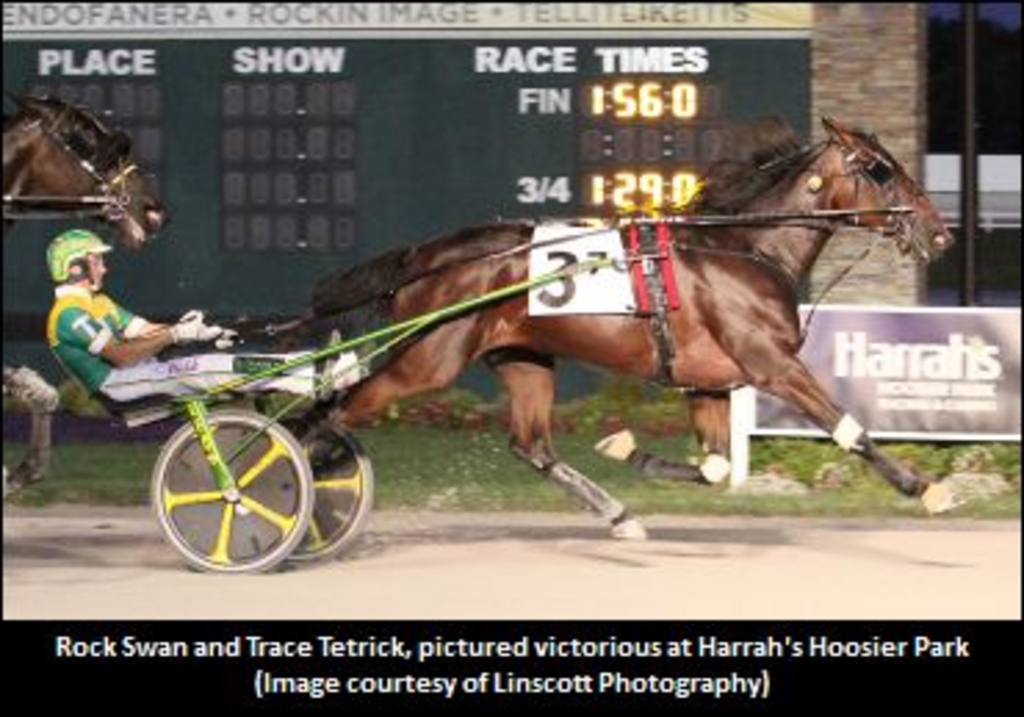 While COVID-19 has delayed the debut of several highly anticipated three-year-olds, Indiana Sires Stakes champion Rock Swan is ready to 'rock' after an impressive winning qualifier Monday morning (April 27) at the Southern Oaks Training Center in south Florida.
Though she may not have been in the limelight during her freshman season, Rock Swan (Swan For All - Jolly Jessica) was the darling of the Indiana Sires Stakes program, as she earned $392,981 from just 11 starts -- nine of which led to trips to the winner's circle.
On Monday, the $37,000 Hoosier yearling sale purchase cleared to the front at the half-mile marker for driver Marcus Miller. With no competitors near, Rock Swan drew clear to a three and a half length victory in 1:56 with a :27.3 final quarter. Rock Swan, who is owned by S And R Racing Stables and Anthony Lombardi, is trained by Erv Miller, who was thrilled with the filly's first outing of 2020.
"She was very good. She went right where we wanted her to go, we trained her in 1:57 a couple of times, so she was ready to go. She really has come back nice. She grew up quite a bit and since we started back with her this spring she has done everything we have asked her to. Trace (Tetrick) did a really good job with her last summer."
However, Erv Miller was not the only one just as impressed with the filly's 2020 debut.
"The track was great, it was beautiful here... she has a big gait that covers a lot of ground and a nice attitude," Marcus Miller noted. "It was nice to sit behind her again, I hadn't driven her since she broke her maiden at the beginning of last year."
But as uncertainty continues to cloak the world of harness racing, it is questionable for some trainers if it is worth qualifying horses yet or if the better option is to continue waiting. For Miller, he views the pandemic situation through a different perspective.
"We're just conditioning, that's all we're looking for -- is to keep them conditioned. We got her ready up to a certain point and then we needed to get a little speed into her. We ship out in a week or so and she'll get time before then and then she'll get time afterwards. I'm sure she'll have another qualifier or two before we start her up."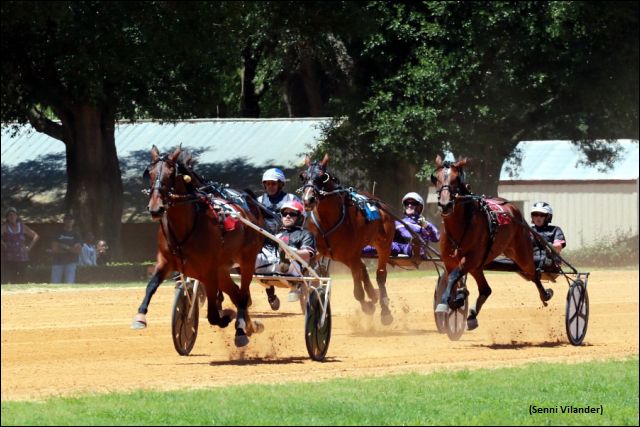 Rock Swan and Marcus Miller, pictured on the lead at the Southern Oaks Training Center on Monday, April 27, 2020.
Regardless of COVID-19, Rock Swan is right on track with the schedule that Miller mapped out for her.
"Her first stakes race in Indiana was supposed to be at the end of May, and there is some [talk] that Indiana would like to start back up around June 1, so my guess is that if they start up by then, then they will likely just move that stake race to another date, but no one really knows what is going to happen. The plan was always to qualify her once in Florida anyways and then ship her, give her a couple weeks and then qualify her a couple times."
Miller also discussed how despite having never hit the Grand Circuit during her freshman season, there was never any doubt or question in Rock Swan's talent.
"She always showed a lot of ability training down but she just seemed a little immature, so we just waited on her a little bit to make sure she was ready. Other than that, she really seemed like a nice strong filly the whole way training down. In her early races, we focused on making sure she finished her miles strong because she showed a little lack of that training down. So, once we took care of that, that was that and the only times she got beat she was just beat by horses who got really nice trips up the inside."
Miller went on to note that the filly who put forth such an impressive two-year-old campaign will get her chance to shine in the big dances when the season resumes.
"She is staked for everything that works into the Indiana program. She is also eligible to the Elegantimage at Mohawk and the Breeders Crown. We pretty much put her in everything we could, but the Breeders Crown is at Hoosier Park this year and we really liked that."
Miller's stable is heading into the 2020 stakes season after 19 consecutive million-dollar campaigns. His trainees have raced to more than $88 million in purse earnings. Miller discussed how he and his team are coping with the effects of COVID-19.
"Other than our stable in the north that was doing a little racing this spring, it really has not affected us at all. We're at an isolated training centre in Florida and we just don't go out for dinner or to any restaurants anymore," Miller said with a laugh.
"Other than that we get our groceries and we stay between the training centre and home. Nothing really has changed in our lives dramatically. A lot of our employees have dorms on the grounds, so we haven't been that involved in the outer world."