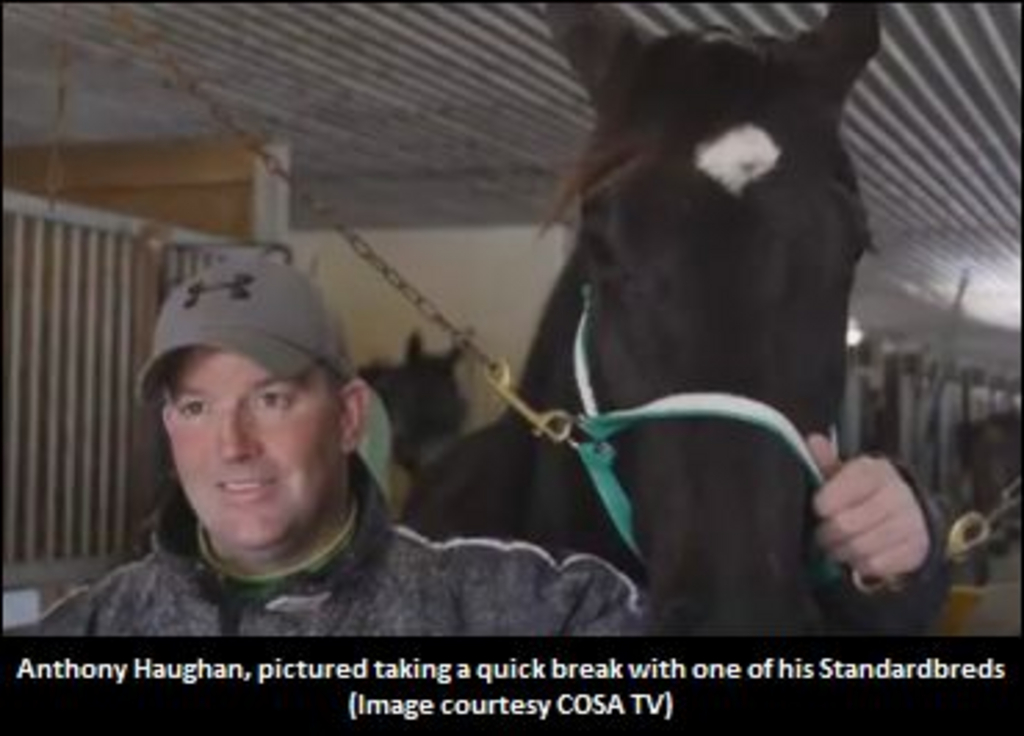 It goes without saying that Ontario's Standardbred horse racing industry has been through a challenging stretch for roughly the last 10 years. Harness horsepeople are a tough bunch – always have been, always will be. Anthony Haughan and Meg Crone personify the racing grind in the province, and also sing the praises of campaigning Standardbreds in Ontario.
Cambridge residents Haughan and Crone operate a 10-horse stable at the Classy Lane Training Centre. The duo, both of whom came to Ontario from abroad, met at the Puslinch stables and have been together ever since.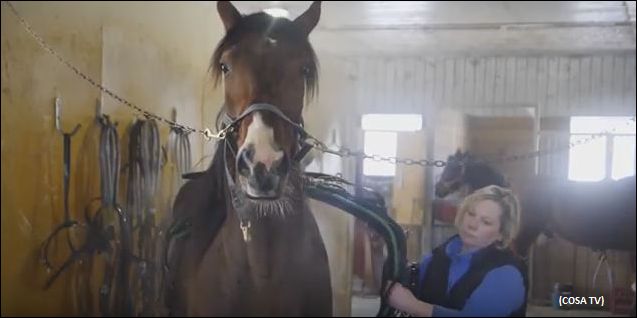 Meg Crone, pictured with one of the Standardbreds from her training operation.
In speaking with COSA TV, Haughan explained that the Ontario racing industry has changed quite a bit since he and Crone arrived in the province. What has carried on, though, according to Haughan, is the Ontario industry's ability to give hardworking horsepeople the chance to make an honest living and provide for their families.
"Obviously, we're in a transition," Haughan stated. "Tracks are changing and the business itself, not just in Ontario, I think has changed. It's kind of a young generation that's come in the last little bit – drivers, trainers – and that happens in every business.
"I think, overall, most people want a positive outlook on it (the industry). People try to change. You hate to be reliant on a government, which we are right now, so, if we're able to be a little more self sufficient…. I'm no advertising genius, but I think there are probably people that could help us get put into more of a popular market.
"It's (Ontario is) still a good place to race horses and it's still a good place to make a living and raise a family. There are a lot of good tracks around."
In speaking about the general makeup of their stable, Haughan explained that the stock consists of "mostly younger racehorses that maybe have been somewhere else and they're kind of getting a second chance or just starting over."
Haughan stated that the stable "probably does better with fillies more than anything," while Crone added that any racing operation "always wants better horses, but we've always done well with what we've had."
"I think you always have to be looking to improve what you have," said Haughan. "We make due and we try our best with the horses that we have, and we always have – if they're any good, you sort of do well with them.
"We buy yearlings and [we're] always trying to improve ourselves. We try to get a better horse to go somewhere and are looking for that better horse to help take that next step. Hopefully it happens, and if it doesn't, that's fine. You keep going. It's a good way of making a living."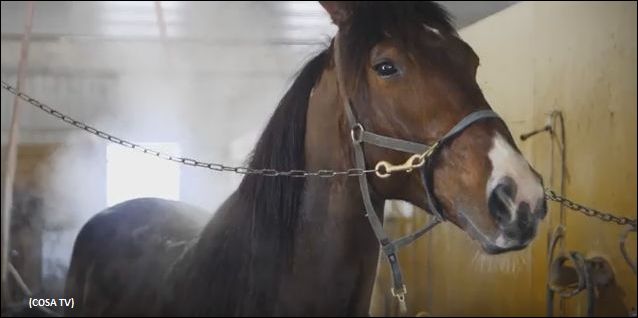 One of the Crone Stable's Standardbreds.