A man who could just naturally make a horse go fast, Walter Case Jr., for those unfamiliar with the name, was like the Aaron Merriman of the 1990s on the racetrack.
Alcohol and drugs however, things he had seen all around him while growing up, were a large part of his un-doing as a top harness driver - to the point that he served almost five years in jail after stabbing his wife while drunk. Since getting out of jail, the man known as one of the most talented reinsman of all time has suffered more great tragedy in life, but now, seemingly on a straight path, he would just love to be able to drive horses again. By Debbie Little.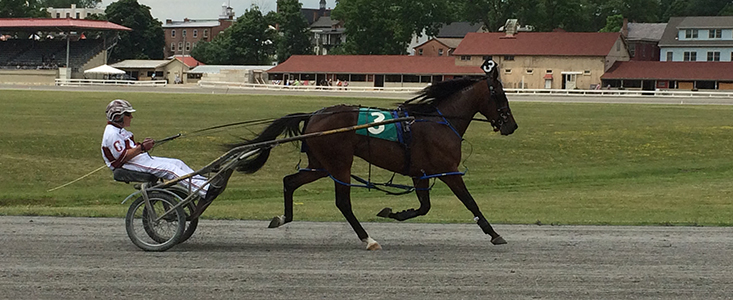 The story of the phoenix is legendary and is perhaps one of the best-known myths. Life, death, creation, destruction and even time itself can all be tied to the tale of the phoenix.
In harness racing, the phoenix would be Walter Case Jr., whose storied career captivated the sport, albeit for a shorter than expected time.
The Greek word phoenix means crimson, the colour that Case drives in, and there's no question that his career has emerged from the ashes more than once and could do so again soon.
Case, who turned 59 on March 5, may not be as familiar to younger harness fans or participants, since he's only had 78 starts in almost 17 years.
The best way to describe Case for those who don't know him is that he was the Aaron Merriman or Tim Tetrick of the 1990s.
He set the single-season dash-win record twice and even though both Merriman and Tetrick have passed his number, they each needed over 1,700 more starts to do it.
At the time, people thought Case could become the greatest of all time, but bad choices took many of those glory days from him.
When Case spiralled down, he spiralled down big time. Alcohol, drugs, excessive driving penalties and eventually time in prison robbed him of his most prized possession and passion: driving horses.
And yet he has never given up on what he loves. Experiences that would have made others think twice about continuing just fuelled Case for another rise from the ashes.
Case has always been a guarded individual who was never particularly comfortable giving interviews, speeches or accepting awards.
"I could drive the worst horse in the world and not be nervous at all but put me in front of a thousand people to give a speech and I'm shaking like a leaf," said Case.
The reasons for his actions in life could be linked to his childhood, and even though he has never given a reason for why he put up those walls, they certainly exist.
Case grew up in Lewiston, Maine, in a trailer park on the Lewiston Raceway fairgrounds, where he could open his bedroom window and hear and watch the races.
As the son of a trainer, Case spent his childhood at the track, as did his friends, like Greg Bowden.
"We were track rats as kids," said Bowden, who met Case when he was 11 years old. "We were pre-teens that ate, slept and lived that track 24/7. We couldn't get enough of it."
Bowden said his best times with Case were when it was just the two of them, but when a crowd came around Case would become quiet and cautious.
"You've got to understand, he was a very young man, doing great things," said Bowden. "He achieved things that nobody had ever seen before and in harness racing, drivers don't have agents so he was his own representation and did everything.
"He used to tell me 'I can't even explain the gift I have. They just go.'"
At 16, Case got his license and also started his unhealthy relationship with alcohol.
"If you have a great night, you party," said Bowden. "If you have a bad night, you have consoling drinks and nothing good comes from it but you don't realize it at the time.
"[Case] was a perfectionist. If we were playing pool he could win nine games but that one game that he lost would totally disgust him. I've seen him win seven races and lose the eighth one and be so mad at himself that he was inconsolable."
Case admits he's always been hard on himself.
Luc Ouellette competed against Case during his heyday at Yonkers Raceway and thinks he was amazingly talented. And insecure.
"In his mind, he was no good if he went 0-for-10 because he had no self-worth," said Ouellette. "He could really make a horse fly and I found that the horses really liked Walter, too. I think Walter really got inside their head and they produced for him.
"Walter wasn't cocky, if anything maybe because of the drug problems he had, winning seven races made him feel good, maybe made him feel the way he should have."
In his early 20s, Case added cocaine to his self-medication list, but luckily for him it didn't follow him throughout his career.
"The last time I did cocaine was '95. One night I had done just a little too much of it after the races and I thought I was having a heart attack. My heart was pounding and I thought I was going to die. It scared me enough [to stop]," he said.
But as bad as his alcohol and substance abuse were, they weren't the most detrimental addiction of his career.
The one thing that probably stole more competition time from Case than anything else was his failure to keep both feet in the stirrups, sometimes called kicking. It's a habit he picked up from drivers at the Meadowlands between 1984 and 1987.
"There is a difference," said Case. "That's why a lot of states call it foot out of the stirrup, because kicking sounds like you're abusing the animal and I didn't like the wording of that.
"I took my foot out of the stirrup but I didn't come back and kick the horse in the butt or anything."
In 1992, his third full year at Yonkers, Case notched 843 wins and broke Herve Filion's single-season dash record of 814.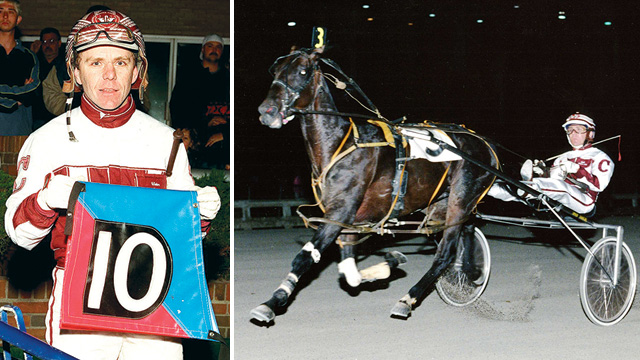 But as Case's success grew, so did his penalties.
Frank Pellegrino, the current presiding judge at Yonkers Raceway, and an associate judge for most of Case's time at YR, remembers several occasions when Case was called before the judges.
Pellegrino says Case was always respectful and repentant, but as often as he'd promise to never do it again, he'd go right back to dropping his foot.
Case even came up with a bungee cord that would hold his foot in the stirrup, but someone from the New York State Racing and Wagering Board made him remove it because they deemed it unsafe and he went back to dropping his foot.
"It was like a disease that he had," said Pellegrino.
Over time, penalties for his subconscious foot action went from increasing fines to a few days and eventually a lot more days.
But no matter how long Case was gone, he was always sought after when he returned.
"He's the only man that I remember if he was gone for two, three months, the day that they knew he was coming back he'd have two or three choices in every race on the very first night back. It was unbelievable." said Pellegrino.
Following his record-setting year in '92, Case's starts rapidly decreased, but in 1996, after giving up coke, things seemed to be on the rise until the end of the year when he received a suspension from the New York State Racing and Wagering Board for an indefinite period.
It was his third drug-related positive in three years. In 1993, he failed a drug test and in 1994 he was cited for driving under the influence in Lewiston.
While it was difficult for Case to sit out all of 1997, he appreciated the time it gave him with his wife Cathy and sons Ryan (10) and Eric (7).
In 1998, Case returned to the track, and for the first time in his career he was clean and sober.
"I think that's why I excelled that year," said Case. "I went to meetings every day. I went to the gym. It was the best year I've ever had. January 1st to January 1st clean as a whistle."
It was indeed the best year of his career as he obliterated his own single-season dash record by raising the bar to 1,077 victories, with 978 coming at Yonkers alone.
To put his accomplishment into perspective, Dave Palone is second to Case on the list of dash-wins at one track in one year with 804 at the Meadows.
That year, Case won an astonishing 36 percent of the time while hitting the board at a 67 percent clip. In Tetrick's record year (1,189 wins), he won 25 percent of the time and hit the board at 55 percent. Merriman's 1,095 and 1,143 bettered Case's dash record, but with win percentages of only 23 and 24, respectively, and on-the-board percentages of 53 and 56, respectively.
Case remembers being contacted that year by Yonkers Vice President and General Manager Bob Galterio, who said that Sports Illustrated wanted to do a story on him.
Case arrived at the track early wearing his colours so he could be interviewed.
"For harness racing that would have been awesome," said Case. "Well, they didn't run the story because they found out about the kicking. They thought they'd have a problem with people reading it and learning about the kicking, like I was abusing animals. So they never ran the story."
Following up on a career year had not been easy for Case in the past and 1999 was no exception.
For whatever reason, he couldn't continue his sobriety. Maybe it was because there was so much alcohol around him while he was growing up. Maybe it's because he and Cathy divorced or because he had racked up 258 penalty days, the most of his career to that point. Regardless of the reason, the drinking returned and he moved on to Northfield Park in Cleveland.
"One of my biggest mistakes was leaving Yonkers," said Case. "I knew the slots were coming at some point and I got up and left and went to Cleveland and that was a big, big mistake."
Ouellette also thinks that the move to Northfield was bad for Case because he didn't really have anyone looking out for him.
"People exploited him when he was at Northfield," said Ouellette. "He was up to no good over there and he was still allowed to race because he was good for the handle. From far away you could see the guy getting worse and worse every day.
"He was sick and people were just taking advantage of him. He was battling demons and not enough people around him were thinking about what was best for him. He never took charge of his own life so opportunists were around him and they took charge instead."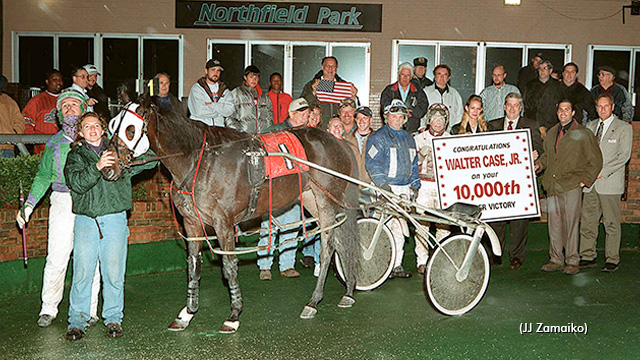 During his time at Northfield, Case married his second wife, Nadine, who was the track's outrider.
Case was the U.S. Harness Writers Driver of the Year in 2002, so he and Nadine were in Las Vegas for the banquet in 2003 when they got married on a drunken whim.
Case was not in an emotionally good place during most of 2003 as he had 27 rulings against him that totalled a career-high 259 days. He left Ohio, either by choice or necessity, to race at Rockingham Park in New Hampshire, but he started gathering penalties there as well.
He was starting to run out of places to race when he applied in Michigan towards the end of the year. He was hopeful because he had come up with a new apparatus that would help hold his foot in place, but Michigan was unwilling to take a chance.
He and Nadine had only been married a little over a year when it was obvious that things were over, since she had taken out an order of protection against him.
Case still has no memory of exactly what happened on the night he stabbed his wife, other than that he was drinking heavily and obviously not thinking clearly.
"I can tell you I was under the influence of alcohol, no drugs," he said. "It's all a blur and I actually can't believe I did something like that."
"I never attempted to make any contact [with Nadine because of the order of protection]," he said. "If I was able to, I'd go up and apologize and give her a big hug but that's probably never going to happen because they won't let me."
Nadine carries scars from that horrific night, but so does Case. That does not in any way excuse what he did, but it would be unfair to think that not remembering what happened has left him unscathed.
He spent four years and eight months of a five-year sentence locked up for felonious assault in Ohio's Belmont Correctional Institution, where he was reported to be a model prisoner.
Case worked in the prison library and spent hundreds of hours training dogs in a program that prepared them to help the handicapped.
Dogs are not horses, but for Case, working with them gave him peace. They wanted nothing and gave unconditional love, which was something that Case was not used to, except when he was around horses.
During his time behind bars, Case had only one visitor, TROT Magazine's Bob Carson, who won a Hervey Award for the feature story he wrote on Case in prison.
Carson and Case didn't really know each other prior to the interview and Case chuckled when he said it must have been a weak moment that made him agree to do it.
"I didn't want my family to come see me," said Case. "I couldn't handle it because when they had to leave I just knew I'd break down. Like my sister, brother, mother, I didn't want them going to Ohio and seeing me like that in prison garb and then have to say goodbye to them.
"I had a lot of fair-weather friends. When I was winning races and could drive their horses they always wanted to be around me, but when I was in trouble or down-and-out I couldn't find them. They lose your number. There were very few that accepted my calls. I was surprised."
When Case was released in 2008, while he was working on getting his three years of parole transferred to New York, he was allowed to leave Ohio a few times to race at the end of the meeting at Plainridge Racecourse in Massachusetts.
After not being in a sulky for five years, Case competed in 25 races, winning 10 and hitting the board 21 times.
Case finally felt like his career would be back on track when his parole transfer to New York was granted and he moved in with his brother Tim. But nothing except driving was ever easy for Case.
The Massachusetts Racing Commission refused to grant him a license in 2009, so he found himself once again without a place to race.
He spent his days going to the barn with Tim, who was serving a five-year suspension from the New York State Racing and Wagering Board for a TCO2 positive.
On the opposite side of the barn from Tim, Case met trainer Luanne Kroninger, who became the third Mrs. Case.
Even though things were good for Case and Luanne, things weren't so good with Tim, who was drinking quite a bit.
Since Case was on probation, his parole officer would do periodic checks to take urine or give a Breathalyzer test.
"[My parole officer] came one morning real early in the morning and she saw a liquor bottle on the counter that Timmy had left there," said Case. "The parole officer said there isn't supposed to be any liquor where you're living. I said my brother left it there and she said I don't want to see that again."
Tim was unhappy when his brother moved out, and the two had not spoken for six months when Case received some bad news.
One morning, when he was going to put one of Luanne's horses out into a paddock, horseman Pete Pellegrino came by.
"He says 'Sorry Walt'," said Case. "I say 'Sorry for what'? He said 'Wow you don't even know do you'? And I said 'What are you talking about'. He said 'Your brother's dead'."
Tim, 44, had apparently hung himself the day before and even though people at the track, the night before, had known, no one mentioned it to Case.
When Case's parole was finally over, he thought that he would be licensed somewhere soon, but again he would get turned down, this time by Pennsylvania, which stated that he could apply again in five years.
It wasn't until 2017 when Case would finally be licensed to race again, and this time it was his home state of Maine giving him another chance.
This should have been a happy time for Case, but he just wasn't ready to be in that state of mind, due to a late-night phone call he hadn't answered many months earlier. The morning after that call came, Case learned that it was from his son Ryan.
"Ryan's girlfriend wasn't going to let him see his kid and he was just in a bad place, and he left a message on my phone and said 'Dad, I need you. I really need you around me now,'" said Case.
"So [the next morning] I texted him back because he didn't answer his phone and I said 'I'll get you a plane ticket and you can come down here and stay with us for a while' and he never acknowledged it and he killed himself."
Case thinks about his son every day and blames himself for what happened, feeling that if he had only answered the phone, he could have prevented Ryan from hanging himself. Ryan was 28. Case and his other son Eric have been estranged since Walter went to prison, and although Case has reached out on numerous occasions, Eric remains uninterested in reconnecting.
With his license to drive back again however, and as a famous son of the state, Case's return to Scarborough in 2017 was big news.
"When I first got there that day, there were TV cameras there and I was getting wobbly and nervous. I just wanted to get on a horse," said Case.
The fans also showed up to see their native son's return and gave Case such a welcome when he was introduced in the post parade for the first race that the track announcer paused for a bit before introducing the next horse.
Case was not expecting that kind of response and was extremely appreciative of the reaction of the fans.
He won his second race on the card and remembers how happy he was to celebrate that moment with Luanne, who he considers to be his best friend and who has always supported him.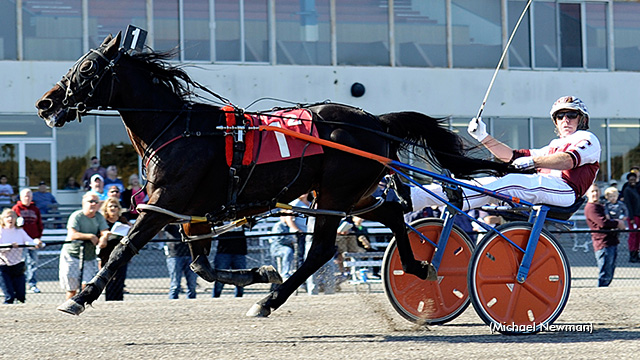 "My proudest moment with [Luanne] was when I won the second race, she came out in the winner's circle and I thanked her," he said. "I was crying.
"That day I was looking up at the sky and wishing my son was still alive."
According to Greg Bowden, who had time to sit and chat with Case on his second weekend back, the commute to Maine from where Case lived in Ohio was too tough to continue.
"[Case] said this is great but I'm not even breaking even," said Bowden. "We have to hire people [to look after our horses in Ohio] when we come up here and I make several hundred or a thousand dollars but it costs me almost $1,500 to $2,000 to be here.
Case only drove at Scarborough a total of six days in 2017, winning 11 of his 53 starts while hitting the board 27 times. On November 12, 2017 Walter finished 4th on pacer Cruzin Maverick in the 9th race at Scarborough Downs. His 5% take was $14 - he's never driven in a race since.
---
Case and Luanne ended their marriage in December of 2019 and he currently resides in Southern Florida. His plans are to once again apply for a license in Maine, but according to the Maine Harness Racing Commission, he has not done so yet.
It is important to note that since getting out of prison, Case has not received any penalties for kicking or having a foot out of the stirrup. And even though he's had less than 100 starts during that time, the past performances definitely show some promise.
"That's where I get my serenity, on the track. I have to jog and train horses in the morning because that gives me peace too, but driving horses is the best. It's a great job," he said.
Case posted a quote in January on Facebook saying, "Never judge a person till you've walked in their shoes for a day."
It would be easy to judge Case for squandering the better part of his career, but unless you've walked a mile in his shoes, perhaps it is possible to find some compassion for unfulfilled potential and a man just trying to do what he loves.
"As a society I think we've come a long way," said Ouellette. "When Walter had his worst problems, 30 or 25 years ago, people didn't understand drug problems as well as they do now. They just saw him as a f__k up.
"But that's not it, the guy had a sickness. And he had problems that were brought on not even by himself, but by other people around him. I think he was someone that was in pain all the time."
In 2017, Case showed that the three-time USHWA dash champion and three-time Harness Tracks of America's Driver of the Year can still draw a crowd and bring excitement to a track.
Handicappers know better than to pick against Case, because his past performances show that he's a survivor, and another rise from the ashes is never impossible.
Stay tuned.