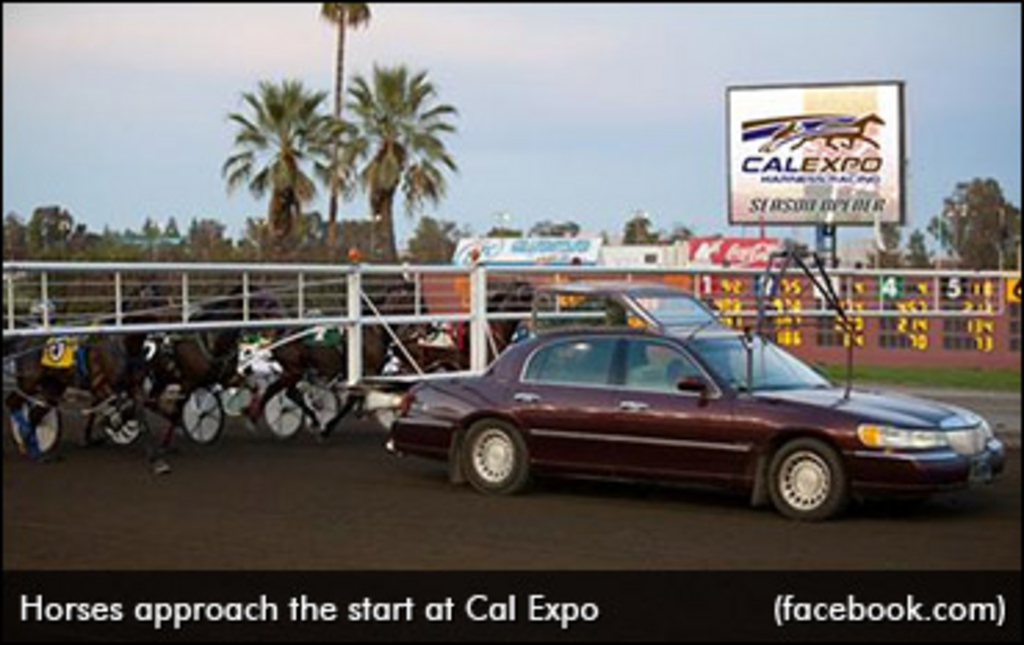 The $20,000 Alan Horowitz final will headline the Friday night (Dec. 6) action at Cal Expo.
Last week's elimination winners, Giggle Monster and Als Briefs, figure to receive plenty of attention in the final.
Watch and Wager LLC will present 12 races with first post at 6:10 p.m. The Horowitz final has been carded as Race 8 on the card.
Giggle Monster was extremely impressive while winning his division last Saturday night in the slop, as he stormed home for an easy win. Edwin Quevedo owns and trains and Nick Roland will once again be in the sulky.
Als Briefs is a four-year-old son of Party At Artsplace who is owned by Nikki Hudson and reined and trained by Luke Plano. After finishing second in his previous two outings, he broke through with his first Cal Expo victory in last weekend's Horowitz elimination.
Sent off the 2-1 second choice that evening, Plano made two moves to the lead at the half, took complete control of things from that point, and came home with two lengths to spare over the 'sloppy' going.
Dewaydiddonegood had to settle for the exacta completion as the even-money favourite in that contest for owner Fredi Herrera and trainer Quevedo. Mooney Svendsen takes the assignment.
Rounding out the field are Wildcat Bobby with Dean Magee; Fly Away with Steve Wiseman; Mystic Ruler for James Kennedy; Youroldlovletter, Jacob Fox; Rocknroll Jewel, also with Magee named; and Rolling Sea, who will have John Roberts at the controls.
Horowitz, Goldschmidt Remembered With Races
Cal Expo is proud to present the Alan Horowitz final on Friday night and the Dave Goldschmidt Free-for-All Pace on Saturday, which honour two individuals who meant so much to the sport in California.
Alan Horowitz was a major force in California harness racing over the last several decades and a member of the California Harness Horsemen's Association (CHHA) Hall of Fame. Horowitz passed away in 20017 at the age of 72.
Dave Goldschmidt, who passed away of natural causes last year at the age of 62, was born in New York City and developed a love of harness racing in his early teens.
Horowitz, who wore many hats in the business, started out as a partner with longtime friends Donald and Barbara Arnstine and Steve Desomer with a $25,000 claimer named Quaker Byrd. Quaker Byrd won his first race for the partners and Horowitz was hooked.
Moving on, Horowitz would eventually become a board member and president of CHHA. In 1994, Horowitz was instrumental in bringing harness racing back to Cal Expo in the form of Capitol Racing and was also its successful general manager.
He was serving as the executive secretary of the CHHA at the time of his retirement in 2013 and continued to stay in touch with the sport that he loved so much.
"It is impossible to overstate Alan's importance to the harness racing industry in California," said David Neumeister. "Simply put, if it were not for Alan, the sport would no longer exist in this state.
"Between his time as executive director of Western Standardbred Association (now CHHA) and owner/ manager of our only yearling sale company when racing was flourishing in California, and his decision to retire from CHHA a few years ago, against all odds and some very powerful adversaries, Alan almost single-handedly took us from the brink of extinction in the mid-'90s and formed and led Capitol Racing in Sacramento to several very successful years of harness racing in that city.
"Were it not for his quiet determination and tactical brilliance, we would not be racing here today," said Neumeister.
Goldschmidt, who passed away of natural causes last year at the age of 62, was born in New York City and developed a love of harness racing in his early teens.
He attended the University of Denver where he was a sports writer for the newspaper, but after hearing about the new Race Track Management Program at the University of Arizona, he knew he had to transfer to that school and was in that first graduating class.
Among Goldschmidt's extensive resume in the sport, he was racing secretary at Los Alamitos and Cal Expo and co-racing secretary at Bay Meadows; assistant racetrack manager at Hollywood Park and a founder, president and major financial backer of the Premier Harness Meet at Los Alamitos in the 1990s.
After his retirement, Goldschmidt concentrated on betting on the trotters and pacers and occasionally Quarter Horses while also developing a keen interest in politics.
Dave met his wife, Suzy, in the late 1990s and they began dating in 2006. They completed building their dream house in 2014 and were married that year.
Among their shared passions were a love of tennis, world travel and volunteer work.
Eunice Morrow, who worked closely with Dave at the Premier Harness Meet, explained how important he was to harness racing in California in the early 1990s
"Harness racing was in trouble maintaining a meet at Los Alamitos and thankfully Dave came to our rescue with a large monetary donation needed to keep harness racing active," Eunice said.
"A few months later, the industry found more funds were necessary and again Dave came to our rescue. He did not want it known that he had donated these deposits and volunteered the information that his mother in New York had loaned the organization funds.
"Later, when Premier II Harness Racing was formed, Dave became racing secretary, spending many hours in several positions helping the sport he loved stay alive. Without Dave, I wonder if harness racing would have been able to continue."
Eunice added, "There is no doubt David Goldschmidt will now be in heaven with so many other of the great harness racing enthusiasts."
Joel Lesser was best friends with Goldschmidt for over 40 years, playing hours and hours of tennis and golf, and also worked alongside Dave at the Premier Harness meets.
"When he was president of Premier, he said that the fans and the horsemen came first, and management came last," Joel recalled.
"I can say Dave Goldschmidt is the fairest and most honest person I have ever known in my life and wanted everyone to do well."
(Cal Expo)