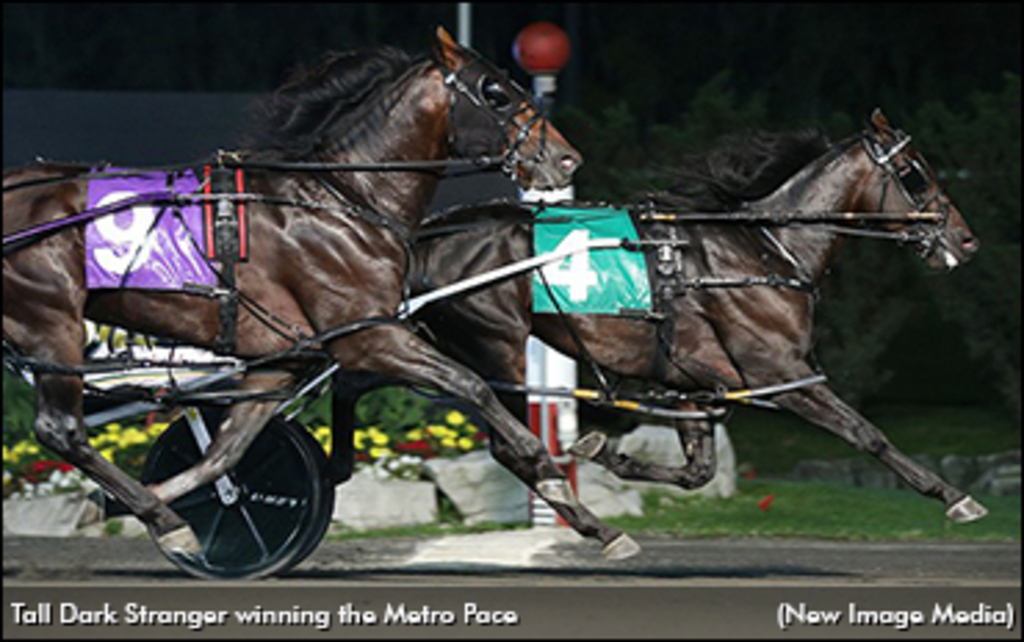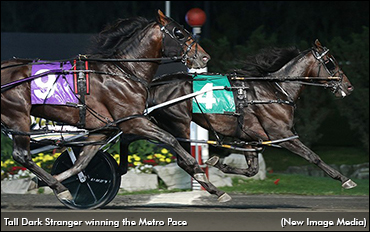 Powering past odds-on favourite Capt Midnight, Tall Dark Stranger withstood a late rally from Papi Rob Hanover to stay unbeaten in six starts when winning the $750,000 Metro Pace in a stakes-record mile of 1:49.1 on Saturday, Sept. 21 at Woodbine Mohawk Park.
"He looked strong the whole way," trainer Nancy Johansson said after the race. "He still had his plugs in at the wire, so if they were coming harder at him I think he'd still have some in the tank."
Tall Dark Stranger circled Esai Hanover rounding the first turn to take command passing a :27 first quarter. Capt Midnight edged first over entering the backstretch and crept towards the top to clear control before a :54.1 half. Tall Dark Stranger drafted from the pocket and flushed first over midway around the final turn as Ys Mathis marched towards the top from fourth.
Capt Midnight and Tall Dark Stranger spun off three-quarters in 1:22 and veered slightly wide entering the stretch. Tall Dark Stranger straightened for the finish and lunged past Capt Midnight while Papi Rob Hanover revved off cover from third over and narrowed on the new leader's margin, but finished a half length off victory. Capt Midnight gave chase from third.
"The first time I sat behind him and baby-raced him I absolutely loved him," winning driver Yannick Gingras said after the race. "Obviously he's got the speed but it's more than speed. I had high hopes for him and like I said the first time I sat behind him I thought he was the best one I had. In the last turn he swelled up on me and when I came out of the two-hole he went right by Capt Midnight, and that was without me even asking him at that point. He has a lot of learning to do but he has all the tools to be a great one.
Owned by Crawford Farms Racing, Marvin Katz, Caviart Farms and Howard Taylor, Tall Dark Stranger has earned $499,533. The win gave trainer Nancy Johansson a sweep of Canada's top pacing stakes, with Captain Crunch claiming victory in the $1-million Pepsi North America Cup.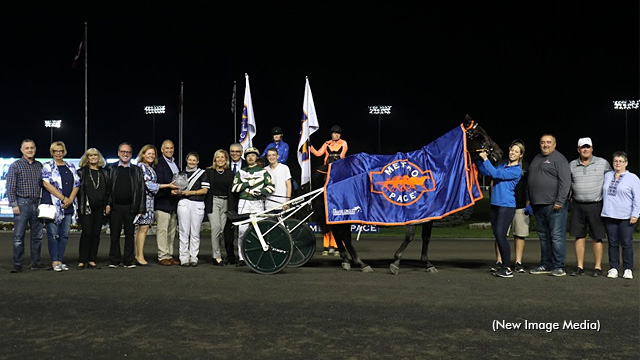 "Not bad for a girl from Sweden," Johansson said. "I'm very lucky that I have owners who support me with great horses. It makes my job a lot easier to have the material to perform at the highest level."
Sent the second-betting choice, Tall Dark Stranger paid $5.40 to win.