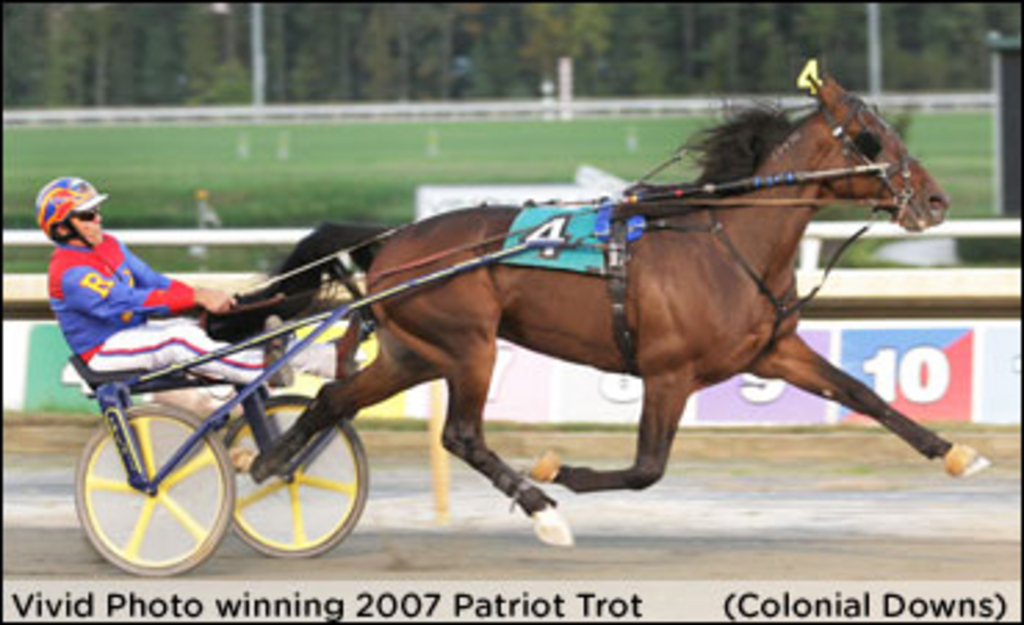 Colonial Downs will host a $40,000 Invitational Trot this Sunday, October 18, where Vivid Photo and Buck I St Pat headline a field of five participants whose combined purse earnings exceed $5.7 million
.
The '09 invitational temporarily replaces the Patriot Trot, which had been held at Colonial each of the past three fall seasons at a $100,000 purse level. Roger Hammer's Vivid Photo, who captured the first two Patriot Trots, established a life mark in the inaugural '06 edition that he still holds today. The seven-year-old S Js Photo gelding finished in 1:50.2 that year as a four-year-old, then crossed in 1:50.4 a year later. Vivid Photo was a runner-up in the '08 Patriot when Enough Talk set a world record with a 1:49.3 trotting mile.
Vivid Photo brings a bankroll of over $3.1 million into Colonial's Invitational. Though he has just three wins from 28 starts this year, Vivid Photo is just several hundred dollars shy of the $100,000 mark in '09 purse winnings. He reached the winners most recently in an Open Handicap race at Pocono Downs September 29.
Buck I St Pat, who finished third in the '07 Patriot Trot, will provide stiff competition to Hammer's horse. Tim Tetrick, the country's leading '09 driver by purse earnings, will be in the sulky Sunday for trainer Ron Burke's trotting mare. Tetrick, whose father Tom trained horses at Colonial the past several fall seasons, has 562 driving wins this year from 2,741 starts and his horses have earned purse earnings of $14,080,522.
Buck I St Pat is a solid nine for 16 this year, including recent triumphs in the $73,000 Allerage at Lexington's Red Mile and the $250,000 Breeder's Crown Mare Trot at The Meadowlands. Her '09 bankroll of $394,425 is tops in the field.
Lolique is a six-year-old trotter that is co-owned by Mechanicsville, Virginia resident Dr. Scott Woogen, who also competes regularly at Colonial. Lolique continues to roll along and has life earnings just shy of $600,000. The Tagliabue gelding has 18 "in the money" finishes from 31 starts this year, good for a '09 bankroll of $240,300. Most recently, Lolique won three of four Open Handicap Trots at Chester Downs over the last six weeks.
Colonial's leading driver, Chris Page, will direct Man About Town in the trotting feature. The six-year-old Self Possessed gelding won an August 24 Open Handicap race at Chester and beat Lolique, who finished third. The Donato Poliseno trainee has earnings of $623,932.
Rounding out the field is Jack Dailey's R U Watching, who has a pair of wins and a second place finish in four Colonial Downs starts this fall. The four-year-old mare is expected to be the long shot in the field.
First post Sunday is 1 p.m. The Invitational has been carded as the sixth of 11 races.
(With files from Colonial Downs)