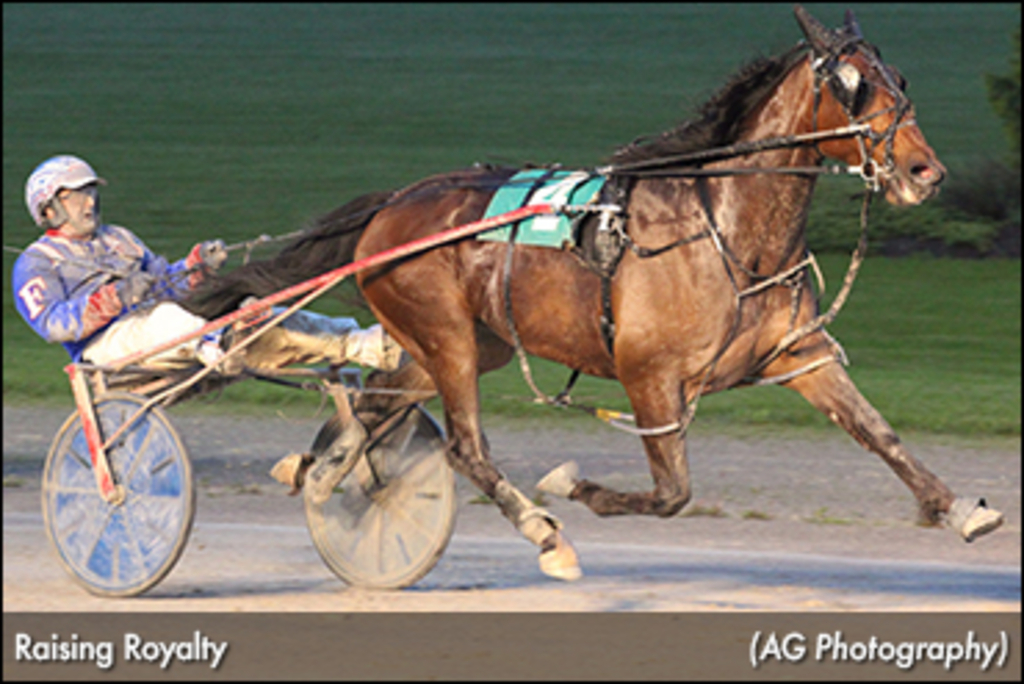 Fresh off victory in the $26,600 City of London last Friday, Raising Royalty ($2.30) continued his undefeated sophomore season with a 1:59.4 tally in his $22,800 Ontario Sires Stakes Grassroots event for trotting colts and geldings on Wednesday (June 5) at Grand River Raceway.
Sylvain Filion was patient early on, settling the Royalty For Life gelding in fourth on the first turn before angling him off the pegs at the conclusion of a :29.1 first quarter. Once put in play, the prohibitive favourite wasted no time, brushing on the far turn to clear Super T (Louis-Philippe Roy) and rating a :59.2 half.
Up the backstretch, Raising Royalty successfully turned aside a mild first-over bid from King For Life (Bruce Richardson), who worked to within three-quarters of a length with five-sixteenths to go. After parrying that mild threat through three-quarters in 1:29.4, Raising Royalty edged away to a 2-1/2 length win, his fourth in as many starts this year. King For Life narrowly held second over Super T, who failed to stay on from the pocket.
"He's been very nice so far this year. Last year he showed a lot of potential but he had a hard time keeping it together," Filion said. "He's matured a lot and he's much better now. He still has his little things he needs to work on, but he's got tons of speed and he's way handier than last year."
Steve Bossence trains Raising Royalty for Stephen Palermo.
The win with Raising Royalty was Filion's second in Grassroots action after having teamed up with Encarnacion ($2.90) to deliver a 6-1/4 length drubbing over The Great Farini in 2:01.1. Rod Boyd trains the Archangel gelding for 1187422 Ontario Inc.
"He's a real nice horse," Filion said of the six-time winner. "He's real handy and he can leave the gate like a rocket. I knew if I could get on the front without rushing him too much I had a really good chance of winning that race,"
A pair of E L Titan colts opened the stakes action with victories: Esa ($5.40, Mario Baillargeon) posted a two-move 1:58.4 win for trainer Ben Baillargeon, who trains the colt for Christina Takter of East Windsor, N.J., John Fielding of Toronto, Ont., R A W Equine Inc. of Burlington, Ont. and Hatfield Stables of Columbus, Oh.
"Last week I was pleased with his first race. He raced real good. I was expecting a good race today and that was a very good mile over there today, 1:58.4, and he did it handy with the plugs in," said Baillargeon. "I don't know how good he'll get, but there's a lot more in him than he did today, because he did it handy."
Blair Burgess trainee Gold Edition ($4.10, Alfie Carroll) coasted clear by 4-3/4 lengths in a 1:58.3 pillar-to-post score for owners Karin Olsson Burgess and co-owner Stirling Fisher of Waterloo, Ont.
In the sub-featured $8,500 Preferred 3 Trot, Nebraska Jack ($5.60) sustained a wide bid out of midfield through the final half mile, collared pacesetter Power And Grace in deep stretch, and held off a late-lifting Y A Muscle Mass by a head to win in 2:00.1. Filion and Bossence teamed up with the six-year-old Cantab Hall gelding for Stable Twenty Three Inc.
To view Wednesday's harness racing results, click the following link: Wednesday Results – Grand River Raceway.
(with quotes from the Ontario Sires Stakes)