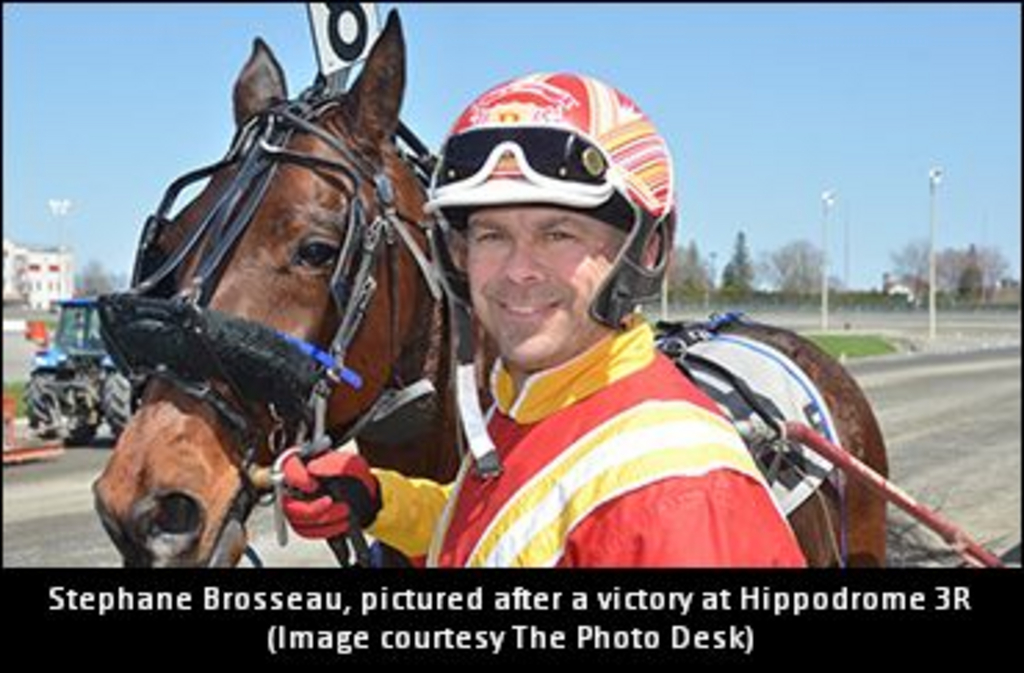 For pilot Stephane Brosseau, there was only one way to get ready for Hippodrome 3R's 2019 meet of live racing, which is scheduled to get underway this Sunday (May 5).
After a brutal winter and now constant springtime rains, Brosseau is ready for some sunshine and to defend his '3R' driving title.
"The weather has been hard for everyone," Brosseau said. "It's a long winter, too much snow and rain. Fortunately, I have been able to drive at Rideau Carleton and that has really kept me in shape for the start of the Hippodrome 3R meet."
Brosseau, who hails from L'Assomption, will be shooting for his third consecutive H3R driving title. The spry reinsman will turn 50 on July 21. He already recorded 104 drives, 18 wins and an impressive universal driving rating of .353.
"I have some good trainers who have been giving me good horses to drive," Brosseau said. "I am driving for both Matt McDonald and Yves Tessier with some success."
On the eve of starting another season of races in Trois-Rivières, the local champion decided to take a few days of rest under the warm Florida sun.
"It was a Saturday night and raining," Brosseau recalled. "The forecast was for rain all week long, so I told my wife I was going to get someone to take care of my horses and jog them for a few days and we are taking off for Pompano Beach in Florida. I raced at Rideau on Sunday and Monday morning was on the plane to Florida.
"I called my good friend Jacques Dupont (they worked together in Pompano a few winters)," Brosseau said, "and not only did we get away for some sun for a few days, but Jacques asked me if I would qualify two of his horses at Pompano Park, one of them being his good trotter, Dream Nation. That was a nice bonus."
Dream Nation, a son of Archangel, did very well in the Ontario Sires Stakes for Dupont last year, winning six of his ten starts with earnings of $157,000 and a record of 1:55.3.
Brosseau not only won the Dream Nation qualifier at Pompano in 1:57.3, but also won another qualifier for Dupont with the pacer Better Than Cash in 1:57.2. Dream Nation is owned by Jacques Dupont (Orléans stable), Claude Levesque, CSL Stable (Sylvain Descheneaux) and Marc Camirand.
"It will be interesting to see what kind of shape the horses are in this Sunday," Brosseau said. "It has been very tough for many horsemen in Quebec with the heavy rains and flooding. Everyone has had a hard time getting their horses ready.
"I am happy that the Hippodrome is opening for the season," Brosseau said. "But there is still the problem of both the Hippodrome 3R and Rideau Carleton each racing on Sunday. I have to judge depending on my drives at both tracks, how long I can stay at 3R to drive and then leave for Rideau to drive there. It is tough for me; I want to drive in every race I can."
Brosseau was fortunate to get a drive last year in the $200,000 Prix d'Ete aboard Ron Burke's Eddard Hanover and finished a respectable fourth place.
"Driving in the Prix d'Ete is something very special to me," Brosseau explained. "Growing up in Quebec and going to see the world's best horses come to Montreal for the Prix d'Ete was always exciting. I thank Ron Burke for giving me the drive and I can only hope he will call upon me to drive one of his top horses this year again."
The $200,000 Prix d'Ete will take place on Sunday, August 18 this season. It is the top stakes event of the season at H3R and annually has drawn the best four-year-old pacers in racing to Trois-Rivières.
"I love racing at the Hippodrome 3R," Brosseau stated. "Five years ago, I was just racing here and doing OK. These last two years, driving at both the Hippodrome and at Rideau Carleton have really worked out well for me. I can only hope it will continue to be good again this season."
Track Notes: There are new post times at H3R this season. Sunday post time will be at 1:00 p.m. This season, H3R will be racing on Friday evenings beginning May 24 with post time at 7:00 p.m.
For more information, visit quebecjockeyclub.com.
To view the harness racing entries for Sunday at H3R, click the following link: Sunday Entries – Hippodrome 3R.
(With files from the Quebec Jockey Club)