With only five racing days left in the 2018 Plainridge Park meeting, this was the second-to-last Thursday (Nov. 15) trot-heavy card as the track will be dark on Thanksgiving. However, solid efforts and fast times were still seen across the board from the diagonal-gaiters who competed this afternoon.
In the $12,000 conditioned event for the six-year-old and under group, Quicksilver Kemp (James Tomaso) watched from the rear before following cover on the outside from the half to the top of the stretch where he displayed his usual late-closing speed to win by a length in 1:58.1. It was the sixth win of the year for Quicksilver Kemp ($4.80) who has put together a stellar sophomore campaign. The three-year-old son of Andover Hall has now earned $63,915 for his owner/trainer Joel Wheeler.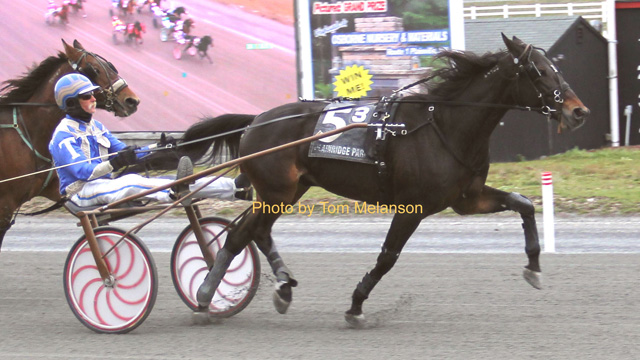 Then the fastest miles of the day were registered in a pair of mid-level conditioned trots on the strength of surprising performances given under the cold and windy conditions of the day.
In the first $8,500 split, Shorething Fashion (Nick Graffam) showed good foot leaving and a lot of heart finishing to out-battle L Dees Yoyo Ma (Drew Campbell) to the wire where he won in a sparkling 1:55.1. Shorething Fashion ($6.00) scored his fifth win of the year for owners Bob McHugh and Mike Eaton, who also does the training.
And the second $8,500 contest went to Namesmuscle (Matt Athearn) who sat the perfect trip behind Bruizn (Drew Campbell) before pulling in the stretch to out-muscle that one at the wire and win by a neck in 1:55.3. It was also the fifth win of the year for Namesmuscle ($12.20) and owner William Phipps. Gretchen Athearn is the trainer.
Driver Drew Campbell doubled on Thursday to lead all drivers for wins.
Harness racing resumes at Plainridge Park on Monday (Nov. 19) at 1:00 p.m. Next week Plainirdge will only race Monday and Tuesday and will be dark for the holiday on Thursday.
(with files from the Standardbred Owners of Massachusetts)