Fans of racing under saddle have taken notice of 'new' rider Sietske Dijkhof and her horse, No Recess. The duo raced on the RUS MidAtlantic and RUS New York circuits this past season The team went a perfect three for three this year, including a sparkling 1:59 mark at the Meadowlands Racetrack.
What also drew the fans' attention were the two victories (from three starts) that No Recess recorded 'in sulky' during the period the horse was also racing under saddle. Officials with RUS MidAtlantic spoke with Sietske and her boyfriend, trainer Kyle Spagnola, about No Recess and the improvement seen in the charge while performing double duty.
First, Dijkhof is no new rider. Born and raised in the Netherlands, Dijkhof has been around Standardbreds from birth, as her parents used to be trainers. When her parents left the game, she continued working in the industry. Loving riding, the connection with the horse, as well as the speed involved in Monté Racing (the European term for RUS), she became a rider back home. So, while it may look like a new rider has appeared in the RUS universe, it is really a reconnection of old friends.
How did Dijkhof and Spagnola make the decision to use No Recess? After Spagnola Racing LLC acquired the trotter, it was noticed that the nine-year-old altered son of Rich Boy had raced under saddle back in 2016 and learned his lessons from rider Michelle Crawford. He finished third in his only purse start at Ocean Downs behind RUS favourites Mr Protab and Highway Marcus. After a couple of rides, it was decided to give No Recess another go under saddle, especially since he is not a horse inclined to make breaks. After two RUS qualifiers between pari-mutuel starts, it was time to make their first purse start at Batavia Downs, where No Recess would end up winning by a length. Subsequent victories at Saratoga (four lengths) and the Meadowlands (ten lengths) proved their faith in the horse was well deserved.
"Yes, I do believe it helps him mentally," said Dijkhof, when asked if racing No Recess under saddle has helped his sulky career. "He seems to enjoy the races under saddle and doing something else makes the nine-year-old gelding happier."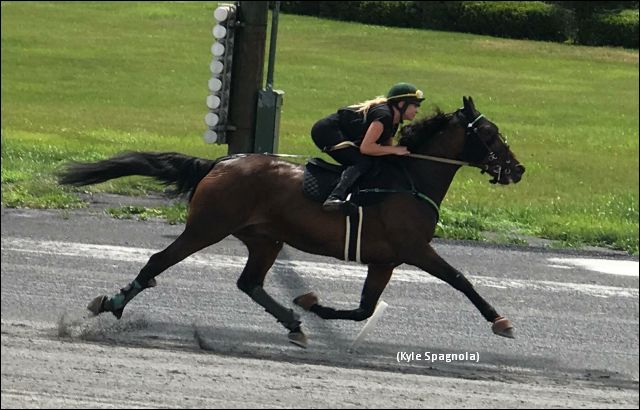 No Recess, under Sietske Dijkhof, pictured qualifying at Saratoga Casino and Hotel
As for training the horse to race under saddle, surprisingly, the trotter doesn't train for the races. Being a veteran, No Recess knows the game. Racing every week, one way of another, keeps the horse sharp. Having skipped the Rosecroft race due to the distance the horse would have to travel, Sietske wished there were more RUS races available either in a circuit or as overnight events. "I wish there were more races right now, so he could do both and keep his mind 'fresh.'"
There has been some discussion as to whether RUS should be expanded to allow pacers to race under saddle. As of now, there has been no movement on the issue, but as far as this rider is concerned, she takes the attitude of 'bring it on,' the more races under saddle the better.
Of course, racing in non-betting races is one thing, but what about having RUS on the wagering card? RUS MidAtlantic asked Kyle Spagnola whether he would race horses in his stable in RUS events if there was wagering. He said that he has no problem with entering horses in under saddle races, although he indicated that it would be hard to persuade owners to enter horses in non-wagering events at the current purse levels.
"Owners want to make money and win races. At the level (purses) it is right now, people are not going to invest in horses for RUS when they can race for much more money in the bike," Spagnola said.
Getting trainers to enter horses in RUS with the current purse structure is difficult, as there are more profitable races to compete in. Although, if purses increase, Spagnola feels that trainers will support RUS. No doubt, the calibre of horses entering would be higher.
So, what is more difficult, racing in the bike or under a rider?
Kyle's take appears below.
"I think it's easier if they are gaited well enough to do it (RUS) because they don't have to pull the bike and they don't have to ride as wide."
Since racing under saddle appears to be easier, participating in RUS is a great way to extend a horse's career, possibly helping with future horse shortages.
Groups like RUS MidAtlantic have challenges to move on to the next level to get wagering on RUS races and promote interest in Standardbreds and harness racing. Perhaps it is best said by Spagnola: "Overseas there are a lot of racing under saddle events and it seems like people are excited about it."
(RUS MidAtlantic)