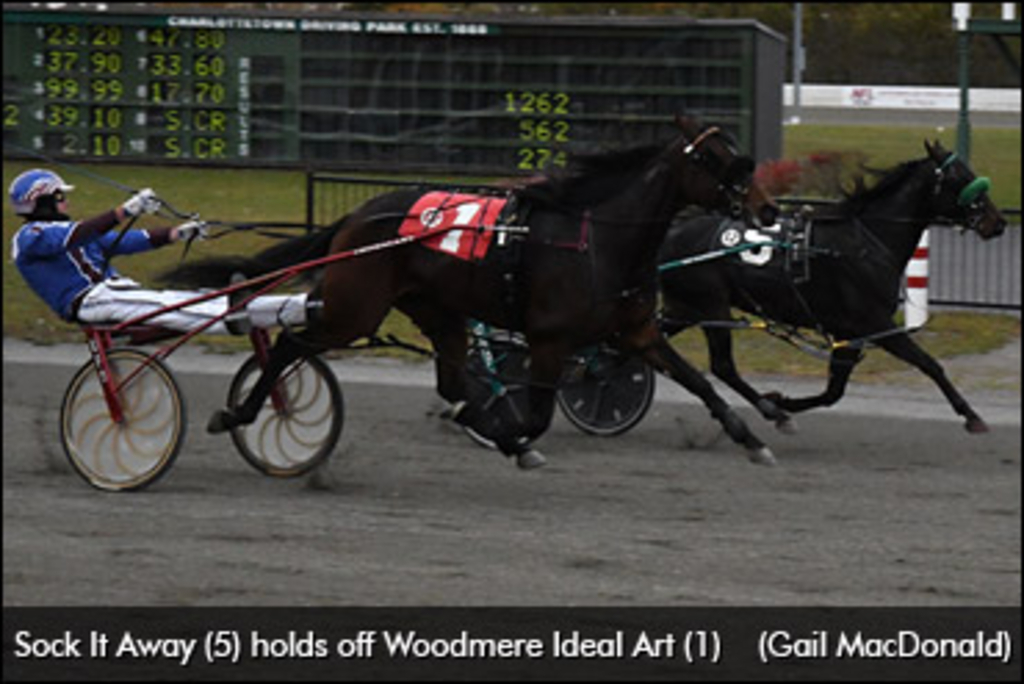 A pair of pacers with perfect records on the line managed to remain unblemished as Red Shores Racetrack & Casino at the Charlottetown Driving Park hosted the 2018 Island Breeders Finals.
Magical Mistress continued her dream season with an unapologetic throttling of her foes in the $9,600 Island Breeders Final for two-year-old pacing fillies.
Driver Adam Merner placed the perfect pacer on the lead and slashed out sensible fractions of :29.1 and :59.1 before opening up down the backstretch through a 1:28.2 third quarter up by six and widening that lead to 10 lengths in the stretch to trip the timer in 1:57. So Much More finished second with Howmac Sabrina in for show.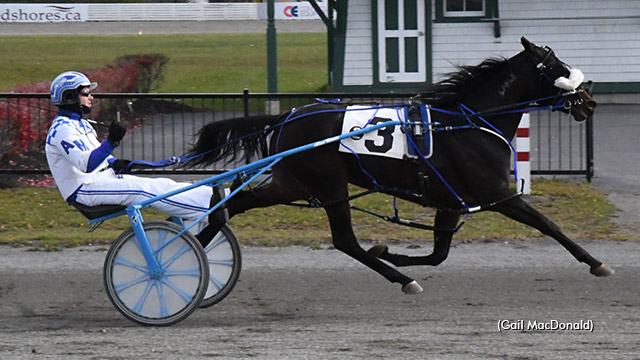 Breeder Barry Martin of Sydney, N.S. owns Magical Mistress (Camystic - Meridian Magic) with the win lifting the talented filly's bankroll to $71,760 through her flawless 12-start season.
Bettim Jackie cleared the six-figure plateau in seasonal earnings with a 1:58.4 score in the $10,300 Island Breeders Final for three-year-old pacing fillies. Driver Gilles Barrieau pocketed behind R Es Shabla (Mike McGuigan) through the first three fractions before popping pocket around the final turn and powering past the pacesetter for the 1:58.4 score.
Jeff Lilley trains and co-owns Bettim Jackie (Andreoli Hanover - Bettim Laura) along with Blair Maclauchlan of Charlottetown, PEI and Danny Purcell of Newport, N.S. In 25 seasonal starts, Bettim Jackie has accrued a 12-3-2 summary with the winner's share of the purse lifting her seasonal bounty to $101,338.
Mile Hill Willie continued his impressive run since entering the Gilles Barrieau barn, closing stoutly to capture the $7,000 Island Breeders Final for two-year-old trotters. Barrieau settled the chestnut away in sixth, unhurried early as Oceanview Hal (Henry Smallwood) carved out the early fractions of :30.1 and 1:00.4. Gettin Messi (Corey MacPherson) was overland and advancing with Mile Hill Willie on his back second over heading to the third station. Gettin Messi cleared through that 1:32.1 third quarter, leaving Mile Hill Willie first-up and uccovered. Barrieau guided Mile Hill Willie around the final turn and remained motionless in the sulky as the trotter blew past Gettin Messi for the lifetime best 2:02.2 score. Gettin Messi stayed for second with show honours to Dusty Lane Titan (Marc Campbell).
Now with seven wins in 11 seasonal starts and a perfect seven-for-seven record for Barrieau, Mile Hill Willie (Armbro Barrister - Pumpkin Doodles) is owned by Paul Morrison of Cardigan, PEI.
A pocket ride for trotting filly West River Cindy was not only the best way to find the winner's circle in the $7,500 Island Breeders Final for three-year-old trotters, it was also crucial in having the filly etch her name in the Charlottetown record books.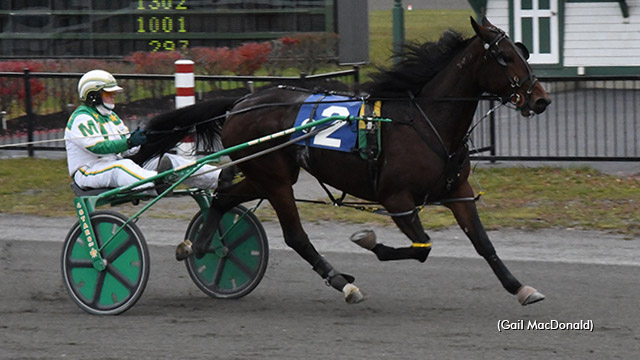 Clare MacDonald sat patiently behind Buckaroo (Marc Campbell) through panels of :29.3, 1:00.1 and 1:30.2 before right-lining the filly for the stretch drive. West River Cindy pulled away from Buckaroo in the stretch to win for fun by open lengths, with the mile timed in 2:00.1. Buckaroo held second over Daisy River (Paul Lanigan).
The time of the mile ties the seven-year-old track record of Maple Leaf Spirit.
MacDonald also trains West River Cindy (Armbro Barrister - Pannacotta Hanover) for her daughter, owner Haley Shepherd of Stratford, PEI. In 12 seasonal starts, the sophomore has yet to finish worse than second with a rock-solid 8-4-0 summary.
Red Dirt Boomer didn't see much of the rail in the $10,200 Island Breeders Final for two-year-old pacing colts the time he did spend there was key to the outcome.
Gilles Barrieau had Red Dirt Boomer advancing first-up from the three-eighths mark on pacesetter Notorious (Marc Campbell), who fronted the field through fractions of :28.1, :58.4 and 1:29.2. Heading to the final turn, pocket sitter Woodmere Bolt began to fade and that opened a spot on the rail for Barrieau to tuck in Red Dirt Boomer for some cover before re-emerging in the stretch. That tuck appeared to have pay off as Red Dirt Boomer got up in the final strides for the 1:58.1 decision.
Barrieau also trains Red Dirt Boomer (Malicious - Independent Gal) for owner Daniel Ross of Belfast, PEI. In 13 starts as a freshman, Red Dirt Boomer sports a solid 7-3-0 summary with $46,503 in earnings.
Coming into the $11,000 Island Breeders Final, Sock It Away sported a pristine 15-for-15 record as a sophomore and the pacing gelding came out of Saturday's card with that perfect record intact but by the narrowest margin imaginable.
Woodmere Ideal Art (Jason Hughes) fronted the field through the opening quarter in :27.4. Marc Campbell had favoured Sock It Away on the move from fourth and cleared to the lead through a :56.3 half. Sock It Away faced no immediate threats through a 1:26.2 third panel but Woodmere Ideal Art was right on Campbell's helmet turning for home. Hughes right-lined his horse for the stretch drive against Sock It Away and those two pacers nearly hit the wire in unison. A photo finish determined Sock It Away was the winner, mere inches the best in a 1:55.1 mile.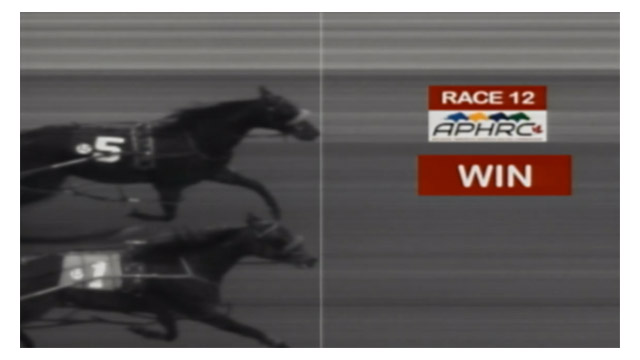 Sock It Away is trained by Kevin Maclean for Reg MacPherson of Stratford, PEI. Those 16 seasonal wins have resulted in a bankroll that sits just shy of $80,000.
In non-stakes action, Prettyndangerous toppled the island's top pacing mares with a 1:57.1 score in the $2,350 Fillies & Mares Open. David Dowling engineered the winning trip for trainer Bo Ford, who co-owns with Arnold Myers of Charlottetown, PEI.
Winter Blast was dismissed at 11-1 odds in the $2,500 Preferred 2 Pace but driver Jason Hughes drove the gelding like a 1-9 shot by making the front and daring his rivals to best him. Those efforts proved futile as Winter Blast gave those foes the cold shoulder en route to a wire-to-wire 1:56.2 win for trainer Jennifer Doyle and owner Danny Birt of Vernon Bridge, PEI.
To view the charted lines from Saturday's card, click the following link: Saturday Results - Charlottetown Driving Park.