Drew Campbell, who is currently the second leading percentage driver in North America, demonstrated his skills on Tuesday, Sept. 25 at Plainridge Park by winning six races on the 11-race card by a combined 27 lengths.
Campbell cruised home on top with Dr Cs Z Tam (1:54.1, $4.60), Shanghai Warrior (1:53.1, $4.80), Stonebridge Honey (1:54.4, $2.20), Golden Idol (1:55.2, $5.60), Mcelodian (1:53.3, $17.00) and Mias first Time (1:56, $3.00). His six wins came out of only eight starts for the day.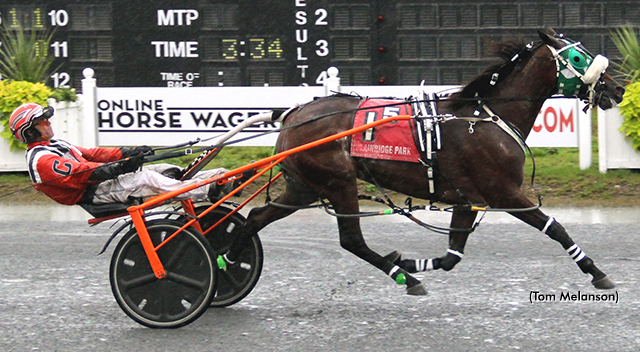 Currently only 159 wins away from the landmark 5,000 plateau, he is currently the leading driver at Plainridge Park with 127 wins, 32 ahead of his nearest competitor. And combined with his starts at all other tracks, Campbell has 268 wins in 1,039 starts and $1.32 million in earnings for 2018, a single-season career's best for Campbell.
The Massachusetts Sire Stakes kicks off the 2018 season on Monday, Oct. 1 with four divisions of two-year-old trotters and pacers each going for an estimated $35,000. The three-year-olds will hit the track on Tuesday, Oct. 2 for their first leg.
Horsemen be advised that the draw for both days will be held on Thursday, Sept. 27 with the box closing at 9 a.m.
Racing resumes at Plainridge Park on Thursday, Sept. 27 with post time at 2 p.m.
(Plainridge Park)