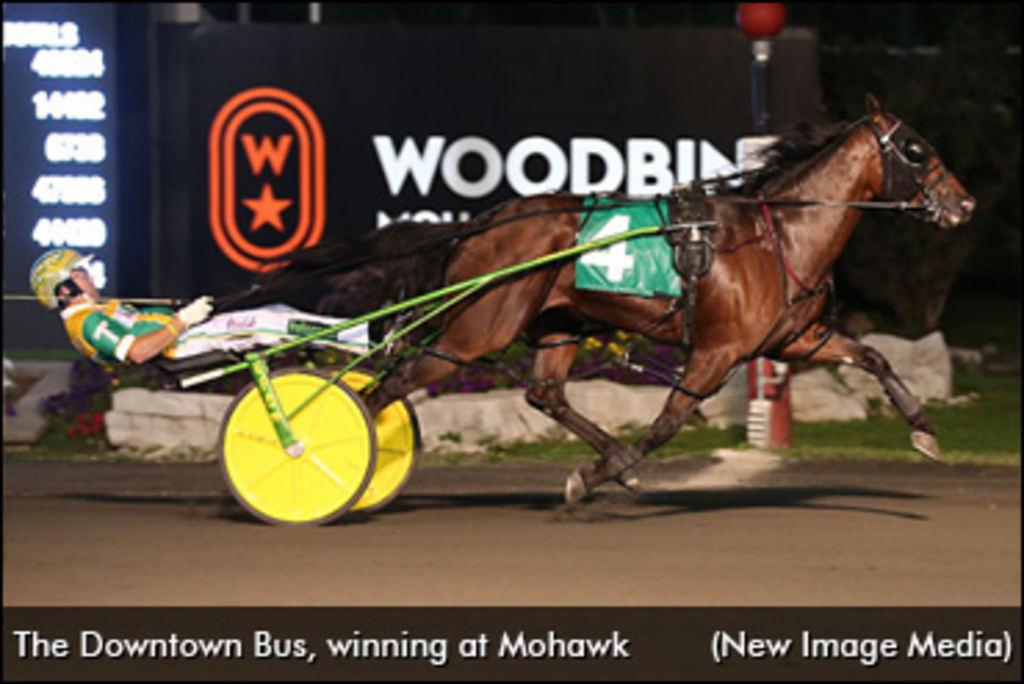 Trainer Jeff Gillis will send his homebred pupil The Downtown Bus into his first Grand Circuit event when he competes in the $83,342 first division of the Simcoe for three-year-old pacers on Saturday (September 8) at Woodbine Mohawk Park.
Gillis, who bred and shares ownership of The Downtown Bus with Ellen Ott, has always felt that his colt by Mach Three has the talent to be a star despite a less-than-ideal start to his career.
"To be honest, I really expected him to have a much more impressive two-year-old year," Gillis said. "His first lifetime start, he paced [1]:53 [and] came home in :27. There's a whole list of things that went wrong —- he jumped on his quarter in the paddock and dealt with a sore hoof, he tied up once. It just wasn't meant to be; everything that could go wrong did go wrong."
The Downtown Bus was winless in seven starts as a rookie with his best placings for the year being two runner-up finishes. His season concluded with a vet scratch out of a Ontario Sires Stakes Gold division at Western Fair in October to finish with just over $20,000 in earnings. He was also gelded.
"[That scratch at London] was his foot," Gillis said. "I thought I could get him ready and he wasn't responding quite the way I wanted. He could've raced but I thought enough of him that I just didn't want [to race him]. I've always been afraid of favouring one issue and cracking the opposite knee or something because he's favouring a foot. It just wasn't coming together the way I wanted so I just shut him down."
Gillis brought The Downtown Bus back to the track with a 1:57.2 qualifier at Woodbine on February 22. He made his sophomore debut on March 1 and broke his maiden with a 1:54 half-length victory.
"The big reason I wanted to bring him back early was...number one, I didn't want to waste his non-winners of one and non-winners of two wins and money in sires stakes because you never get that back," Gillis said. "And number two, I wanted to establish him a little bit. I didn't have much luck getting a driver to stick with him at two and I wanted him to establish himself as a quality horse.
Jody Jamieson picked up the drive on The Downtown Bus through the early part of his three-year-old season. Gillis continued to race him in overnights until the Ontario Sires Stakes season commenced and has kept him off the Grand Circuit trail to this point despite having been eligible to the North America Cup and Meadowlands Pace.
"I knew we were only scratching the surface of his ability [at two]," Gillis said. "I staked him not quite as aggressively this year but last year he was eligible to everything [including] the Metro. I really, really thought a lot of him. I'll be honest, I'm not going to tell you I never had my doubts. There were times last year I'd ask myself 'Could I possibly be wrong?' I believed he was but I'm not going to say there weren't moments of doubt.
"There's a difference between being a Gold colt and Grand Circuit quality," Gillis also said. "When you typically have to bypass a Gold or something to follow those types of races, it makes it hard for an Ontario colt unless you're elite. But I'm happy with him finding his form when he did. There's still plenty of money left and he's only three. He's got a lot ahead of him."
Doug McNair then sat behind The Downtown Bus when he collected his first win in the Gold Series with a 1:51.1 victory at Rideau Carleton the same night Jimmy Freight, sires-stakes star turned Grand Circuit competitor, paced a track-record 1:50.3.
"The Gold he won at [Rideau Carlton] I thought was kind of his coming out party," Gillis said. "Dougie [McNair] made a comment to me that night that he would've been kind of curious to see how he would've fared against Jimmy Freight. Now Jimmy Freight has gone on to play at the Grand Circuit level and I don't think we're there yet but we certainly hope to be at some point. I'm very happy with where he's at right now.
The Downtown Bus competed against Jimmy Freight in the next round of Gold action, finishing third by eight lengths as Jimmy Freight won in 1:48.3. But The Downtown Bus enters the Simcoe with seven wins on his record from 18 starts this season and $176,000 in earnings. He also enters off a 1:49.3 lifetime-best performance in a Gold division at Woodbine Mohawk Park and, prior to that, a 1:51.1 mile also at Mohawk.
"He's won his last two with the earplugs in so I'm hoping there's a little more there," Gillis said. I'm just cautiously optimistic I guess."
Tim Tetrick, who has driven The Downtown Bus in his last two starts, will again sit in the bike. The Downtown Bus starts from post four against Messenger elim winner Babes Dig Me and North America Cup finalist St Lads Neptune.
The two $83,342 Simcoe divisions for three-year-old colt and gelding pacers go as Races 10 and 11 on the 13-race program Saturday at Woodbine Mohawk Park.
The card also features two eliminations each for the Peaceful Way and William Wellwood Memorial as well as a $150,996 single dash of the Simcoe for three-year-old filly pacers. All the action kicks off with the first-race post at 7:10 p.m.
To view the entries for Saturday's card of harness racing, click the following link: Saturday Entries - Woodbine Mohawk Park.
(Woodbine)