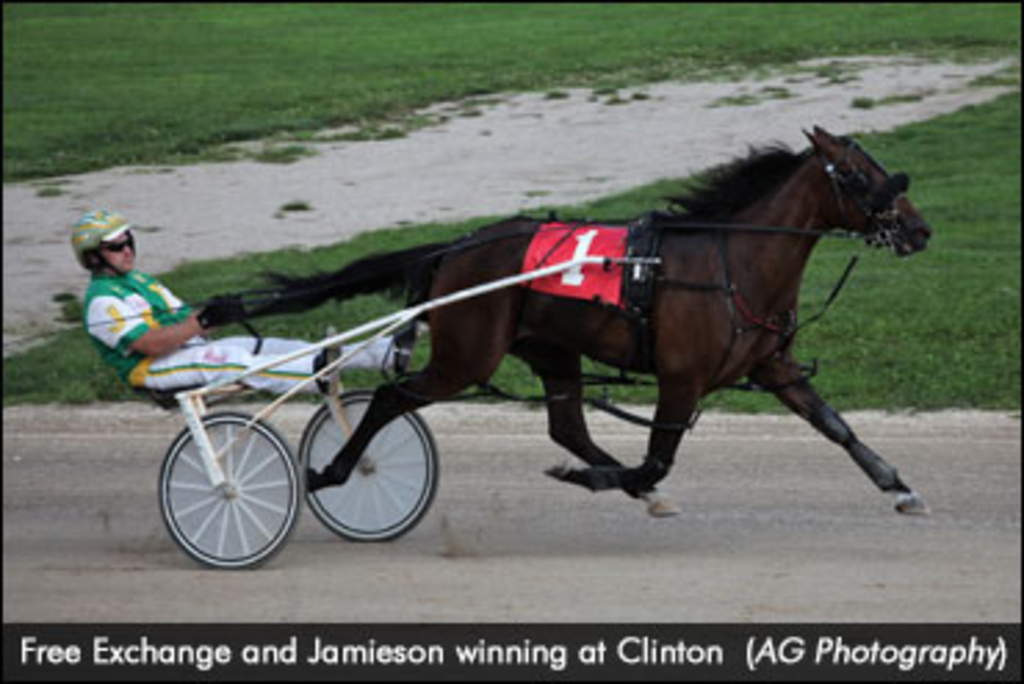 Clinton Raceway's meet-closing Sunday program (Sept. 2) offered four Ontario Sires Stakes Grassroots divisions for two-year-old pacing fillies. The quartet of splits each offered roughly $18,000 in purses and went postward as the final four dashes of the card.
The first of the grassroots divisions ($18,450) faced the gate for Race 9, and it was the Mike Keeling-trained and Bob McClure-driven Lady Driver ($8.30) that overcame a Post 7 start and an overland trip to get up for a narrow win in 1:59. After having gotten away in fourth, McClure called on the Sportswriter bay in the second quarter, as Twin B Friendly (driven by Mike Saftic) called the shots up front. Lady Driver, who is out of Lake Shore Drive, led the overland charge from that point onward. She rated on the outside through the middle half of the mile before McClure kicked out the earplugs in the vicinity of the three-quarters pole. The leading duo continued to spar on the front, but it was Lady Driver that was able to get up in the late stages to record a maiden-breaking victory in 1:59. Twin B Friendly held on for second and Hard Eight (Anthony MacDonald) paced home for third. The fractions were recorded in :29.3, 1:00 and 1:29.2. The victory was Lady Driver's first win from ten starts. She is owned by CTC Stable (of Chestnut Ridge, NY), David Hamm and Michael Hall (Dagsboro, DE).
The juvenile lasses were right back at it in Race 10 ($18,800), where the even-money Post 2 starter Clearly Better ($4.10) recorded a gate-to-wire victory in 2:00.3 for trainer Blake MacIntosh and driver Jonathan Drury. The Betterthancheddar—Glass Maker filly was on the engine through the fractions (:30.4, 1:01.2, 1:31.3) and held off all comers. She made her way down to the wire first in 2:00.3 and recorded the second win of her eight-race career. Better Now (Jody Jamieson) was able to secure second and Three Rocks (Trevor Henry) rounded out the top three finishers. Clearly Better races for Hutt Racing Stable (Paoli, PA), Blake MacIntosh (Cambridge, Ont.) and Stuart McIntosh (Essex, Ont.).
The third of the splits ($18,800) went postward for Race 11, which saw the Jack Darling-trained and Jody Jamieson-driven Free Exchange ($2.60) pace to an authoritative victory in 1:59 as the public's 1-5 choice. The Betterthancheddar-Free Admission filly was the fastest off the gate and led the field past the opening quarter (:30). The flow started in the second panel, and the field was 'four in, four out' as Jamieson and his charge made their way down to the half-mile indicator in 1:00.1. Fillies started to fan out in the third quarter – some as much as four wide – but it was all for naught, as Jamieson and Free Exchange would not be collared on this day. They clicked off three quarters in 1:30.4 before coming home for a convincing win in 1:59. Loves Delight (Jonathan Drury) was alone in second and it was Turn Back Time (Doug McNair) that was able to emerge from the pack to secure third. The win was the second of Free Exchange's five-race inaugural campaign. She is owned by Jack Darling Stables Ltd. (Cambridge, Ont.)
Sports Flix ($4.40) may have bided her time early in the $18,800 final division (Race 12), but when she was called on for pace, she did just that. The Post 8 starter was eventually worked into the second-over position in the second quarter. Driver Doug McNair called on the Sportswriter—Moving Pictures bay before the three-quarters and she passed the leaders with ease. Sports Flix eased down onto the lead and then strided home confidently for a convincing score in 1:57, which was a divisional track record. The clocking was also a life's-best victory for the 6-5 post-time choice. Karans Choice (James MacDonald) closed to get up for second. The Trevor Henry-driven Aumydarlin, who cut the fractions after having started from the rail, held on for third. Sport Flix is owned by James Fraleigh (Dresden, Ont.), who has now seen his filly win two of her four career starts.
In Race 8, Jody Jamieson sealed the deal and captured Clinton Raceway's Charity Driver Challenge for the sixth time of his career.
Contested over the first eight races, the Charity Driver's Challenge came down to a fierce battle between Jody Jamieson, Doug McNair and Bob McClure. Heading into the final leg of the challenge, McNair was leading with 160 points, McClure sat second with 137 and Jamieson was in third with 128 points. With a gritty first-over effort aboard Grande Seelster, Jamieson claimed the victory and with it his sixth Clinton Charity Driver's Challenge title.
"To win number six today was a bit of a shock really. Some of the top young drivers in the country were here today, so you never know how it will play out," said Jamieson, who hails from Moffat, Ont. "Fortunately, I had the best horses today and made it look quite easy."
The participating drivers and Clinton Raceway fans raised just over $5,000 for the Tanner Steffler Foundation, which aims to support Huron County youth aged 12 to 24, and their families, with issues surrounding mental health and addiction, with the long-term goal of building a treatment and wellness facility within the county.
All eight drivers — Natasha Day, Jonathan Drury, Ryan Holliday, Jody Jamieson, James MacDonald, Bob McClure, Doug McNair and Scott Wray — were enthusiastic participants in the annual event, both for the friendly rivalry and the cause they were supporting.
"I was leading until the last race and then got beat by Jody," said McNair. "But it was all for a good cause. It is important for people to realize that everyone and anyone can have mental health challenges, and no one should feel like they are different because of it, or be unable to find help."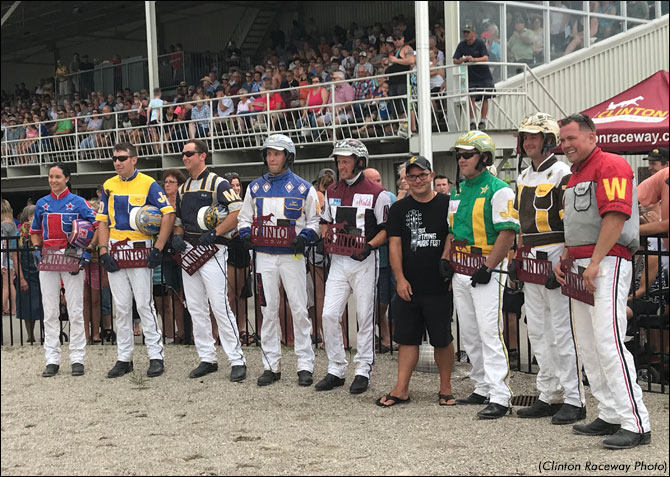 align="center">The 38th annual Charity Driver's Challenge participants in front of a capacity crowd at Clinton Raceway on Sunday, Sept. 2. Left to right: Natasha Day, Jonathan Drury, Bob McClure, James MacDonald, Doug McNair, John Steffler (co-founder of the Tanner Steffler Foundation), Jody Jamieson, Ryan Holliday and Scott Wray. (Clinton Raceway Photo)
In addition the Charity Driver's Challenge and Ontario Sires Stakes action, Clinton Raceway also hosted its first-ever Weiner Dog Race and the victorious canine was Zinc from Post 8. The six-year-old Zinc was cheered on to his victory by handlers Maggie and John.
Racing will return to Clinton Raceway in 2019 with more Ontario Sires Stakes action, family friendly events and community fundraising activities.
To view the harness racing results for Sunday at Clinton, click the following link: Sunday Results – Clinton Raceway.
(With files from OSS)